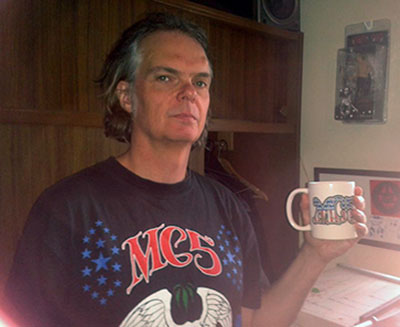 Top 10 not in any order:
1) White Stripes –Vault #33 Icky Thump X
Third Man Records Vault only release, 10 year anniversary edition. Includes a wacko coloured vinyl re-press of the double album plus two bonus albums containing all the non-album b-sides and the full demos housed in a way out box. The demos are furious ! Only released for a few months via Third Man Records.

2) Shy Impostors CD (maxi EP/mini album CD)
Unleashed by those God-loving folks at Citadel Records. Seven demos recorded 1980 and now finally after a loving re-mix by Jason Blackwell sound truly fab. The songs, vocals and rough as guts musicianship by these proto legends are gold. Melodic and dirty.
3) Buffalo Revisited gig at Brewtality Festival in Melbourne
Is it truly an honour for me after being a Buffalo fan since 1974 to be playing with their mighty vocalist Dave Tice with some fellow Buffalo maniacs (Troy and Marcus). And to be playing those great songs (a mind melt to learn btw). We hit our cosmic groove at the Brewtality Festival in Melbourne; more to come for sure.