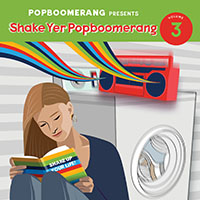 Great pop music is timeless. The proof is right here in the 37 rare or previously unreleased tracks on this compilation of Australian bands from Melbourne label Popboomerang.
Ask yourself this question: When did Pop - as the '60s defined it - become uncool with the masses? Who forced it to go sit in the naughty corner with its rowdy sibling Rock and Roll and its odd cousin Free Jazz? Best guess is when the corporatised music industry ate itself in the 1980s and all the people with emotional intelligence were replaced by spreadsheets.
Melbourne pop fan Scott Thurling and his prolific label just deals with it. With more than 100 releases in the back catalogue, for almost 20 years it's been the go-to place in Australia for "real" pop - not the soulless pap that passes for the same for most people. As you might work out from the title, "Shake" is the third volume in a series and the label's fourth compilation. A handful of these tracks date back 20 years but you'd never know.