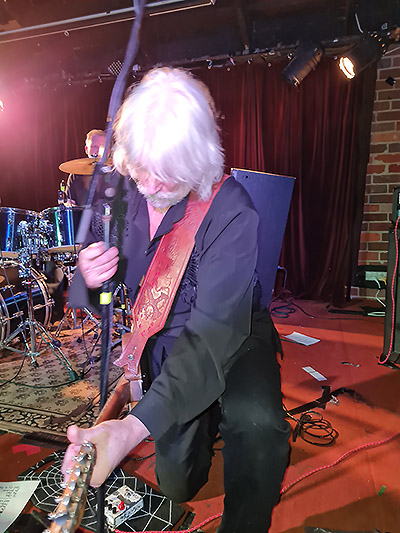 X
Tote Hotel, Collingwood, VIC
Saturday, September 10, 2022
Hello Barflies. Some things don't change. There's |still nothing finer in old Melbourne town than The Tote Hotel, Collingwood, packed full of like-minded punters with a single purpose of getting their rocks off. And let me say that this Saturday night was no exception.
X were exceptional. I mean, they were just so "on" and tight. And so fucking dirty sounding. Steve Lucas just ripping his guitar. Man. he hits those strings hard. What a sound! I was literally two metres away from the great man.
X were celebrating the 40th anniversary of the classic album, "X-Aspirations", playing the whole album in running order. How good it was. "Suck Suck" just busted out of the house sound system. Which is where I found Steve wrestling with earlier in the night when I dropped by to pay my pre-gig respects. He and soundie Dazza were in a state, trying to figure out said system. Thank fuck they got it sorted. Onya Dazza .
Kim Volkman (bass) was flashing the coolest pair of shoes I've seen in many a good year. Simon The Drummer was playing his third gig with X and second with Kim. He bashed and crashed through, locking in with Kim as a rhythm section that sounded like they'd been playing together for years.