2020 Barfly Top Ten: Dean DarkCloud of The Dark Clouds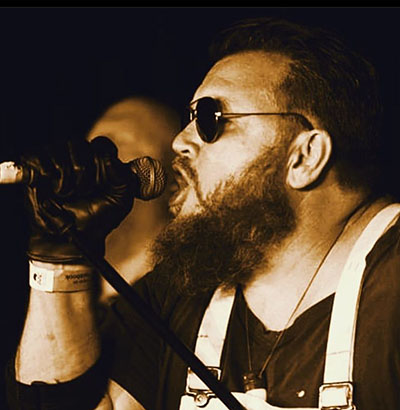 "Pizza, Punks & Prophets"
Barfly Top Ten 2020
Dean Darkloud of The Dark Clouds
Wollongong, Australia
(Anthony Mitchell photo)
"Rock n Roll ain't dead. It just sounds a little different"
10. Wreckless Enterprise. Hats off to these two DIY Crazy Cats for doing what they do. With passion and intent, tirelessly flying the flag of creative support. 2020 saw them release, amongst other things the third instalment of their "Short Fuse" compilation series: 15 tracks, all under a minute jammed packed onto a 7" (or CD). It's a punk rock smorgasbord.

Wreckless Enterprise: keeping the underground above ground. So, if it's a home grown, all you can eat punk rock buffet that you are after; check out this blossoming grass roots label. "Short Fuse" we salute you!
9. Mike Foxall. The man behind the Art of Fox. You may know him as Inverted Crucifox, guitarist extraordinaire in Neptune Power Federation whom in my opinion are one of Australia's best modern live acts.
You may know him as the creator of the zine "Speek Evil – An Illustrated Rock n Roll Periodical". You may know him as the guy behind the Grindhouse, Toe to Toe, Frenzal Rhomb and Totally Unicorn animated music clips (just to name a few). You may know him as the guy who has been knocking out posters, album covers and art work for band for well over a decade. Well we know Mike as a bit of a Nancy, or as the axeman for one-time turgid glam outfit Musk. We know him as a supporter of independent artists, as a creative, as a man true to his word but most of all we know him as the brains behind the brilliant new film clip, he made for the Dark Clouds, due out in early 2021.
8. The Sound. Now the Dark Clouds don't care who you are. Corporal Klinger or the Masked Singer, if you dig Bruno Mars or Dancing with the Stars, X - Factor, Idol, the Voice, that's your choice; but you're all going under, The Thunder.
The Sound, series I & II. Highlighting a broad array of new & old Antipodean artists. Pre-recorded live performances screening Sunday afternoon, replayed the following Saturday and available to stream on iView. Finally, something fresh and watchable on multiple platforms to consume when and wherever you like. Well done ABC, the Australian Tax Payer and the supreme Michael Gudinski
7. C.O.F.F.I.N released the self-titled ripper "Children Of Finland Fighting in Norway". If you're into modern punk/rock/metal, check it out (vinyl & digital), but these guys don't feature in my Top Ten for this alone. 2020 saw so many artists rushing to live/streaming platforms. I found that heavier guitar-based music just did not work for me through this medium. Be it all the luddites, technical glitches, poor internet speed, average camera angles & lighting. I'm not sure what it was but I just couldn't get into it even with decent head phones or speakers. Lacklustre that is until the C.O.F.F.I.N – Empty Room Sessions at the Lansdowne. An absolute master class in production and performance. 10/10
Is, Was & Always will be!
6. "Superstar" by Howlin' Threads – most definitely in the running for ear worm of the year. Can't wait to see these guys play in 2021
5. Great Southern Nights. 1000 Covid-safe gigs in the month of November. Brought to you by the N.S.W government (tourism/Destination N.S.W) in conjunction with the Australian Recording Industry Association (ARIA). Successful applicants receiving grants of $2,750 issued direct to live entertainment venues with $1 000 + GST going to the proprietor of the venue to offset running cost during current restrictions and a guarantee of $1,500 + GST going to the artist/s (min 3 housr of entertainment). What a truly incredible initiative and unbelievable forward thinking. 10/10
4. Mark Opitz: During my sabbatical in the blessed house of perpetual isolation I found true redemption and cast out the evils of a particular compressed streaming service. Spotify you grant me the wisdom, the Easy Truth and My Living Hell. Yes! Spotify you have been the one shining light on my latest journey of self-enlightenment. You have been the one guiding hand on my harmonious pilgrimage. You have led me not unto temptation, rather acceptance, my indoctrination, my edification that The Balls are indeed on a higher spiritual plane but Spotify, you are not the salvation. Flagellate I shall no more! For my listening pleasure; Spotify I denounce thee.
Like the prodigal son that I am I return to my chosen trinity of formats, genuflect and I shall now confess what has been on high rotation at my altar during these times. "Face to Face" by The Angels, "Oversize" by Rollerball, "Blood Brothers" by Rose Tattoo (that's TFFT not DFFD), "Powerage" by AC/DC, Paul Kelly's "Songs from the South", Hitmen "78-82", "Time is Now" by Rose Carleo, a bit of Jeff Lang, a lot of Flash in the Pan, a ship load of Bad//Dreems...and if you check the credits there is one name connected to all of these gems.
A name that is synonymous in Australian rock. The man with the Midas touch. A man with the best seat in the house. Legendary music guy & the Demi God of sophisto punk, Mr Mark Opitz.
I'm not going to list his achievements. Google it, read the Book or just check your record collection but as a long time Aussie music lover I was very happy to see him named in the Queen's Birthday Honours List for 2020 and awarded a Medal of the Order of Australia for his contributions to performing art.
3. Rose Tattoo – "Outlaws": If you don't have any Rose Tattoo in your collection…what on earth is wrong with you? This new release sees the current line up re-record their self-titled debut album with a few previously unreleased or little know tunes (including "Sweet Love", "Snow Queen" and "Rosetta") thrown in for good measure. Yes, politics aside the Tatts, current and past lines ups are a large part of Australian Rock n Roll Royalty. If you are a Tatts fan you already have this one, if you are a fan of Aussie Pub Rock you should look into it, if you aren't a fan… Is that even a thing? Oh, and guess what? Produced by Mark Opitz.
2. Stiff Richards - I got stiffed twice this year. I had not become aware of just what an incredible live band the Stiff Richards were until having the pleasure of seeing them lift the roof off the Tote back in 2019 with the Sultans of sophisticated yob action rock, the irrepressible Grindhouse. Thus, being a late bloomer, I had missed out on getting my hands on "Dig", but on hearing it was rereleased on vinyl by a German label I purchased it in minutes.
Well that was more than seven months ago. The wax never showed. The cash down a 'rona rabbit hole. I got stiffed; but hey, these guys are so damn good I'm not going let that get me down. Next, a pre-recorded live set at Moonah Arts Collective came along to tease me some more and further hook me in. Then State of Mind was release and I again jumped on hard and quick. This one arrived and I've been spinning the smokie red a fair bit. Stiffed a second time, but this time in the pleasurable erectile kinda way. I have so much time for this band. Thank you, SR.
1. The Casanovas - "Reptilian Overlord". Hands down my favourite rock n roll thing of 2020. With enough swagger to rival Kiss without the cliche misogynistic dribble, with the exuberance and cheer comparable to the very best of The Donnas. Throw in some classic fat Alberts sound, a pineapple, capers & anchovies pizza from Topollino's in Fitzroy Street back in the early 90's and I'm not halfway there telling you just how tasty I find this record. 11/10. Oh, and produced by guess who? Mark Opitz!
Tags: dark clouds, rose tattoo, casanovas, neptune power federation, stiff richards , mark optiz