2019 Barfly Top Tens: The Barman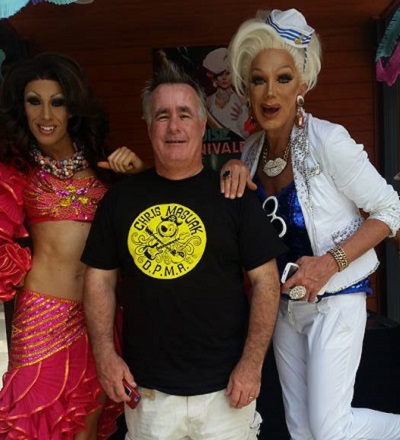 In no particular order, The Barman's Top 12 albums of 2019:

"So I Could Have Them Destroyed" – The Hard-Ons (Music Farmers)
You could say "What a comeback!" but only if they'd really gone away. So much variety yet it hangs together so well.
"The Devil Won't Take Charity" - Kim Volkman and the Whiskey Priests (Beast Records)
Kim and his band have that Stonesy-Keef vibe down pat. Raunch and roll.
"Mystery Train" – Chickenstones (Crankinhaus Records)
Sydney's best kept secret. Doc might be driving the bus but Preacher Phil really steps up. Soulful and abrasive tunes played with heart.
"Shake Yer Popboomerang Vol 3" - Various Artists (Popboomerang)
Some of the material back-tracks but it's a collection of rolled gold. Aussie power pop for the ages.
"Black Door" – The Volcanics (Citadel)
High-energy, passion and variety. Their best to date. The Volcanics are truly a world class band.
"The Aints! Play The Saints" - The Aints! (Fatal Records)
Will we ever see their faces again? Maybe. Maybe not. This is a white-hot snapshot of what they delivered live.
"Ann Arbor Revival Meeting" - Scott Morgan's Powertrane featuring Deniz Tek & Ron Asheton (Grown Up Wrong)
As historical artefacts go, this is as good as they get. It's a generously appointed re-issue of a stellar, all-star show.
"Crystal Cuts" - Shifting Sands (Spooky Records/Beast Records)
Anxiety, studied diffidence and simmering angst tied to a restrained energy and washed down with a generous glass of Courvoisier. The coolest combo in the country. Re-visiting this second studio album will constantly reward.
"Blessed Is The Boogie" - Datura4 (Alive Naturalsound)
Blessed you will be when you wrap your ears around this. If the '70s were this fun, we need to go back. Is Dom, is good.
"Moronic Pleasures" – The Candy Snatchers (Hound Gawd)
Any of the releases from Hound Gawd could have made this list but somehow this blood 'n' guts list/buried studio recording of this manic Virginia band stood out.
"Open Season" - Mick Medew and The Mesmerisers (I-94 Bar Records)
Mick is an unassuming star. His band is Mesmerisingly talented. Together, they are the best rock-pop act in Australia.
"Address to the Nation" - Chris Masuak and the Viveiro Wave Riders (I-94 Bar Records)
Every home should have one. Seriously great rock and roll with lashings of cynical humour and energy. Bombard Masuak on his Facebook and demand a 2020 Aussie tour.
Tags: Medew, Masuak, spooky, top ten, ed kuepper, chickenstones, shifting sands, datura4, i-94 bar records, scott morgan, dom mariani, the aints, kim volkman, the volcanics, the candy snatchers, crystal cuts, ann arbor revival meeting, open season, moronic pleasures, address to the nation, pop boomerang