13th Floor Renegades - Last Great Dreamers (Ray Records)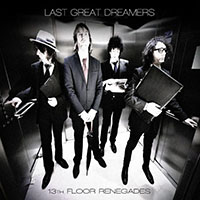 No matter that this band of Englishmen have had more band names than Spinal Tap. "13th Floor Renegades" is arresting glam-pop rock and hookier than a cashed-up weekend angler's tackle box.
Do you like Cheap Trick? Never really got 'em myself but "13th Floor Renegades" is what they'd sound like if "Dream Police" hadn't been an overdone, ear-wig of a hit in Australia while I had my head in the local variant of Detroit rock and punk.
Originally called Silver Hearts, then Last Great Dreamers, Jet and then Jet City, before breaking up and reforming (twice) as Last Great Dreamers, the band sprang from the '90s Soho metal scene. These days, they're firmly built on the songwriting axis of Marc Valentine (vocals and guitar) and guitarist Slyder.
It's a long way from being "Kerrang" magazine's Next Big Things to slogging away in a digital world where traditional record company ways are on the wane. LGD have thrown their lot in with independence, setting up their own label, crowdfunding recordings and touring festivals with the likes of Quireboys, The Darkness and Cherie Currie.
This is LGD's third album since reforming, their second of all new original material. It's bright, not lyrically demanding (as the best pop shouldn't be) and littered with sharp playing and killer harmonies. Boy meets girl is a theme that doesn't get old. Boy fights with girl adds a second verse. And so on.
"For Your Information" gets a little country. a la "Muswell Park Hillbillies", and betrays a healthy Ray Davies influence. "Broken Things" lets a little angst show among the pop. "Going Away" is delivered with matter-of-fact swagger and some spectacular guitar. I would have eased up on the phaser pedal in the outro, though. A man could be driven to think of U2 and nobody needs that shit.
"No Sunshine" hits the pop-glam bullseye with the bonus of some dirty guitar.
"New Situation" is one strident album opener with its tight harmonies and sidewinding guitar. "13th Floor Renegades" continues the thread in a lighter vein with a soaring hook. Fans of big choruses will take to "Who's Side Are You On" and "I Think I Like It".
"Speed of Light" sounds disturbingly like The Offspring, but maybe it's just me. I still haven't recovered from being exposed to them on a festival bill at a Big Day Out.
You could quibble that the production is a bit overcooked. It depends on your own ears. A bit more dirt wouldn't have gone astray for mine but there's ample power to go with the pop. LGD would give Guida a good run for their money in the glam rock stakes, with the boogie quotient toned right down.

3/4
Tags: powerpop, glam, last great dreamers, 13th floor renegades, ray records