A beautiful tribute that's not so ordinary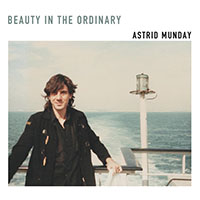 Beauty In The Ordinary - Astrid Munday (Behind the Beat)
Catharsis through music is not new but Astrid Munday manages to weave a dignified and reflective joy into "Beauty in the Ordinary", a tribute to her departed husband Tony Cohen.
It's been 14 years since her last album and three since the passing of Cohen, one of the greatest producer/engineers to occupy an Australian studio in the last four decades. If you've heard an album by the Beasts of Bourbon, Hunters & Collectors, The Go-Betweens, The Cruel Sea, Dave Graney, Kim Salmon, the Birthday Party or the Blackeyed Susans, chances are that Cohen had a hand in it.
"Beauty in the Ordinary" was co-produced with Astrid by Phill Calvert, drummer for the Boys Next Door and Birthday Party, Blue Ruin and The Psychedelic Furs. Munday played guitar, keyboards and sang, with assists from an all-star cast including stellar bassists Adele Pickvance and Rosie Westbrook, and Charlie Owen on lap steel.
This is Munday's fourth album and her backing vocals have graced records by Died Pretty, Paul Kelly and Nick Cave and the Bad Seeds. She also sang for the Killer Sheep, a Sydney hillbilly-grunge band who, depending on who you ask, are best remembered for having rock journalist Clinton Walker in their ranks or being one of the worst acts to play the Hopetoun Hotel in the mid-'80s. More notably, Astrid is a visual artist of international repute.
It is about loss but "Beauty In The Ordinary" isn't stark or maudlin; it excludes a gentle warmth and a sense of what was experienced and not just what's gone. It's also a record of contrasts. "Love Your Ways" is a naked love song propelled by chunky guitar and lilting, ethereal keys. "Muscles of Steel" is measured hard rock flecked with desire.
The flint-dry drums and guitar of "Junction Station" is neat '60s pop and make it one of the best things here, just shading the back-and-forth psychedelic trip of "Disconnection".
"Met You At The Studio" revels in the ordinariness of an extraordinary shared life with its allusions to entertaining rock stars and production fame spanning a couple of cities. "Beware of Strangers" is a spoken word Morrocccan road trip told with self-deprecating humour. "I'll Be Gone" exposes a nerve with its immediacy while "You Laugh, You Cry" closes the record on an optimistic note.
You may have gathered by now that there are no outright rockers here and it won't be for every Barfly, but this album contains enough to reward you if you listen closely.

3/4
Tags: birthday party, died pretty, charlie owen, beauty in the ordinary, astrid munday , phil calvert, tony cohen