How Green Was My St Kilda Day or Mr Brown Goes to Melbourne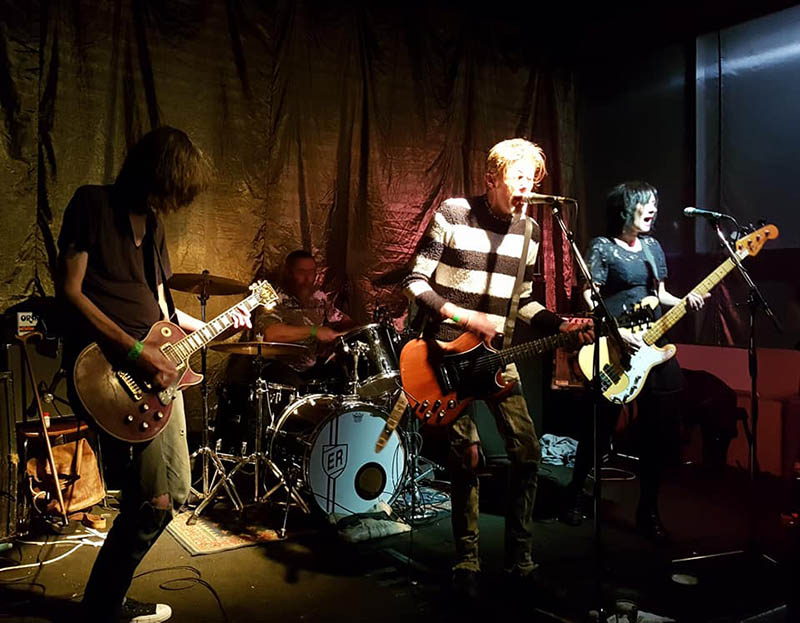 The Powerline Sneakers at The Day By The Green. Noni Dowling photo.
Well hello fellow I-94 Bar abusers! I took my skinny white bum down to Melbourne on the Friday morning – a 5am bus from the Farmhouse here in Dimboola, only a lazy 1000ks there and back - but folks, if they rock, I will travel. And A Day by the Green, the next day, was well worth it. Some call this long-running mini-festival "a day on the green"…well, it is held in St Kilda, after all.

They had a fabulous line-up, led by Melbourne rock royalty in John Nolan (ex- Powder Monkeys), in his most awesome band, The Powerline Sneakers. Also on the bill: River of Snakes, The Pro Tools, Seedy Jeezus , Cold Harbour, The Fiction, Me Graines and a couple of other bands that I missed (my bad.) I'll be early next time.

SO FUCK DID IT RAIN. LET'S JUST GET THAT OUT OF THE WAY. Inside the dry setting of The St Kilda Sports Club, there were about 150 punters there when I made my grand entrance. No-one noticed, of course, because The Me Graines were pumping out a fine set of tunes, with a new drummer and a couple of well-chosen covers. They were right on the money - a $20 entry fee – and I got my money's worth right there. And it's only gonna get better.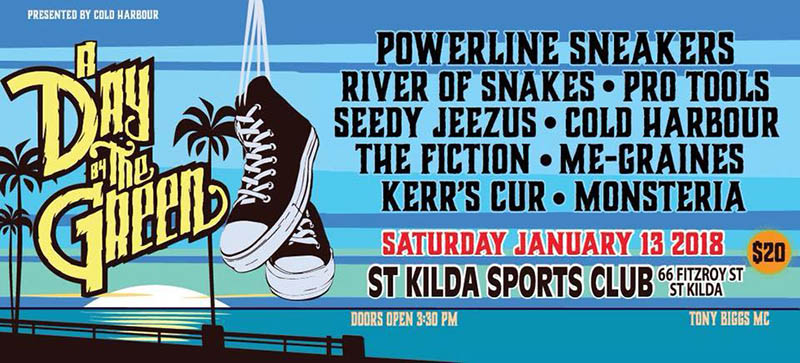 A Day By The Green
Saturday, January 13, 2018
St Kilda Sports Club, Melbourne

The beer was cheap in a bottle, and icy cold. Anyway, after knocking back a couple of them with members of the Pro Tools and listening to the Stud Muffin Man, Mr Pete Howlett, tell me how he cannot get the right hair product and cannot possibly go on without it, calls were placed. Meanwhile, I slipped off very quietly to catch the return of Cold Harbour, who just kicked it hard with their brand of rocking blues.

And then a band I have been hearing so many good things about: Seedy Jeezus. They're Melbourne's top stoner rockers - and do these men rock out with their groovy tunes about Who Knows What? I'm on my fifth beer and swaying to Mark Stewart Sibson III's first rate bash-and-crash drumming. If you like your Tumbleweed, you'll love Seedy Jeezus. Must get me a copy of their album. Maybe some kind person will send me one.

The cheap beer was keeping everyone as warm as possible on a cold bloody night in St Kilda. We poor smokers were human bloody sheep, all huddled up, trying to get some warmth and shelter under a tiny bloody verandah outside. All while the next bunch of complete tossers - some punk band from Radelaide (I think that's where thr bass player told me they were from) – played…

That bass player turned out to be a complete looney and did he love a beer. We must have drunk 10 together over the night. Hat's off. bass player. You didn't fuck it up. Oh, by the way, his band happened to be the wonderful Pro-Tools. 

What a half hour blitz on the ear drums their set was, led by the charismatic Pete Howlett (Blood Sucking Freaks) on vocals and guitar, Andy Macqueen (Exploding White Mice) on bass and vocals and Sean Tilmouth on guitar, vocals, hair and class. And WHO is that on drums? No, it's not him. He's from a different band. Who the ? (Cheers Bloke - he will get it.)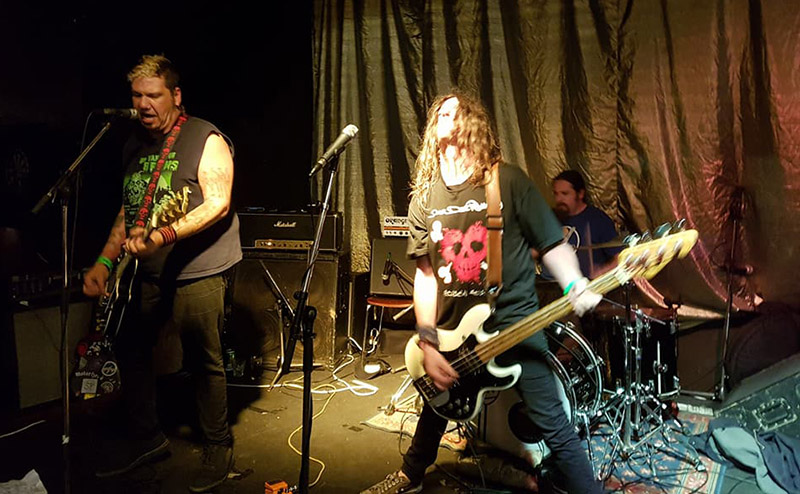 Interstaters The Pro-Tools with Pete "The Stud" Howlett and Andy Macqueen up front, and some mystery man on drums.
Well, these border jumpers pumped out as good a set that you are ever likely to hear. Songs like "Girlfriend", "Flying Fuck", "Hack" and a few other originals - plus a belting cover of Motorhead's "All For One". This fine band left the stage with the punters wanting more. Next time it'll be that headline show that Melbourne wants. hopefully as an album launch and later this year. 

(PS I've heard it and it's fucking awesome - just saying, keep an ear out for it.) 


And for you people that have kept reading from the beginning, the hair product arrived safe in a taxi - with two hairdressers on hand to apply said product - and there was NOT A HAIR OUT OF PLACE at the end of the set. Not fucking one. Good product.
So after that fucking racket, I lined up outside to smash a smoke or two and sip on my beers when, lo and behold, I bumped into John Nolan who proceeded to remind me of a gig we might or might not have both gotten high at. We spoke about the time when John's old band, Powder Monkeys, were playing a gig with The Spazzys and the bouncers punched everyone. There were cops, riots and car tyres let down. Oh John, how could I forget such a memorable evening? I didn't let your tyres down, man, I was too busy with that bouncer. 


So I missed the band on next, River of Snakes. My apologies but those smokes don't roll themselves and those $5 beers were getting a bit harder to buy, what with all the people that had arrived. Shit, it was two punters deep at the bar with a two-minute wait. So it was a fine turn-out that had built for the headliners. And some things don't change. John Nolan - I should not have brought up that night in St Kilda back in 19-something…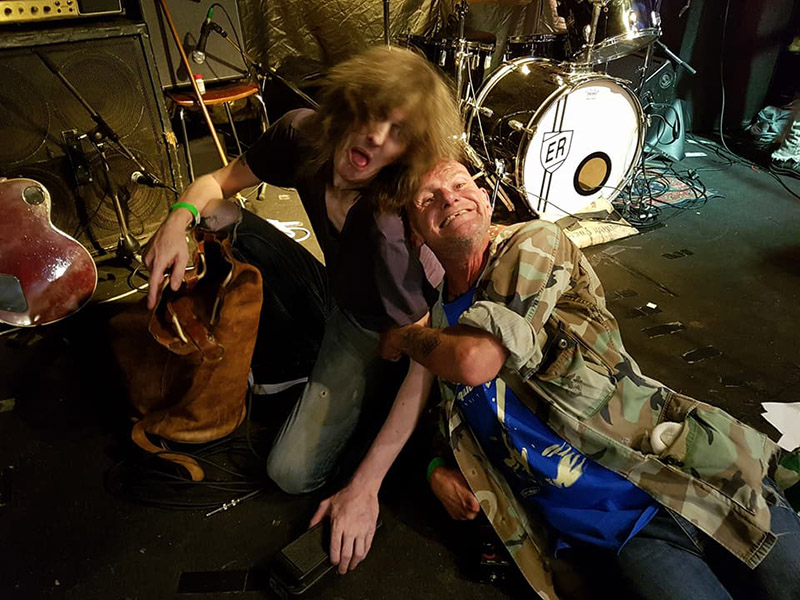 Powerline Sneaker John Nolan is accosted by a mystery man from Dimboola who uses the alias Ronald Brown.
Powerline Sneakers were getting their sound down with an impromptu sound-check when a shouting match began with the soundman. Neither the mixing guy or the band were taking any shit. Yeah baby, that's rock 'n' roll. And did they play with some fucking attitude, after bassist Katie Dixon had said "We are not here for a punch on" - while bandmate Sly Faulkner (vocals and guitar) was, shall we say, more than willing.
So fucking punk rock is alive and well in old Melbournetown. The Sneakers rocked a set of tunes that you want, need and must have on album.
For those of you who are unfamiliar with this wonderful band, Powerline Sneakers are made up of players from some of Melbourne's finest outfits. Try these on for size: Sly Faulkner is from Splatterheads, John Nolan is of course from Powder Monkeys, Katie Dixon plated in Ripe, Mark Hurst was in Gutternsipes and John Olson comes from Swedish Magazines. Man, that's the fucking Who's bloody Who of super cool Victorian bands - and now I get to see them live for first time. 


After the hiccup at the start, it all settled down and the Sneakers played a 40-minute set of pure, pumping rock 'n' roll. They just smashed their way through their set. Fuck, it went quick, but I do remember "Bank Robber" was better live than on record (and on record it is amazing.)


So folks, a few more drinks and a round of goodbyes and I'm heading out the door, when I get called back and asked if I could look after a couple of young ladies who were in a spot of bother and were wanting not to be killed or hit on. After accompanying them to a bar in Collingwood – well, that's a story that can't be written. And please don't think dirty. It's not like that, punters.
From The Farmhouse, Mr Dimboola gives this gig rating of this many beers (which is 10 less than my intake on the night):









Tags: powder monkeys, st kilda, cold harbour, john nolan, seedy jeezus, river of snakes, a day by the green, powerline sneakers, the fiction, me-graines , sly faulkner