Beautiful, at Night - The A.C.C. (Gypsy Child Records)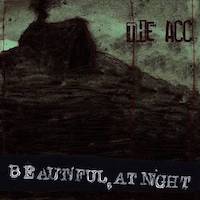 Not so much a clash of disparate styles as a brash melding of them, The A.C.C. (aka The Abbiati Cantarelli Conspiracy) harvests a well-cultivated paddock to come up with its own distinctive crop.
The A.C.C. is a partnership of Italian musicians Stiv Cantranelli and Ed Abbiat, and "Beautiful, All Night" welds blues, alt.country and punk. Abbiati supplies lead vocals and guitars while Cantranelli brings lead guitar and backing vocals. They're joined by bassist Joe Barreca and drummer Antonio Perugini, two well-travelled roots and blues players.
Cantanrelli's history includes Satellite Inn, an Italian band that was signed to US label Moodfood and toured America extensively. His own Silent Strangers and colaboration JD Hangover are worth tracking down if you're into stark and dark gutter blues-punk. Abbiati was a member of Italian roots outfit Lowlands and partnered with ex-Green On Red keyboardist Chris Cacavas on an album in 2014.
A few steps removed from country blues, The A.C.C. are abrasive, raw and decidedly low-fi. Cantarelli's scything and sometimes brutal guitar dominates the muddy sound. Abbiati's vocal is an earnest growl. A dash more fuzz and you could mistake them for the Scientists on a day trip to the country. Guests like Chris Cacavas and lap steel player Mike Brenner add colour.
The songs are Abbiati's with the exception of three Cantarelli co-writes and a cover of an unreleased Townes Van Zandt demo, "Old Satan Revisited". Which is, by the way, a cracker of a song.
Beautiful, at Night" is more than a collection of blues-punk noise. There are melodic undertones that lift the songs and instrumental touches (the slide on "Crab Tree") that creep up on you. Part Paisley, part Bad Seeds.
"One Life Just Ain't Enough" is a cacophonous song swept along by Cantranelli's excoriating guitar. "LIfe's Calling" applies a degree of delicacy and a tempo change that provides a contrast. Ragged harmonies and a dark lyric about death carry "Dog Beat The Devil". The title track benefits from that Cavacas organ swelling underneath.
"Beautiful, At Night" is just that and - perhaps, paradoxically - demands to be played at high volume.

3/4
Buy it
Tags: stiv cantarelli, silent strangers, green on red, jd hangover, ed abbiati, The ACC, beautiful at night