Brown Spirits - Brown Spirits (Off The Hip/Clostridium Records)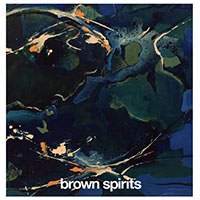 Pigeons don't belong in holes.
In other words, just as soon as you peg Off The Hip as Australia's home for "Thee Garage Rock Sound" exclusively, they throw another curve ball like this here Brown Spirits CD.
Brown Spirits are from Melbourne and are an instrumental trio made-up of Tim Wold, Agostino Soldati and Andre Fazio, whose collective curriculum vitae includes bands like Mod Vigil, Kids of Zoo, Deep Street Soul, Russian Roulettes, Go-Set and Legends of Motorsport.
To the best of my knowledge (and I've heard most of them), Brown Spirits sound nothing like any of the above.
Brown Spirits play deep-grooved, Kraught psych-rock. Hammond organ and deep bass grooves predominate. The drums sit right back for the most part, adding accents here and there. When the guitar kicks in, it's sustained space rock tones without distortion.
The music radiates a dark yet warm glow. It's the sort of shit your arthouse movie loving Uncle Antonio would have played when he invited chicks back to his mohair carpet-walled bachelor pad, back in the early '70s.
This is a lot more than aural wallpaper. Sporadic forays into funkiness really work to keep the interest high. The occasional jarring power chord steers the music well clear of banality - specially on a track like "That River Ain't For Swimming". It's easy to get lost in the nine-minute jam, "Optokinetic Response".
The band's European label blurb describes the music so:
Think Guru Guru meets Floyd circa '69 with a dash of benzo-riddled insanity from a vintage super 8 'adult' film and you start to get the picture!
The vinyl (on Clostridium Records) is apparently sold out, although you may find a copy if you scour online stores in Europe, but the CD and digital download are freely available here.




Tags: psychedelic, clostridium records, brown spiritis, jam band