Detroit label puts out the trash - again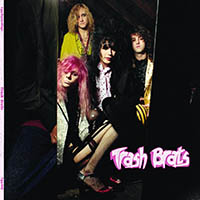 Trash Brats – Trash Bats (I-94 Recordings)
Summa you cool kids might remember I-94 Records out of Detroit (as opposed to I-94 Bar Records out of Sydney, Australia) as the dead savvy tastemakers behind those vital and volatile "Drunk On Rock" compilations. The label introduced loads of underground punk-roll bands, as well as essential full-length releases by Cranford Nix Jr. and the Malakas, the Trash Brats and B-Movie Rats. They are back with the highly influential debut of the Trash Brats first album, previously only available on cassette. In the 80's.
Trash Brats were the most important punk band in the Midwest - part NY Dolls, part Candy, part Teenage Head, poppy, melodic, fun, with notoriously crazy shows known for big energy and wild abandon. Appealing to fans of Sloppy Seconds, Hanoi Rocks, the Dickies, and the Ramones, a Trash Brats concert was where small-town kids travelled to shake 'n' shimmy, to get fucked up and jump up and down, try out all their kookiest Alien Sex Fiend and Bat Cave makeup, and to meet all your favorite, lifelong, goth girl pen pals.
Where I went to high school in Ohio, the stoner metal hicks were so fucking stupid and militarized, they even hated Guns N Roses for that whole first year. Boys in blue eyeshadow was like a crime against the NFL and patriotism, and the Brats gave courage to other dangerous weirdos and dropout rebels who did not fit obediently into programmed boxes. For years, their debut cassette was in all my scuzzy friends' bedside shoeboxes of best loved cassettes, ya know?
A Trash Brats live show was a big event - a little bit like the Sweet, a little bit like the Heartbreakers. Kid Rock's audience hated them. I, personally, had a lot of memorable good times at Trash Brats shows and resonated deeply with their trashy romantic streetlamp anthems. They have a fanatical cult following, so the 30th anniversary of the self-titled Trash Brats debut for the first time on vinyl has already sold out of bubblegum pink, but if you love glitter, glam, power-pop, street punk and sleaze, you'll obviously be needing this important platter in one of its other variants. Buy it here.

1/2
Tags: detroit, b-movie rats, trash brats , i-94 recordings, drunk on rock, malakas