Follow Your Instinct - Guttercats (Pop The Balloon/Ghost Highway/Beluga Records)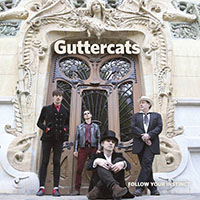 It's four albums into the game for French band Guttercats and it's with an almost entirely new line-up. Vocalist Guts Guttercat is the sole original member. Before you ask, he sings in English - and with more than a little sense of drama in his delivery.
Not to be confused with the UK Gutter Cats (punks) or their L.A. counterparts (sleaze-glam), both contemporaries using the two-word form of the name, this crew cites The Only Ones, Rowland S. Howard, Nikki Sudden, Chris Bailey and Gun Club as influences.
That's a varied bag and so is their music. It runs the full gamut - from Bohemian semi-acoustic, dark pop to garage-style rock rave-ups. I'd throw the Bad Seeds and Dream Syndicate in there, too, or even final days Johnny Thunders.
It's mainly about guitars but the sonic nuances are important and prevent Guttercats being easily slipped into any pigeonhole. "On The Road", for example, has greasy harmonica volleying at the net with overdriven guitar. Some sweet sax adorns "Sweet Little Sister" where Guts' melodramatic vocal stands out amongst the stark rhythm and multi-tracked guitars.
"A Trip Down Memory Lane" is a Morricone-tinged ball of twang that sits between Americana and freakbeat, stylistically speaking. The up-beat "Down In The Hole" travels on a tensile bass-line and is littered with sprinklings of piano.
The electrified version of "Follow Your Instinct" (it's reprised in stripped-back form as a CD-only bonus track) is a building storm-front of a song, punctuated by Dick Lickens' resonant bass-lines and ending a swirl of guitars and sax. The bare bones version works well with Guts Guttercat's vocal naturally front-and-centre and Lickens' fluid bass-work.
"No Remorse No Regrets" (what a French sentiment) comes across like one of Johnny Thunders' latter-day songs - the ones he demo'd with his last band, The Oddballs - and is a real grower. And the same goes for the entire album. It's diverisry - and Frenchness - might be alien to some ears, but in the end they're both strengths.
"Follow Your Instinct" is on LP, CD and download via three different labels (French, Spanish and Swedish) so take your pick. More information awaits at the band's Facebook.



3/4
Tags: garage, french, guttercats, babyshakes, pop the balloon, beluga records