Hogs, chickens and horses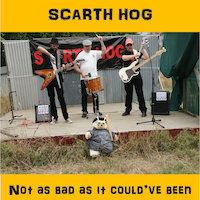 Not As Bad As It Could've Been - Scarth Hog (self-released)
Mystery Train - Chickenstones: (Crankinhaus Records)
Away from the Sun - Majestic Horses (Kasumuen Records)

Yes, dear reader, I too wondered what a scarth was. Well, Scarth is a family name, and 'is of Anglo-Saxon origin and came from when the family lived in the county of Yorkshire, where they held the manor of Scarborough. This place-name was originally derived from the Old English Skaroisburg, which was brought into England during the Norman Conquest of 1066.'

But Scarth is also Yorkshire dialect for a rough, bare rock. No-one ever said Bill Bostle (whose band this is) ever lacked a sense of humour.
I used to know Bill a little, back in the days when 205 was a conglomeration of interweaving bands rather than a street number, and when Bill played (drums) in King Snake Roost with, among other interesting ingredients, the late Charlie Tolnay. I recall one visit to his house (in a quiet inner Adelaide 'burb) during which he boasted of being "the loudest bastard in the street" which, given that he had the Grateful Dead on 11, was patently obvious.
Despite his rather odd taste in music, I have always been rather fond of Bill. Mind you, some of the bands he's been in: skronk as hell. A fearful racket, and an excellent outlet for the frustrations of real life. But Scarth Hog ain't as noisy as I expected. In fact, they're positively groovy (rather enjoyed the punnily named instrumental "A Minor Detour"). Wikipoopoopants has this to say:
King Snake Roost (also known as KSR) were one of a number of Australian and International guitar-based bands who emerged from within the punk rock and post-punk scene of the mid-1980s that came to be defined as noise rock. King Snake Roost formed in 1985 in Adelaide and in 1987 the band moved to Sydney. The band broke up in 1990 after a two-month tour of the USA. In Australia and the USA the band played with some of the most influential noise rock bands of the 1980s, including Sonic Youth, Big Black, Mudhoney, Helmet, Babes In Toyland, Lubricated Goat, feedtime and The Mark of Cain. KSR played at some prestigious 1980s US venues, including, CBGB and Maxwell's.
The album press flyer explains further: "Adventurous originals three-piece band stirring the swampy pot of rawk, blues, jazz, metal and punk loosely known as noise rock. Based at Canberra, Australia. Have snouts will travel."

Enough of Bill, for the moment. His bass guitar case goes up to 12 (yes, he's on bass). Phil Gemmell plays guitar, and is a veteran of the Christchurch punk and metal scene ... but here, he "returns to fuzz, valves, customised humbucking jeans and slicing out runs and power chords".

Mark Woods is on drums and "more cowbell", and used to play in "Canberra's Detroit-metal tearaways Hell Yes", who I have, typically, never heard of. (ED: Also home to a young Bill Gibson, later of The Eastern Dark, Lemonheads and New Christs.)

And the CD? It's great fun, as it happens. They're loud (and for best effect, you need to annoy the neighbours) with a distinctive early '70s feel that manages to be laid-back and urgent at the same time. Bill's on bass and he's really maintaining the timing; his lyrics are bluntly political with a dark humour - you can practically see his knowing smirk in 'Two Dollar Dream' - deadpan faux-cocktail blues mixed with time changes and sensibility. Bill's vocals are exactly what you wouldn't expect from someone with his background, by the way; clearly audible words given sharp emphasis.

"Cable Street" - I don't know if you know about this, but it's a famous (or infamous) incident in the history of London politics, so when I hear Bill's gritted-out line "My old man held Cable Street and I will hold this ground" ... multiple threads of history mesh. It's also a tough song.

Look, I'll leave it there. We have one groovy, loudly rock album here, several different styles played damned well. Plenty to listen to, songs which go somewhere rather than endlessly repeat the same message. When I see Bill next I hope to have a beer-fuelled argument about several things and contribute to lowering the tone of Canberra (as if that were even possible).

Meanwhile, I'm damn glad "Not As Bad As It Could've Been" is such a fine disc, and I really want to see these buggers live. Either get it here or harass the band on their Facebook page.
* * * * *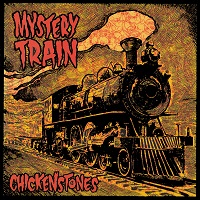 Due to a cancellation and a realisation that I needed a holiday of sorts, recently I was able to see Chickenstones at the Collaroy Beach Club in Sydney. Most of the set came from their new LP, "Mystery Train".

The 'Stones are a band that thrives on gigging and rehearsal, playing, playing and playing some more. When the ladies dance at the front ... that's what you want, not some crinkly critic banging on.

Now, then, "Mystery Train" is also a damn fine LP. Quite apart from the title track (the mystery is, as Phil Van Ruin explained from the stage, where we're going.) There are a number of dark threads running through the bedrock here.

Andy's brush with the hyena of cancer caused, as you would expect, a re-consideration of the realities of the folks around him, their and his purpose and so on. And yet, what could have been a horrendous triple LP set of meandering solos and pompous mumbling is instead a cracking, ferocious rock'n'roll LP.

You don't need to know the backstory. After all, how many of you know what "Midnight Rambler" is about? (hint: it's not about picking blackberries along a country lane at 12.01am).

No. From the first second, 'Mystery Train' is a right fuzzball twin-guitar hoot, a revelatory respiratory churn chockas with the twist of two distinctive vocalists - Van Ruin's voice has a white wine clarity with a hurt lilt which makes me thirsty, while Doc Temple's voice has a dirty blues lustre which makes me think of sticky carpet at the back of the mouth. Paul Worth and Jim Kelly are the perfect rhythm section, absolutely in-sync, tuff and ruff and don't fuck with them, not predictable but allowing the vocals and guitars to shine.

Bloody big sound they all have too. Mal Gillies lends some perfect blues harp, and Russell Parkhouse some bar-room pianner. Producer Russell Pilling's done a fine job of capturing this tight-cat's-arse band - the Stones think they're heading into acid rock territory. I guess it might feel like that. But nah, they're heading into gloriously muscular pop territory. Take that slight squealy riff in "You Got a Right".
I should point out that there's no wasted space here. Every useless space is taken over, you hear new things all the time. There's also a lot of tension, fear, muffled rage and frustration here. "Gasoline", for example.

By "Walk Away", we're drenched in adrenaline and soaked in heavy riffs. We realise with a jolt that many, many better-established bands would kill to have a sound like this, never mind any one of these songs. That "Mystery Train" came out of such grim, un-nerving circumstances is a testimony to several things: pig-headedness and/or determination, take your pick; and the love and joy of making music.

The Barman is correct when he describes the title track, "Mystery Train", as the centrepiece; until then the songs have been rising fast in intensity; now they peak, splinter and we're left with the rest of the LP ... which throws us around in a different way. Phil's glorious voice is to die for, and while I usually loathe "sweet" blues, this one had me tearing up. Transcendent.

And I'll say this, too, "Mystery Train" is the kind of track which wouldn't sound out of place on mainstream FM between the adverts for panel-beaters and wifebeaters on special. Then we head into deep r'n'r territory...

"Ball and Chain" - well, I don't know what the fuck is going on with that guitar but it sounds like a sax, it's that fuzzed up. This one has me dancing, just like it will you. All these fucked-up relationships.:
Come on honey, turn me loose/ I'm gonna love you like a ball and chain
Fucking brilliant.

"First Light" recalls Chickenstones' origins with the stand-up bass and the big hairdos. Today, they reek menace and pace like tigers, and probably carry flick-knives in their boots. "Crawling King Snake" is another tour de force. In context, it pounces out of a hole like a funnel-web onto a bug. (That's us). I just love the groove these men pull out of nowhere, a solid stoner drive but set to a nastier speed and with a far, far nastier vibe. I think it's Phil's vocal, by god it's impressive.

Then there's "I Gotta Move" ("the way you treat me darlin', is a crime"), Baby Jane' and 'Hooks In Me'. Groovy? The Stones are setting a benchmark upon benchmarks here. And I'll agree with The Barman again: the Stones describe those tortured male vs female relationships without assuming it's one-sided. There are clearly two sides. "Baby Jane" ("Take a look in the mirror/ Baby Jane things are looking grimmer") ...

Oh, and. The reason I keep calling the Chickenstones "the 'Stones" is because as far as I'm concerned, the Rolling Stones may be good, but give me this bunch of Sydney scruffians any day. More real, honest, more power, fine songs... (also, their T-shirts are cheaper).

"Mystery Train" is heavily addictive and on heavy repeat at Bunker Brokenmouth. There's not a duff or slightly crap track here, it's all the good stuff you want and more. Wanna know something else? Right now you can imagine the band playing in an Islington pub circa 1966, or an Austin bar in the 1970s and blowing the place apart, any Sydney joint in the '70s and 1980's and embarrassing Midnight Oil, and ... you get the idea?
The (Chicken)Stones are a band for all times, and you'd be a mug not to have them burning a hole in your collection.

Dig the clips:

Now get yer wallet out and go here.

* * * * *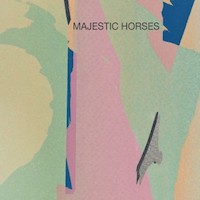 I was talking to my dealer (Mark at Streetlight Records, in Adelaide) the other day, and remarked that there is simply no way to keep up with the enormous amount of material being released, rereleased, and all the amazing things you missed out on first time around, and that existed way, way before you were born. It's madness. The vast array of choice, the difficulty in detecting brilliance amongst the mountain range of indifferent muck...

So, when I read Kasumuen's description of Majestic Horses, "the new band for members of Screamfeeder / Deafcult, The Holy Soul and The Undecided", I felt rather peeved with myself. Have I heard of these outfits? Yes.

Have I heard them? No. Not one of them. (ED: Must be an Adelaide thing.)

Kasumuen continues: "Kellie Lloyd (Screamfeeder) is ably backed by Kate Wilson (The Holy Soul, formerly The Laurels) and Andrew P Street (The Undecided, Career Girls)."

Well, one thing is that I should have no preconceptions today. And you, dear reader, will know more about Screamfeeder than I do. Kasumuen advises, "pedigree musicians schooled from record collections similarly filled with '90s shoegaze, indie and dream-pop".

Oh, bugger. I shouldn't have read that. Dammit, terms like "shoegaze" always irritate me (ED: Me too) - for example, I loved Ride's first EP, but then... I bought the second EP, and LP, and ... no. And ... I even saw Ride live, too. But no. Did not grab me. And again, when I saw Sonic Youth in 1989 I went right off them (I had all their records until then). And I've never listened to them since. Lovely people, so I gather. And perhaps I was overly harsh (I was 26, FFS). But... you see what I mean. A mountain range of choice.

And don't get me started on "indie", hell, from the mid '80s when that term was trumpeted as a virtuous badge of honour it always seemed to me to be code for "songs not quite good enough". The idea was vital in 1976, but by 1986, I hated it.

Oh, shit, preconceptions.

Well, let's put "Majestic Horses" on and have a listen.

I instantly love the swirling, measured guitar, and the vocal. I'm assuming these are Kellie Lloyd; she's hugely talented. The title track, "Away from the Sun" is terrific and gets my attention, as does "Scene of the Crime".

Do remember that while these folks - particularly Kellie – have significant cred and history, I can only hear this out of that context. Production values are high, the sound is cool. On my first listen, I think that this is too much genric ... That said, you could fairly say that of The Meanies, The Johnnys or any one of hundreds of popular outfits. So that's not much of a criticism. And you'll have guessed by now that I initially had difficulty here.

Yet there's so much to like here; former "Db" writer Street's bass is often engaging and tempting ("Signal"), Kellie's glorious vocals (with fine lyrics to match) ... in fact the beauty here is a sick, nauseating thing (see 'Destroy Everything'). So, it seems I may have an issue with the style. ...

... and then... I got it.

Took me a while. Not the first time I couldn't see the wood for the trees, and I expect it won't be the last. Majestic Horses are a sonic rollercoaster, a slow ice-cream scream, the quiet majority who are happiest when giving you tinnitis.

Truthfully, I suspect Majestic Horses are one of those bands you have to see live to really get them. They'll be in Adelaide in a couple of weeks - they're on tour at the moment - so I'll see for myself. I dug a little and discovered that Majestic Horses supported Swervedriver on their recent tour, and went down well with the audience - and this only their second or third gig.

However ... "Away from the Sun" grows on you, in the same way that, perhaps, that while some folks warbled about the latest craze ('80s Bowie, for example, or New Romantics) you were toppling down a Cohen or Velvets or Fugs rabbit-hole. So much for preconceptions – I shouldn't have read the Kasumuen blurb, should I? Maybe "dream-pop" put me off more than I realised.

But, no, finely crafted songs, backed with strong, solid rhythms and ripping, seething guitar always wins out. Then there's that voice ... yeah nah yeah Majestic Horses are magical, like a winged chimpanzee is magical.

One last thing: if this lyric doesn't make you recognise our immediate world and the continuing imminent crisis of our species ... the voice of her generation?
Yesterdays divide ruined all the static in the air, on the radio.
It comes as no surprise,
The garbage you walk by today is the garbage we accept tomorrow.,
The garbage we pick up tomorrow, the garbage we expect tomorrow,
The garbage we accept tomorrow.
Statues sit inside, everything is old and dead and dusty,
Old and dead and dusty.
it's comfortable despite your customs and conditioning, no need to
discard anything.
i'm here to destroy everything.
We need to destroy,
We're here to destroy everything.
Last week 4ZZZ made 'Away from the Sun' their LP of the week. They were right. Buy it here or her. Catch the Majestic Horses:
November 29: Major Tom's (Kyneton)
November 30: The Old Bar (Melbourne)
December 1: Tramway Hotel (City of Yarra)
December 14: The Crown and Anchor, Adelaide

- Scarth



- Stones



- MJs
Tags: chickenstones, holy soul, Kasumuen Records, screamfeeder, crankinhaus records, mystery train, majestic horses, Scarth Hog, away from the sun, the laurels