Inside The Flesh Hotel - Beechwood (Alive Natural Sounds)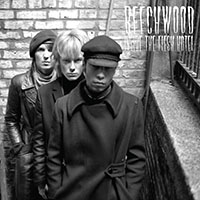 Pull up a chair, crack a beer and let's have a bet. Bukowski would. There are short odds on offer, my friend, that Beechwood is your new favourite band - even if you haven't heard them yet.

Bukowzki was from the other side of the USA, as this trio from Brooklyn, NYC, the buzz on whom is substantial but not undeserved. It's picked up momentum to move past a dull roar, even in these times of fragmented public communication. A recent European tour left the French, in particular, in raptures. See

for proof.

You ever read Bukowski? Full of extremes, for sure, but also littered with patches of light and shade. Much like the sound of Beechwood. It isn't easily categorised; there are so many stylistic threads coming together that you'll die trying. A sometimes languid flow of vaguely '60s pop and psych elements runs right through it. Concise songs full of variety but somehow linked together.

"Inside The Flesh Hotel" is a more coherent and more self assured album than "Songs From The Land of Nod", its predecessor. There's another out-of-print long-player before that. Why it's better is self apparent. The band's been playing out a lot and becoming more comfortable in its own skin. That's what great young bands do.

"Amy" is the closest thing here to conventional pop, its sweet guitar accents nursing drummer Isa Tineo s heartfelt vocal with just a smidgin of dissonance in the outro. Concise and accomplished - as most of the songs are. "Sucker" is another two-minute pop song emblazoned with a wonderful Lawrence lead break.

On "The Ram", lead vocalist-guitarist Gordon Lawrence sounds like George Harrison in one of his psychedelic moments, with lyrics fuzzy enough to suggest violent and then maybe redemption. "Bigot In My Bedroom" switches to crunching glam with a sharp political message, penned by bassist Sid Simons.

The caustic instrumental "Nero" takes a page from the Stooges' "1970" with its rolling rhythm and bluesy guitar squall. The title track is magnificent psych-pop. Hints of Television in the guitar with grim lyrics about blood and a frenzied closure. "Boy Before" shows the band's unique musical dynamic; the feel is a notch above somnolent before rising in response to lyrics hinting at dread.

"I Don't Blame You Anymore" is the hoarse lament of a lover at 5am. It's not clear if he's leaving the building to go home or standing over the body. Closer "Our Love Was Worth The Heartbreak" will confound or delight. Stylistically, a loose and limber singalong with weeping country guitar, it's removed enough from the rest of the songs to have you wondering what you just heard. Just like a Bukowski book of short stories.

Because this is a band to keep you guessing with every turn of a musical page, and therein lies the jewel's beauty.

1/2
Tags: new york city, alive natural sounds, beechwood, songs from the land of nod, inside the flesh hotel