Kevin K and the CBGB Years - Kevin K (Realkat Records)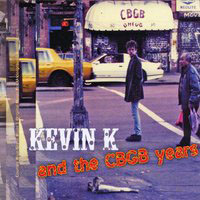 CBGB is, of course, no more. It's a designer clothing store run by Detroit old boy John Varvatos.
At this point, permit me a personal aside.
No matter how many times the new owner's rock and roll cred and commitment to "tastefully" preserving elements of the old club on The Bowery are thrown at me, I can't come to terms with this particular march of progress.
My own CBGB experiences may have only been as a beer-swilling tourist living vicariously through the sounds of those on-stage, but turning a rock and roll hovel into a shop selling $300 T-shirts will only get you so far.
Kevin K's experiences are entirely different. He made it to CBGB about the same time as I was passing through, gigging with some of the Lower East Side's finest bands. He lived a rock and roll life on the streets of Manhattan, rubbing shoulders with the likes of his own musical heroes. This live collection documents those times.
Whether by accident or through design, CBGB was famous for having the best live sound of any club in New York City. Like owner Hilly Kristal's reputation for being a punk rock trailblazer (was he a visionary or the right man in the right place?), it was probably a mix of the two. This album sounds first-class - no muffled audience tapes were used, only well-balanced desk feeds. There's no audience sound - hell, some nights there probably wasn't an audience - but you feel like you're right there.
(I was going to say the sound grips you like the crabs on one of the club's toilet seats but I thought better of it. Anyway, if you'd been there you'd know that the shitters didn't have lids. Or doors. Or even cubicle walls.)
The collection spans the years 1984-97, by which time CBGB's reputation as a best-kept secret had been transcended by it becoming a magnet for just about every disaffected band on the US East Coast. The birthplace of punk was into its second (and third) phase and would soon open its doors to hardcore and almost anything else to make a buck.
The gems in this 18-song collection are the tracks by The Road Vultures, the early '90s band for Kevin K and brother Alan K that almost broke through to that elusive thing called mainstream success. The Road Vultures wrote great songs and some of their best ("Fire it Up", "She" and "Call") from a 1993 show are here.
Kevin had moved from the drummer's stool that he occupied in his early bands to guitar and vocals. He and his late brother made a potent combination on guitars and vocals. Both had plaintive voices and a penchant for six-strings that could have drawn blood. And I don't mean by using a dropper.
The Road Vultures songs are book-ended by brackets by New Toys, the Long Island bar band in which Kevin K drummed, Lone Cowboys and a 1997 version of the Kevin K Band. They were all terrific, honest bands, members of which have left this mortal coil. The CD bears a dedication to the fallen.
I'm not a fan of phaser/flange guitar pedals and Alan K obviously was, so the New Toys and Lone Cowboys stuff should have left me cold. The songs, however, are good enough to transcend all that, and they reflect the studio albums with a touch more rawness. Anyway, when I hear a flange I try and think of Keith Levene and not that fuckwit The Edge.
There are a couple of notable covers in the Lone Cowboys bracket. "Raped and Freezing" betrays somebody's good taste in early Alice Cooper, while "Love Comes In Spurts" spurns a lyric sheet for an approximation that glosses over Richard Hell's psychoses.
Somebody serve me another Rolling Rock. I'm thirsty.

1/2
Tags: new york punk, cbgb, kevin k, new york, alan k, road vultures, new toys, lone cowboys, realkat records