Kicking them out, Sydney-style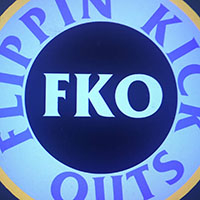 Flippin' Kick Outs – Flippin' Kick Outs (self released)
Down a band member but with songs to play, Sydney's Flipped Out Kicks became the Flippin' Kick Outs in 2019 and broadened their musical palette.
Which is to say they still played garage punk but they markedly blurred the stylistic edges, tossing in some rockabilly and hard rock for good measure. This digital album is the fruit of their recent recording labours since COVID and it's a pretty spiffin' dose of the sort of street-level rock and roll that used to be par for the course in their hometown.
There are a stack of guests lending their talents to the core trio of Jonathan Adams (guitars and vocals), bassist Lachlan Colquhoun and drummer Simon Wale. Leading the charge is Tom Loncar (Intercontinental Playboys) whose unmistakably Lux vocal goes head to head with Adams' muscular guitar on feature track "Parallel Twin".
You might know FKOs guitarist Adams as his alter ego Johnny Gretsch who left scorch marks on Sydney stages with his other band The Wasted Ones in the '80s and '90s. His playing courses through these 10 tracks and is tougher than teak.
His bandmates are no slouches either and they lock in on the cover of the Masters Apprentices' "Undecided" with enough energy to power a small town. The expert blues harp of guest Robert Susz (ex-Dynamic Hepnotics) puts some considserable icing on that cake.
Speaking of covers, FKOs add some layers to The Modds' snarler "Leave This House" and put their own spin on Davie Allan and the Arrows' "Blues Theme". The Twilighters' "Nothing Can Bring Me Down" gives Adams space to show his chops. "7 is 7" doesn't match Love's frenetic original but is a good attempt.
The band's originals are strong with some fiery slide on "Bad Timing." Frequent augmentation by guest keyboardists, most notably John Gauci and Lachlan Mitchell, and judicious female backing vocal touches fatten and colour the sound. "Time To Make a Change" benefits especially, while Terry Serio's menacing guest vocal on the pulsing "Faster Ride" takes things in an entirely different direction.
It's a download only (you know how often you can lose those things between the cushions of your virtual lounge?) and might sate your appetite for live gigs for a short while, in you're locked down in one of COVID Australia's plague zones. It's Flippin' good!

Tags: wet taxis, masters apprentices, terry serio, flippin' kick outs, flipped out kicks, johnny gretsch, twilighters, lachlan colquhoun, simon wale, jonathan adams, tom loncar