Meet your overlords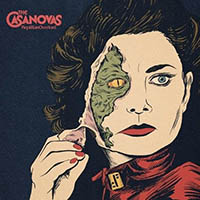 Reptilian Overlord - The Casanovas (Rubber Records)
Melbourne's hard-rocking Casanovas have released their fourth album, "Reptilian Overlord", and it does not disappoint. It just rocks from start to finish.
I must admit I've seen The Casanovas many times over the years with varying line-ups. The constant, however, is the guitar and vocals of the man who was always destined to be a rock star: Tommy Boyce. Honestly, see this man play live and tell me I'm wrong.
Formed in 1999, the band's have released "The Casanovas" (2004) , "All Night Long" (2006) ,"Terra Casanova" (2015) as albums plus a bunch of singles. Triple J made the killer track, "Shake It", a hit many years back. Damo Campbell has been thumping his bass guitar since 2002 and Ricki Ray is the new bloke on drums and a most welcome addition to this most wonderful band.
If you haven't heard The Casanovas, think KISS in a pub rock atmosphere crossed with the Powder Monkeys.
"Reptilian Overlord" has some stand-out tunes - starting with "Hollywood Riot", a strong opening track. "Outlaw" and "Cold Day in Hell" are outstanding hard rockers. "Stand Back" has some wonderful drumming.
Then there is the jewel in the crown, "St Kilda is Fucked". It's not about the footy team (although that statement is also correct) but about Melbourne's dirtiest suburb which is being cleaned up and taken over by non-music/drug lovers.
It's basically an obituary for our once great suburb and one that I can relate to after my last visit to a place I called home for many years. I was not comfortable walking into The Esplanade Hotel (aka The Espy) among all those beautiful people, where I was the only person with missing teeth and a shaved head. Great song, gentleman: You nailed this track.
"Red Hot" is the single and another wonderful tune. Sample this song and you will definitely want to hear more.
"Bulletproof" and the title track bring this hard rocking, riff-driven, smash-and-grab album to a close. The Mark Opitz production has this jumping out of the speakers, so in my humble opinion it can sit quite proudly in the Hard Rock section of your collection. The Farmhouse windows shake like shit when it's turned up loud.
Summing up: wonderful songs, wonderful songwriters, wonderful band. Hopefully when the world gets back to its normal self and we can go watch them rock the fuck out. The Casanovas will be a priority for me and I want to hear these songs live.
So Barflies: Buy this CD. Don't stream it – there's no money in it for the artist. Buy it here. From The Farmhouse: Stay safe!



Tags: st kilda, the casanovas, reptillian overlord, rubber records, tommy boyce