New On and Ons bring a big smile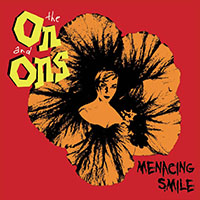 Menacing Smile - The On and Ons (Citadel)
It's an EP with six tracks of primo rocking powerpop from Sydney's arch exponents. Two albums into this caper and The On and Ons sound like they own the space.
Short story: "Menacing Smile" is lined with wall-to-wall hooks and harmonies. Glenn Morris writes impeccable pop tunes and the band delivers them like they were born to do so.
You don't need to dwell on the band members' prior achievements but just in case you're not in the know, they include membership of Kings of the Sun, the Screaming Tribesmen, The Wetsuits, Paul Collins, The Deltoids, The Stepfords and the Hoodoo Gurus. That should tell you something, but you also need to know that The On and Ons don't just re-tread the past, but chart their own course.
It's a stripped-back line-up that treads the boards, with the quintet On and Ons now down to a trio. If you were among those who thought the band would lose something without sound-fattening second guitar, park that view at the door. The songs benefit from the space and the lack of lead guitar embellishment highlights the vocal harmonies.
And therein lies the key to the magic of The On and Ons. Guitarist Glenn locks in vocally with drummer Brian Morris with the instinctive link that only a brotherly bond brings. Clyde Bramley fills it out - and you already know his bass tone and playing are perfectly suited to great pop songs.
"Don't Want to Talk About It" is timeless in its high harmonies and sweet melody line. Glenn's guitar in "Hold On Tight" brings a hint of the Yardbirds' "Happenings Ten Years Time Ago", while "Monday Blues" mixes a Motown bass-line with Plimsouls-style pop. "9 Days" and the title track similarly don't put a foot wrong.
Glenn and Clyde produced "Menacing Smile" and Dennis Wilson (guitarist with Chariot, Kahvas Jute and Swannee) engineered and mastered it. It's out on May 17 and procurable here.

1/2
Tags: the on and ons