The protopunk filth and the FURY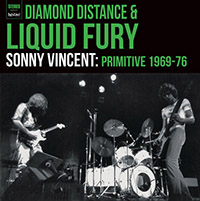 Sonny Vincent: Primitive 1969-76. Diamond Distance & Liquid Fury - Sonny Vincent (Hozac Archival)
Some would hide their earliest bands' recordings in a dark place and hope nobody found them. Thankfully, not Sonny Vincent.
As one of the last New York punks still standing, Sonny Vincent criminally remains a well-kept secret. The music he's made under his own name, and with a string of bands - most notably, Max's Kansas City and CBGB graduates, Testors - is some of the best primal sound around. This collection of songs from his pre-punk bands, spanning 1969-72, does nothing to detract from that track record.
If you don't know Sonny Vincent, here's a quick primer: He grew up on the streets of Nooo York City, fell out of favour with the law as a drugged-up, teenage runaway. He briefly found himself institutionalised and shoehorned into the US Marines. He landed back on the nascent NYC punk scene, and has carved out a long, furious and fast career, much of it based in Europe.
Sidelined from playing music for a few years by a family tragedy in the US where he's been a full-time carer, Sonny has a new project on the boil.
Sonny's played with members of the Stooges, the MC5, the Velvet Underground, The Replacements, Dead Boys, The Damned and many more. He should be a household name. "Diamond Distance & Liquid Fury" pre-dates all that, documenting live and rehearsal tapes from his earliest bands, Distance (1969), FURY ('72) and Liquid Diamonds ('73), as well as a 1976 track from a four-piece Testors.
This is raw, blazing protopunk rock with lashings of psychedelia. Sonically speaking, it's several notches above your usual cruddy practice room tapes. Vincent's secret weapons - his passionate vocal and caustic guitar - are dominant. This is real. That, and the fact that this music had a snowcone's chance in Hades of being picked up by a record company, is ample reason for you to pay attention.
The three Liquid Diamonds songs are the most, er, sophisticated - if using that word isn't heresy. The engine room of drummer Bob Brown and bassist Doug Harvey effectively anchors them to the floor and Sonny stretches out - most notably on "Long Ago". This was reputedly a volatile combination based in Westchester, and it didn't last long. Testors would come into being soon after.
Sonny never let a good riff or melody go missing in action. "100% Proof" and "Scary", played here by power trio FURY, are familiar. The Distance songs, recorded by disparate line-ups, show a prog-y influence and a healthy Hendrix fixation that sits comfortably with the punk persona, still germinating inside. "Lament" might suffer from being pulled from ageing tape but there's no mistaking the furious energy that emanates.
The liners are a hoot, alluding to run-ins with a murderous bandmate, the early Suicide, The Fugs, the Manson Family and Andy Warhol's Factory crew. Props to Chicago label Hozac for restoring the tapes and issuing "Primitive 1969-76" on vinyl - with the packaging it deserves. Tracking down some of the few copies not snapped up already will be well worth the effort so go here. Thank me later.



1/2

Tags: cbgb, stooges, mc5, max's kansas city, cramps, dead boys, sonny vincent, ny punk, fury, hozac records, diamond distance & liquid fury, primitive 69-76