What they did on their holidays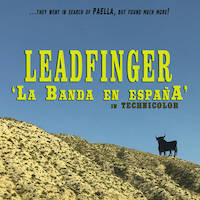 La Banda en Espana - Leadfinger (self released)
What does an Australian band that's revelling in Spain's delights (not the least of which is the populace's love of Real Rock and Roll) do on a day off from a European tour? Go into a studio and slap down some tracks, of course.
This six-track EP, committed to tape/hard drive in 2017, is the result of that and represents the first stirrings from the Leadfinger camp for more than a year, following band leader Stew Cunningham's successful fight against cancer.. Fuck, it's great to have him - and them - back.
"La Banda en Espana" sounds like the band was having a ball. It's not meant to be too serious. It's not going to make them rich.
"Edge a Little Closer" is an Asteroid B612 song from Stew's days in the band in the '90s and it's rendered with maybe a little less fury than the original but an equal amount of spirit. Johnny Casino himself throws in some licks and it cooks.
Glasgow-born Stew's Scots heritage comes into play on a limber cover of the Faces song "You Wear It Well" and does the job. "Fourteen" updates the reflective Leadfinger song about growing up with a veneer of dirty guitar.
If you have to ask where "Baby, Let's Twist" comes from, you're in the wrong place. It's a surprisingly tuneful take with Morgana Ancone's backing vocal leavening the Dictators classic. Michael Boyle and Stewart Cunningham's guitars lock in especially nicely on an extended "Cruel City". "Hacemos La Musica" is Leadfiger's anthemic "We Make The Music" in a thinly-veiled disguise. Works for me.
The whole shebang was recorded rather well by Pepe Gomar at Studio Tigrus in the western Spain beach city of Denia. Why didn't the band skive off that day for a surf? Beats me. Maybe the weather was crap. You can score a digital copy when you name your price on Bandcamp (and don't be a tight arse), or you can spring for a physical CD for the price of an inner-city Sydney beer. It only takes a click or two via here.



Tags: leadfinger, johnny casino, stewart cunningham, mick boyle, la banda en espana