Top Tens for 2021: Chris Newton of Sydney mods The Smart Folk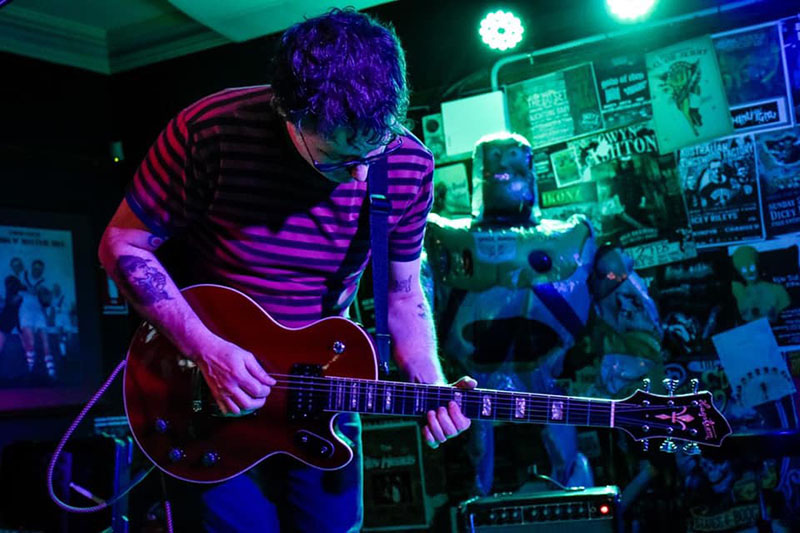 Chris Newwton in The Smart Folk. Corrie Ancone photo .
10 great Australian indie singles from 2021 you may not have heard…yet
By Chris Newton – guitarist/vocalist from The Smart Folk, and The Lost Husky; and bassist from Tigers At The Edge Of Time.
Like many fellow musos, in 2021 after getting out of the gates early in what proved to be a false start race that lockdown soon put sternly to bed, I fell into the pit of songwriter's block for six months.
Thankfully, many bands – several of whom I'm privileged to call friends – didn't suffer the same fate.
Here's just ten independent 'singles' that have hit the online shelves this year, that give me (and hopefully you) hope for the musical future. In no particular order…
Pist Idiots – "Idiocracy"
In my opinion, Oz's #1 current proponents of the tradie-core indie-bloke scene, the Idiots deliver 2 minutes of a scathing, yet catchy, attack on the state of things in 2021.
Tom Ryder – "Sunsets"
Tom Ryder is a band, not a guy. They play lo-fi dreamy pop that surprises as much as it offers welcome relief from the narrative noise of 2021.


stressless – "Catch & Release"
Four equals trading second-hand Velvet Underground and Pavement records in inner western Sydney parks and laneways. Or something.


Richard Cuthbert – "Tomato Plants"
One of Sydney's great balladeers, Richard steps into some classic "Sando 1991" style upbeat pop with this ode to self-sufficiency.


Jack Lee – "BBQ Heart"
After a hiatus of a couple of years, Jack returns from the demise of Sydney dole-wave (he'd probably hate me for calling it that…) band Beef Jerk with another great lo-fi solo album of short, sharp and drawling garage goodness.


Alannah Russack's Entropy Band – "Places You Love"
Shimmering is a word so often used to describe everything Alannah does, and I can't think of a more fitting word. A song to listen to in the car on a road trip to your favourite place on earth.


Mod Con – "Ammo"
Fantastic angular noise-pop from Melbourne that channels B-52s and Sleater-Kinney having a knife-fight in a 1960s nightclub scene from an arthouse film.


Marveline – "Our Parade"
If anyone in Oz has managed to capture a distinct Guided By Voices, yet completely original, vibe to their tunes, it's Marveline on this cracking pop track.


Boxing With Ghosts – "Protest Song"
A fine return to channelling her noisy 90s past-life from Morgana and her merry gang, and another song that was undoubtably made for these times.


Aerial Maps – "We All Need To Know There's Someone Out There In The Night"
There was arguably no other song released this year that completely captured the zeitgeist of 2021, than this heartfelt spoken word epic by the always captivating Aerial Maps.
Tags: the smart folk, aerial maps, boxing with ghosts , chris newton