Details

By

General Labor

General Labor
Greasy Psalms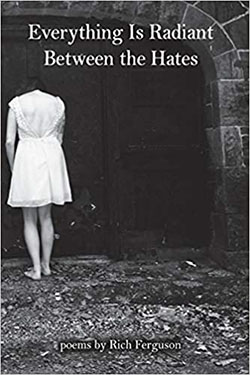 Everything is Radiant Between The Hates
By Rich Ferguson
(Moon Tide Press)
Rich Ferguson is the best poet in the world, if you ask me. All his words have medicinal properties; they are magic spells and healing incantations. If you love John Cooper Clarke or Lydia Lunch, Exene, Nikki Giovanni, John Trudell or Tupac, you'll probably love Rich Ferguson, too.
If you are lonesome, isolated, alienated, suffering, worried, exiled, dry-drunk, evicted, locked-down, locked-out, tripled masked and permanently veiled in black lace mourning, abandoned, back-stabbed, betrayed, robbed, in grief, forlorn or melancholy, remember there is power in the word.
"Everything Is Radiant Between The Hates" is my newest sidekick, imaginary friend, silver bullet, rosary, garlic and crucifix, force field and holy water, pepper spray and hip-flask, trusty shank and pimp-stick, Marlboro Reds, harmonica, Roy Rogers holster, double secret fan club only secret decoder ring, 45 spindle, miniature spy camera, flashlight, utility-knife and I-phone. Flash Gordon spacegun. Secret scrolls, wobbly jukebox at the last greasy spoon in town. It's probably the most rocknroll artifact I've unearthed since the Humpers from Long Beach released that CD, "Positively Sick On Fourth Street", like 25 years ago.
If you're like me, you're used to carryin' nothin, mighta spent most of your life empty pocketed, no watch, no wallet, no keys, no credit card, no proper identification, or name-tag, or money-clip, but once you get this book in your hands, you'll probably keep carrying it around with you. It's become essential to my sense of wellbeing, like a guitar slide, or bottle opener, Brill Cream and unbreakable comb. You won't leave home without it.
It's a Greyhound ticket to another time. Drinks for free. Mirrored sunglasses. Feather earring. The gospel truth confirming all the good ghosts you got floatin' around inside your traumatized skull. Like a rhinestone horseshoe, a Best Western ashtray, a universal remote, or black cat bone. It's like Pete Seeger's Wobblies songbooks. You better get a copy, now. Also look for "8th & Agony" (Punk Hostage Press).