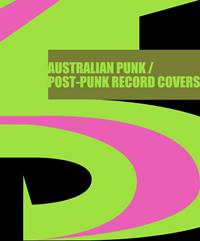 Product 45 Australian Punk / Post-Punk Record Covers
by Murray Bennett
The reproductions of the covers are of the highest standard, far from the DIY aspects of the singles that were presented. That said, it still had the same sense of identity and uniqueness.
I flicked through and there were essays about the characters, some of who, I admire: musicians, writers and artists who collectively were part of the Australian underground music scene in the late '70. They all had a passion for the music and a similar passion for the 45 RPM seven-inch single.
The man behind this book is Murray Bennett, a champion of the Australian underground scene. Like so many kids of his age, the wave of music that exploded in the late '70s and early '80s really made an impact on his consciousness as he reflected to me:
As a young under-aged punter getting in to see bands in and around Sydney in the late 70s, I've always loved the energy of live gigs. To see a performer open themselves up to an audience; to reveal their life, loves and stories is really quite special. The music and energy is always fantastic.
Music books have been a big part of my life. I have so many on my bookshelves: biographies and history books.
As a teenager, the first two music books I ever bought (well... one I borrowed from Wingham library and never returned) were Lilian Roxan's "Rock Encyclopedia" and "The Illustrated History of Rock Album Ar"t by Angie Errigo. Errigo's book was a present for my 16th birthday. I devoured that book. Loved it. The images and some of those covers really pushed me to seek out the music of these bands - including Roxy Music's "Country Life". Well, I was an adolescent boy at the time.
The art of the music cover really took its own from the '60s, as did the art of seven-inch singles which seemed to take a breath-taking new direction from 1976.
The best music books out there can simply go down two paths: There are the great literary rock writers like Lester Bangs and Greil Marcus, and there are the books that celebrate the art and image around the art-form. They are colourful, unfolding changes through images, fashion and the times, with the evolution, and in some cases the de-evolution of music. Both are important.
"Product 45 Australian Punk/Post Punk Record Covers" is certainly one of the most lavish and beautifully presented books of its type ever produced, worldwide.
There are 50 contributions, most are stand-outs, presenting voices from very different angles: the original visual artists themselves, musicians, labels reviewers and punters.
Journalist Stuart Coupe begins proceedings. His self-confessed willingness to judge music by the cover, as he recalls in the late sixties he had the money in his hip-pocket to buy garage rock icons the Wild Cherries' latest, stating:
I walked into the shop, flicking through the singles and I saw Johnny Farnham's 'Underneath the Arches', I knew I was hearing the it on the radio… almost a decade edged over the Wild Cherries because of a picture sleeve , they came back into my radar big, big time. Not surprisingly given my age and musically inclination embraced this thing for punk.
Yes, great cover art will sell records!
Toby Creswell's essay is quite breathtaking. Creswell is a great writer and it is a well-researched piece exploring the history of vinyl from the 78 and why the 45 singles (introduced by RCA in 1949) found an immediate audience with teenage baby boomers.
Describing the magic of hearing The Beatles for the first time on a seven inch single, Creswell writes that, in his opinion, they were the singles that for him had the biggest impact - especially from 1976. Sighting the first outings by Birdman and The Saints, he gives his take on the wonderful pop singles that were put out by Phantom Records, and offers a view of the '80s with the likes of The Sacred Cowboys' "Nothing Grows in Texas" and Fast Cars' "Saturdays Girl".
Our own Barman writes a brilliant essay (ED: Aww shucks) addressing a point-of-view expressed in the title of an overseas album by Television's Richard Lloyd, "The Cover Does Not Matter". He disagrees, discussing Elvis' sneer and the Beatles' brilliance, before exploring the attraction of local indie singles from the Phantom and Citadel labels.
Fellow I-94 writer Bob Short's voice is that of the kid from Wollongong who discusses the artwork of Skyhooks and Hush with fondness. But rhen he declares:
Both the Birdman and The Saints discs were iconic. The power and quality of the music was inescaple for a casual listener.. it was now merely a question what rules can be broken.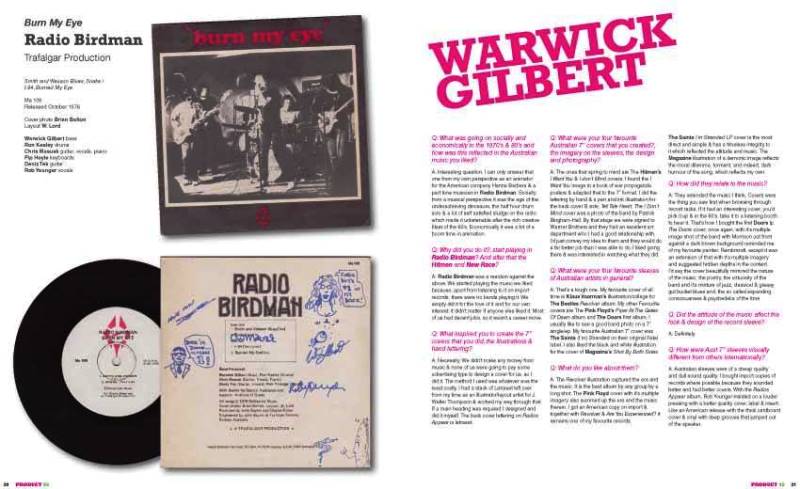 Offering a Perth perspective, the seminal and highly influential Kim Salmon explains that originally he bought only albums. It was while visiting his mate, James Baker, with Dave Faulkner in 1976 that he saw wonderful punk singles by Sex Pistols, Johnny Thunders and The Damned that made him stand up and shake his bones.
Judi Kuepper writes beautifully and eloquently, expressing deep love of fine art. She is an internationally critically-acclaimed visual artist. Her angle is different again. She explores the art scene at the time, visiting the Yellow House, the wild radical alternative art gallery in1974 set up by Martin Sharpe and Brett Whitely, and being inspired by Sharpe, possibly Australia's first international album cover designer. Judi's album and single cover art flourished in this environment. As she recalls:
The DIY of punk resonated with me. I, as experimental in my approach in image making.. my aim was to design covers that suggested a sense of attitude and the music contained within.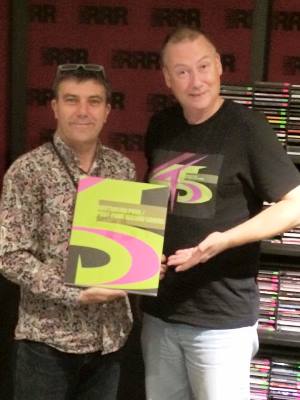 Inspired by his book, I sat down with Murray Bennett (pictured right with Neil Rogers of Radio 3RRR) and asked him some questions about his motivation and how the book came about.
I have always been in love with the idea of packaging music. Music is intangible; you can't reach out and touch it, but you can touch the packaging it comes in. The packaging can reflect the music within and the sound and the identity of the artist.
The idea of punk to me is an attitude, of doing it yourself and these bands in the mid to late 70's were doing that, playing outside the mainstream booking circuit, and releasing singles on their own. They sold (or gave away) these records at gigs and the few inner city import record shops. These records were packaged with whatever the artist had on hand. Screen print, paint brush or coloured pencil. It was the creativity of these covers that really stood out to me. There were some very clever ideas.
In 1989 my Father was involved with the first 'Design Down Under' book. It showcased the best of Australian graphic design. The book was the best a design book could be, beautifully laid out and well printed. The process of that book coming about never left me.
Tell me about your background in design.
My background is eight years (full-time and part-time) at various colleges, studying graphic design, photography, illustration, calligraphy. When I first started college all artwork was reflective, no computers. My first job was creating reflective art to go to print. I fell in love with typography. Type mark-up, kerning and leading, the fine details of type layout were a challenge. To make something readable, God is in the details (I don't know who said that but it's a ripper).
I think my greatest skill is production, being able to take a germ of an idea through the production process to deliver a completed finished product. And doing 'Product 45' has been the biggest production.
Previously, I had developed and launched alternative formats for the packaging of CDs. I never liked the plastic jewel box. Plastic is cold but paper is warm. I wanted to keep the look and feel of the record cover when applied to CDs. These packaging formats were used by Shock, BMG, Sony, Festival/Mushroom and many independent artists.
The book is such an amazing achievement. Tell me about who else was involved in its production.
There has been a cast of many in the production of this book. From first fixing, the idea in my mind to do this, then quietly sharing the idea. Stuart Coupe was the first person I spoke to about it and his support and belief gave me the belief that it would work, there is a market for it.
As a graphic designer, I am not a good graphic designer. There are many designers that are way more creative than I am, that have a much greater knowledge than I do. I already had lined up the designer for the record pages and she has an outstanding understanding of the typography that was used throughout the book. I wanted this book to look contemporary but also reflect the time period, 1976-80. Another designer created the interview and story pages and did a perfect job of it.
The book's cover was designed by Phil Brophy who designed many record covers and the Mushroom label logo back in the day. I did most of the grunt work, the artwork for the pages. I scanned all the records. Front cover, Back cover, both sides of the insert, the inlay and both sides of the record label. Over 4,000 scans and still going.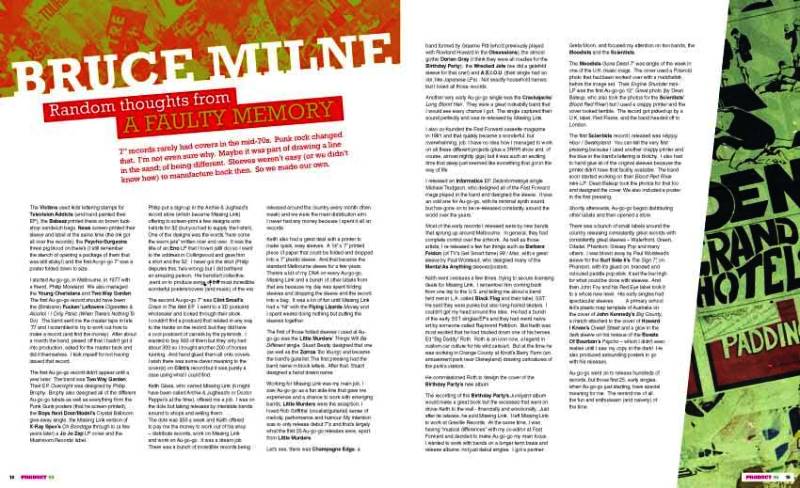 I contacted a few people that I knew through the Inner City Sound site (Murray's live tape swapping site) about borrowing their 7'' record collections to scan for the book. I was bowled over by their positive responses. These initial few were all really supportive. From there, word of mouth spread. I was given names of other people to contact and others contacted me. It was an incredible process that I was allowed to scan people's record collections for this book is very humbling. Just about everyone I approached contributed in some way, big or small. I have met many wonderful people and made some great friends.
One of the most enjoyable processes of the book was interviewing everyone. Many people gave me their time to share their stories. I am looking forward to that for the next two books. A good friend of mine takes these interviews and writes them into the interesting stories that you read.
There were some amazing contributions to the book by musicians, artists, label owners and fans. They all had their own great story to tell. Music means so much to many of us but we all have our own personal involvement with it. I appreciate how these contributors shared their stories.
I wanted the book to look as good as it possibly could because the content is magic.
What made Australian single art from that time unique?
It would be clichéd to say that Australian music was packaged in an Australian way. What was unique was our market place. We were a country with a small number of people going to see bands and buying these records. The bands had to be enjoyable, the packaging had to be good. Creativity best reflects this.
England and North America had comparatively enormous markets, a small run for a rare single would be 500 or more. In Australia it was 100, maybe less. Rarely more than 500. We just couldn't sell that many records and the bands couldn't afford to sit on unsold stock. Manufacture the amount you can sell and manufacture cheaply. Use the resources you had on hand to create the record cover.
Has there been an overseas reaction to the book?
I have been humbled by the local reaction to this book. What I have enjoyed are the messages from people who were there or have rediscovered this period of music. They share their stories. They were in a band, managed a band or saw a band. Hearing these have been great.
By pure coincidence, 2016 was it the 40th anniversary of the Saints releasing "(I'm) Stranded", the birth of punk. So the interest this book has been heightened.
The book won a Silver Medal (second prize) in the Performing Arts category at the global Independent Publisher Book Awards 2016. This isn't local or regional but up against every other book published world-wide.
The book has only just gone to review in North America and the initial reviews are fantastic, I'm blown away. The book will be exhibited at The Frankfurt Book Fair this month with a view to UK and EU, that is exciting. While the book has mainstream distribution Australia wide (all book stores and record shops) I do want distribution overseas. This is a very long process.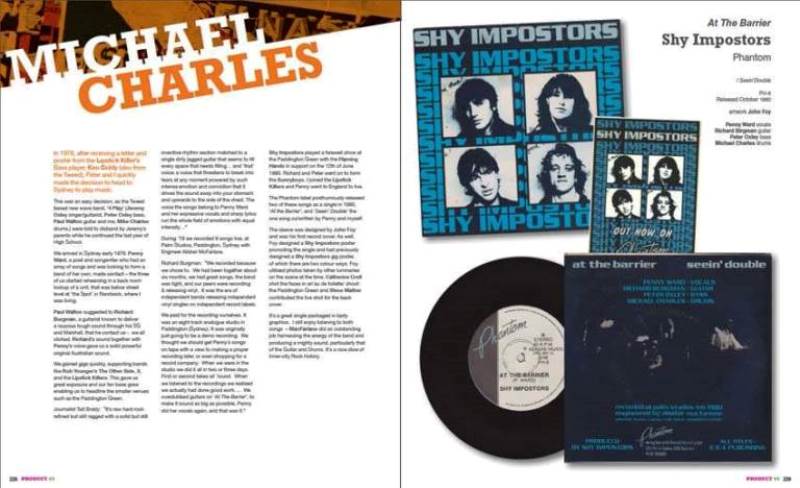 1976 was indeed the year Australian music was transformed. While punk shook up England as much as anything, two singles that were self-released here were The Saints' "(I'm) Stranded" and "Burn My Eye" by Radio Birdman, and then the floodgates opened for the music scene and for the art. "Product 45" captures the vibrancy, the sense of enlightenment and the energy of street art during a time when revolution was in the air.
This book is essential for fans of underground Australian music and will bring hours of delight sitting on anyone's coffee table.
As you read this, only a few copies remain, and books two and three are in production.