Beyond Respect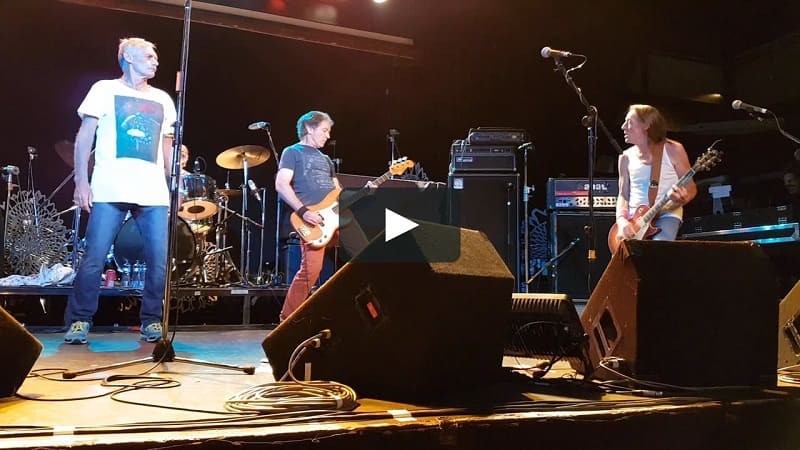 Photo from a Brett Allen video.
Damien Lovelock 1954-2019

I first caught the Celibate Rifles a few weeks after my 17th birthday in the upstairs room at the Paddo Green Hotel. They were loud, fast, made me grow long hair. I'd recently bought "But Jacques, the fish", skipped the first few classes and went into the city; got back to school with that treasure. It was a passport to a different world.
There were a lot of Rifles gigs over the years. It's remarkable now to think how damn LOUD they were in the '80s. Towering amps, double four-way PA, in an average pub or club. It was inspirational too. If they could do it...
Of course, the average teenage punter didn't know how much time and effort had already been ploughed into that band. Thirty-one years after that first gig I put this together. Read it, it's the key.
Meanwhile, for your listening pleasure.
Although I was friendly with some of the band, I never really spoke to Damien until that interview at a Narrabeen cafe. Three hours of rapid-fire talk about the band, music, culture, sport, occasionally interrupted by someone saying hello, enquiring about his yoga classes. The transcript ran over 100,000 words. He had a hell of a brain, that man.
Tho' known for his soccer commentary, he was a big NFL fan too. New York Giants was his team, he spent some time there in the late '60s. Damien's mum was a professional singer and his dad a songwriter and producer who lived in New York after their marriage broke up. The Rifles' first overseas jaunt was to the USA. Damien really wanted to play New York for his mum, who died when he was 19.
It wasn't all "bazooka guitars" for Damo:
In 1989, the Rifles released "Blind Ear", their fifth album in six years. For Damien, this was the album that would crack it open in Australia, with good songs, good production, singalong choruses, professional vids. Except that it didn't crack through and they played to 500 people instead of 5000.
There were stories that they might break up, I recall something about a post office holdup in Amsterdam. Late '90, they played the Kardomah, it was magic. I remember "Dancing Barefoot"; something in the damp fug that night made it one of the more memorable shows of my life.
Then there was the Dee Why gig, 27 December, 1991. Seven folks in my HJ panno, from Surry Hills and back again, a mad night of awesome fun and awful consequences back in the city.
Nine years later, a bloke I knew described the Celibate Rifles as the "greatest pub rock band." I had a different view of the band but he made a good point. They were the smartest pub rock band. Moreso, they were beloved.
If you were there, you'd remember. Kick off a set with a furious "Back in The Red', a few more songs and then Damien would tell a story, Dave would tell a joke – geez, what a duo, those two – and the crowd would be laughing and dancing.
The Boxing Day harbour cruises were fantastic. '08, a blisfull day on the top deck shooting the breeze with folks and listening to the Rifles kick through a stack of fantastic covers. They'd writ out a list, a very long list, of all the songs they knew and then played them. I had a leg in green and purple plaster and had to half-carry a mate off the boat, then go buy thongs for another cos she'd thrown hers into the harbour.
On the 2010 Harbour Cruise, Dave did Elvis:
They did a lot of great covers with a belly laugh, like "Cars".
The Celibate Rifles were always there, even if I didn't see a gig, it was just good to know that they were there. Now they're not.
Damien was a stoic bloke. Kept his troubles to himself and kept on going to work. The Rifles, over the years, had one singer, two guitarists, three drummers, four bassplayers, a neat geometric, that.
Fucking bloody hell, it's like a death in the family. Sydney just aint the same anymore. I aint one for crying, but I've shed a few lately.
I've danced around the backyard, too, with "Kiss Kiss Bang Bang" LOUD, celebrating his life. Damien packed a lot of living into his 65 years, we are blessed to have shared some of it.
Onya, Damo.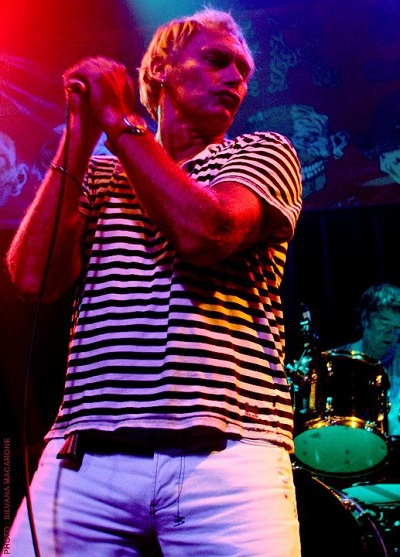 Tags: celibate rifles, damien lovelock