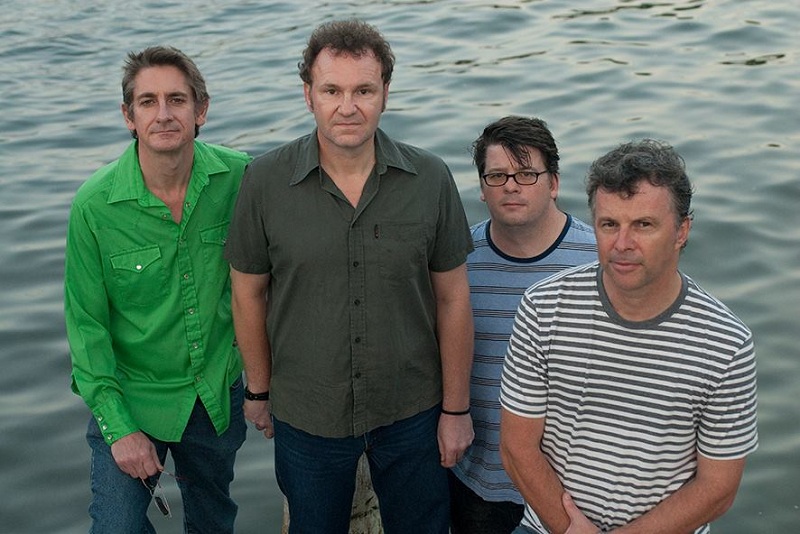 Christian Houllemare (centre) with the reformed Happy Hate Me Nots, with the author, Matt Galvin, next to him, second from the right . Mark Roxburgh photo
It's hard to remember how I first got to know Chris Houllemare. Was I a fan, a friend or a bandmate?
I was 15 when The Happy Hate Me Nots released their first two singles, in 1985. I saw them by accident at the Strawberry Hills Hotel after walking down Foveaux Street (fuck, EVERYTHING is French this week) from a World Series Cricket one-dayer, and I used my bus pass as ID to get into a gig at Hurstville Master Builders club not long after.
I was smitten. It was kinetic, real lyricism, real heart, really fucking fast. All at once.
A mysterious "allo Tra-cee" coming out of my radio in between songs on a Live at the Wireless set when I was home from school with the measles. Then SCRAP, Then SALT, SOUR and BRIGHTON, Then the cartoon in B-side magazine that told the story of the band, the one that depicted Chris coming off a plane dressed in a stripey shirt and beret, carrying a grocery bag full of baguettes. OF COURSE...NEW BASS PLAYER...FROM FRANCE.
Lots of radio interviews and local press, and pre-WWW fanzines from far-flung lands. Chris always jumping in before the DeeJay had a chance to say "Were you in THAT Bad Brains?"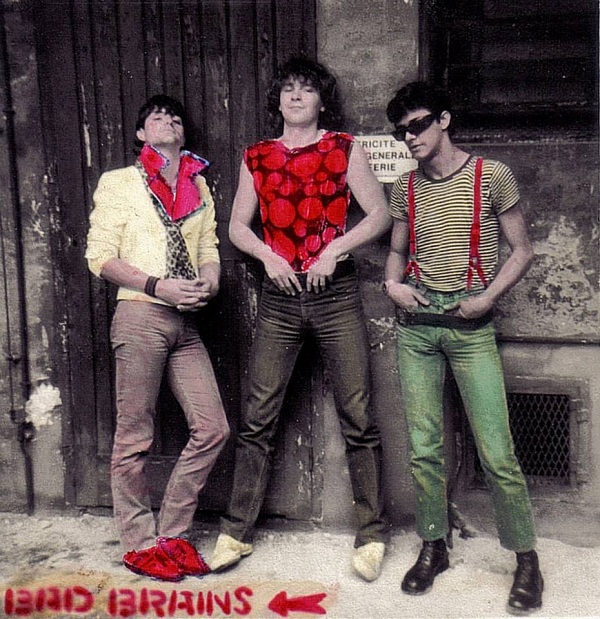 Bad Brains promo shot. Christian is in the middle and thought the shot made him look like John Fellice from The Real Kids.
Then OUT, and just about every Sydney HHMNs gig right up until the end in 1990. Chris and Mick Searson were THE rhythm section. His fluid yet propulsive style on his black Rickenbacker 4003, ducking and weaving around Mick, and anchoring the perfectly dovetailed guitars of Paul Berwick and Tim McKay (RIP). My band was lucky enough to play with them a half dozen or so times. A friendship was fostered through these shows.
Chris liked my next band because he thought one of the songs sounded like The Afghan Wigs, a band I'm sure he played first when he got to his new digs this week. We got to know each other better, and would bore each other stupid about REM bootlegs and Big Star demos, while smoking way too many cigarettes.
His contribution to The Someloves' classic first two singles shouldn't go unchecked either.We then become bandmates of sorts during the sessions for The Orange Humble Band's first album...Darryl Mather, Bill Gibson, Pete Kelly, Paul Berwick, Brett Myers, Chris Houllemare and me, the fanboy.
Then The New Christs...he told me not long ago that he moved to Australia to get closer to the music he loved, in the hope of maybe participating in a meaningful way...he sure ticked a couple of boxes there.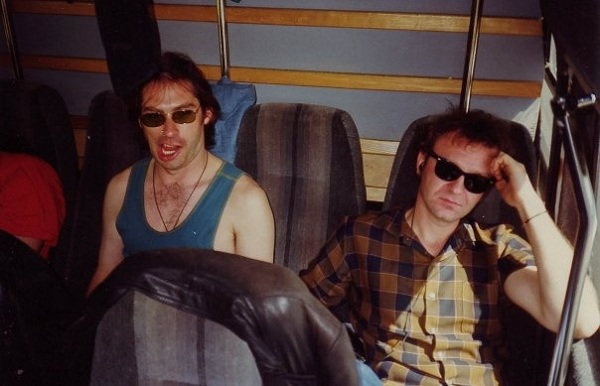 On tour (right) with the New Christs in Europe with bandmate, the late Mark Wilkinson.
In 2006 I had a particularly hard day at work. I offered my resignation (not accepted, thankfully) over something I'd ruined entirely and found myself wandering around the city aimlessly. I took a call just outside the Forbes Hotel – "Hi, it's Paul Berwick here...we're looking to put the Hate Me Nots back together for an anthology release and we were wondering if you'd like to audition?"
There it was. Lots of gigs together over the next six years, a little bit of a dabble outside of Sydney – memorable gigs with Radio Birdman in Canberra (this made Chris particularly happy) and an east coast tour with The Buzzcocks, which was hilarious from start to finish. I was playing Happy Hate Me Nots songs...IN THE HAPPY HATE ME NOTS! Lots of rehearsal, lots of driving, lots of smoking, probably too much drinking, lots of listening to Chris talk about all manner of subjects.. Lots of Chris talking, lots of Chris talking, and lots of Chris talking. I've been told I do a good impression.
The outpouring of hearts over the last couple of days has been overwhelming, and all of us, to the last person, have remarked how 'sweet' and 'beautiful' Chris is to everyone. These traits are non-negotiable.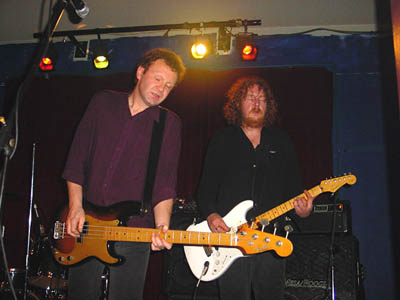 On stage in Sydney in the New Christs with Big Al Creed on guitar.
I'll remember the odd little things – the leather wristband he always wore, his disposable Copperart-esque lighter cover that had 'Bat' written on it, the strange trumpet noises he made when he thought no-one was listening, his penchant for vests and western shirts, his summer 'at ease' ensemble of cargo shorts and sandals at rehearsal, and wondering if he'd ever stop talking and get out of my car when I dropped him home!
There's a track on OUT called 'Move for Love' that you should revisit. Listen to it here. Pay attention to Chris' bass line, from the opening pair of notes, to the sublime and uplifting majesty of the outro. Sympathetic, respectful, dependable, strident where it has to be, clever, sweet, and beautiful. Are you keeping up?
Chris Houllemare, I miss you, I love you, and you leave me as you found me... a fan, a friend and a bandmate.
Matt Galvin plays guitar in Sydney band Loose Pills. His musical c.v. includes The Scruffs, Happy Hate Me Nots, Eva Trout, Barbarellas, Orange Humble Band and the Perry Keyes band.