Thrills and spills with The Animals of 2018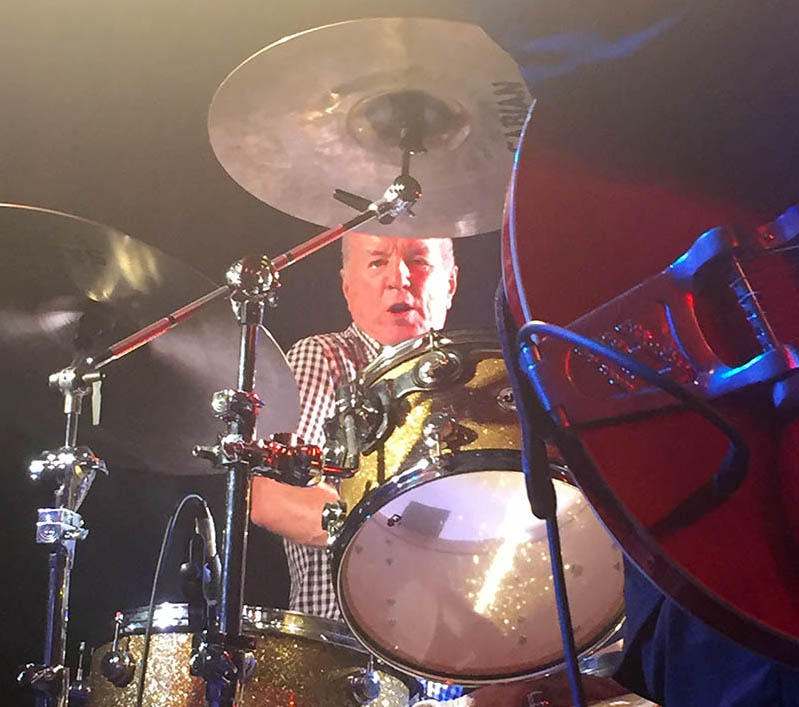 Original and current Animals drummer John Steel. Mandy Tzaras photo.
Can't take her anywhere. This writer's photographer pissed and moaned about the walk from the car to the venue in the usual female preposterous high heels, wibbling and wobbling all over the shop. That'll larn me, in future I'll drop her off outside before parking the car.
Anyway, Jello-On-Springs tipped most of her first glass of white all over me while we were chatting with a friend (I'm sure I deserved it) in The Gov's rather lovely Front Bar (they always have a band on there, so the locals and regulars have some live music if they're not interested in, say, Tweefolkies, The Smythes or Iggy and the Squeezevomits).
The Animals
+ Colin Kelly
The Gov, Adelaide, November 10, 2018
Photos/spilt drinks by Mandy Tzaras
It was better inside the main venue, people of all ages (looked like 15 to 80 to me) spread out all over, packing the smokers area and the two main seated parts of the room. The Gov had opened the second bar at the rear to cater for one of those areas as well. Food was heaved forth and drinks and conversation flowed, and wine was spilt on me again (not her, no, another lady).
Colin Kelly was on first, armed with a Glaswegian accent, a semi-acoustic, a powerful voice, excellent lyrics and a strong beat. And a beard I initially thought was a badger. Colin "Ned'"Kelly. Enjoyable, hope to see him again.
The Animals I've seen and reviewed before. Another sold-out tour.
There's a reason for this. And it's not just nostalgia at work - it's the ability of four men to do much the same thing over and over, love what they do, and share that joi de vivre.
But let me address a few of the reasons some folk didn't make the effort.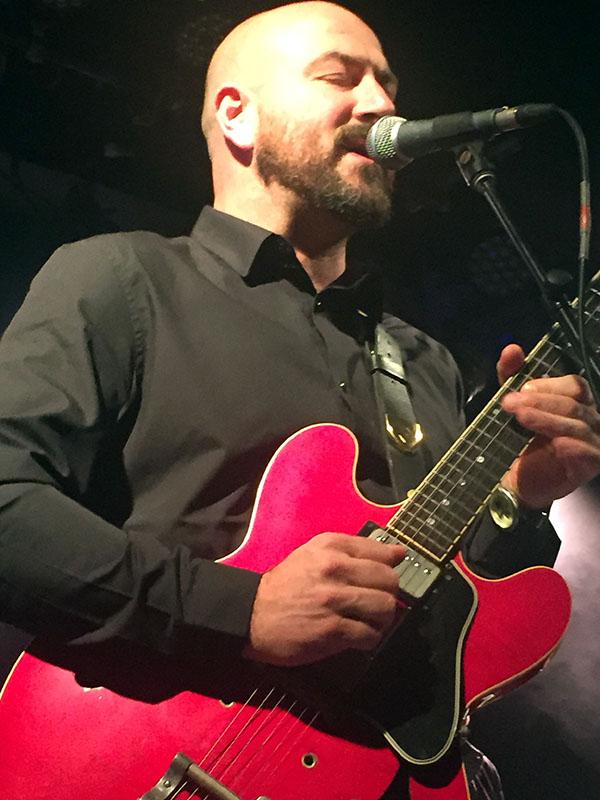 Animal in a nicely-ironed shirt: Danny Handley.
When bands take liberties with their classic songs (which they know the crowd has rolled up to see), they risk wrecking them. By now I've lost count of the number of blokes in their 60s who tell me about the time they saw (insert name of main man of significant band here) ruin his own songs. So they tend not to turn up to these shindigs (I bumped into one friend after the gig, he told the same story. Blimey).
Surely it can't be easy doing "the crowd favourites" over and over, and still enjoying both the songs and the response from the crowd. Yet The Animals make it look so bloody easy as they breathe joy into these songs, while still lending gravitas, resonance and occasional grunt.
You can see them enjoying themselves as they play, as if this were only their third gig - but they've been going in this incarnation since 2011 (when Ruiz was recruited by Danny). But the key to this is that all of them are able to respond and gee-up the crowd; there's occasional banter, and such a relaxed approach to what they're doing ... it's rather like we're all old friends sharing a gently boozy lunch. Bloody delightful.
Here's what you missed. The bright sharp energy emanating from The Animals is far, far beyond what many might expect: this isn't a bunch of flabby old coots running through the motions, but a canon brought to life in a vivid, enthralling way. The Animals are as much part of our immediate, right-now present as our hazy past.
Essentially, while there's a lot of happy faces at familiar songs ... the key to their success is the delivery. Roberto Ruiz (from Newcastle via The Bronx) provides a strong, understated rocksteady rhythm set against original member John Steel's tough, precise drums; together they are a mighty rhythm section, locked-in tight yet loose, relaxed and powerful, like a big ol' lion. There's not a wasted note.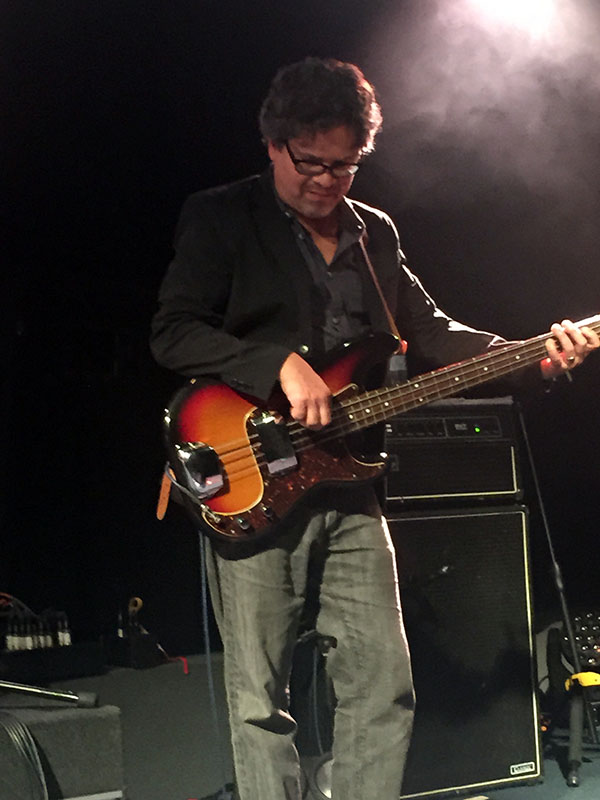 Roberto Ruiz, not wasting a note.
Then you've got Mick Gallagher (in 1965, after Alan Price left the band without telling them, Mick was recruited and put his own band The Chosen Few on hold, joining the band onstage after 20 minutes rehearsal to a crowd of drunken Swedes) on piano and organ. You may remember Mick from such outfits as The Animals, The Clash, Ian Dury and the Blockheads, The Eurythmics and Paul McCartney ...
Handley brings standards like "Boom Boom", "Bright Lights Big City" (a song written by Jimmy Reed, and the starting point of a novel and later, a film of the same name) and "Big Boss Man" into a new place, while Gallagher's arrangements are measured, powerful, exhilarating and always spot-on. I mean, take "Bright Lights, Big City". Everyone, it seems, has covered it, from the (Rolling) Stones to Neil Young and probably the bum in the pub down the road. The difference between "just a cover" and interpreting a song so that it is, in effect, a song you own, is ... well, let's just say that between two sides, there's a canyon of difference.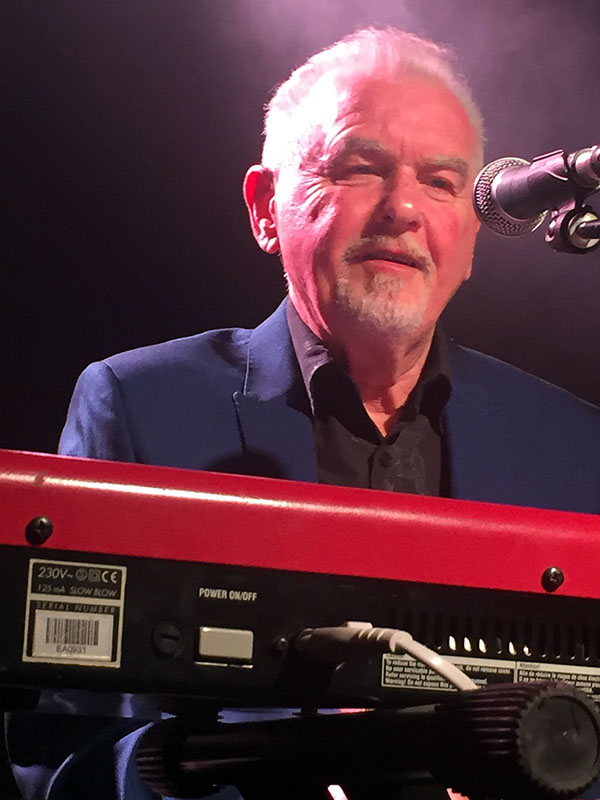 Who are you calling a Blockhead? Micky Gallagher.
Want another example? Okay, too easy. The Animals cover two Ray Charles songs; "Night Time is the Right Time", and "I Believe To My Soul'" Most older Australian liggers will recall Hunters and Collectors (aka Hunnas) doing "I Believe" - it was a standout of their shows from about 1985; I'm sure you remember it. Hunnas absolutely owned that song, their arrangement, their audience interaction, the dead-pan humour ... brilliant. Similarly, The Animals own the song as well; again, their own interpretation of the basic musical text, their interaction with the crowd, and their ... exchange of delight, I suppose, that the song evokes... mesmerised us, held us united in our mortality - and if that seems heavy, man ... it wasn't. It was joyous.
The Animals aren't precious about their own songs either. They play with the audience too; Danny Handley engages us from the moment he walks on till the moment he walks off. I've seen a lot of performers in rock'n'roll, but precious few showmen - if you don't know the difference at this moment I feel rather sad for your loss.
Danny is a consummate showman. He plays the songs with effortless ease - there's no sloppiness or missed notes here. Handley puts effortless work and love into the songs in a way that makes you smile; yet it's clear he's a perfectionist. Never was a perfectionist so laid-back. When he sings, it's equally graceful - if anything, he holds back his voice, only really letting it come out in songs like 'Night Time is the Right Time', one of the many stand-outs of the show; the band finish the song, then reprise it, starting with just a rumble from the kit and Ruiz' bass, and Danny's voice, who then entreats us to sing along.
They do this singalong thing a lot more readily in England; always have done. There's a huge cathartic, spiritual feeling when you sing inside a large group - this is a significant part of the English culture (which is not surprising, given the rather chilly climate). Australians don't really get it, so it is frankly wonderful (and nothing short of astonishing) to witness the majority of the crowd, enticed by Handley, singing along to probably about a third of the songs. I mean, come on, can this really be stuffy, staid old Adelaide?
Of course, more dancing females had emptied their glasses upon me by now, but of course... I didn't care.
Handley, as one of the spilling ladies commented afterwards, has really breathed new life into The Animals' repertoire. Sure, these songs are all classics, and I'm sure people think that that really should be that, but it isn't. I don't recall the original outfit having such a lovely line in sweet blues licks, for example. Yet Danny effortlessly incorporates this into several songs, without overpowering the original intent or the intrinsic beat.
All through the gig my photographer alternately hopped about, jigged, danced, wriggled and generally carried on like a pork chop on the Nullarbor. Oddly, I heard no more plaintive cries about high heels ... sauv blanc cures many ills, apparently. More women spilled their drinks on me (as I said, I'm sure I deserved it) and, later, on the signed poster but you know, going home from a gig with a messy poster and sticky shirt, trousers and underpants is always a hallmark of a great gig.
We got home in time to realise it was Remembrance Day, one hundred years after the big guns stopped firing. Lest we forget.
Tags: australia, the animals, john steel, micky gallagher, 2018