For context, 1967 was the Summer of Love, and Arlo Guthrie's song "Alice's Restaurant Massacree" became quite the local sensation, resulting in a recording contract (at over 18 minutes the song formed the entirety of side one of the LP 'Alice's Restaurant'), resulting in cult fame, hippie love and a film made in 1969 (directed by Arthur Penn). The official reason for this tour is that it's the 50th anniversary of the film...
Oh, yeah. Arlo is a hippie. An old hippie. And we're damned lucky to have him here in Australia, not least because he doesn't tour here very often. Either way, he's released a slew of over 30 LPs over the years...many of them on his own independent label, Rising Son Records.
And his life hasn't been easy, either. In 2004 he lost the home he'd restored with his son to fierce storms; he wasn't insured. After Hurricane Katrina he went on tour to raise money for the performers and musicians of New Orleans. This from The Independent: "In an e-mail to friends, family and fans, he wrote: "When I think of New Orleans, I think of music. The city of New Orleans is America's first music city. New Orleans is the city that truly began America's contribution to the history of music worldwide. Without it, there'd be no popular music as we know it today.""
I only own a copy of the first one. So, given the heavy promotion of the tour citing "Alice's Restaurant", I'm hoping to hear this song - and to hear half a shed-load of songs I've never heard.
My other expectation is that there will be a lot of seating for elderly Sixties folks; when I arrive some 45 minutes before the doors open there are already 60 or so folks lined up, all excited.
So. Ho to the Gov once more, pound for pound the best venue in town, but which gets little recognition of its profound cultural achievement by the local council (carparks, you bastards, sort out the area's carparks. You have four pubs within staggering distance and the ghastly concrete Ent Cent and there are NOT ENOUGH CAR PARKS. Oh, and make sure more carparks are FREE at night).
No, I know. Don't make Brokenmouth the Premier of South Australia.
For a start, free parking for anyone heading to the Gov. And no more fucking bike lanes. And bikes costing more than $400 subject to registration fees (say, half that of a small car) with microchip locators. And compulsory insurance, natch. And a $4000 fine for not having a bell on your bicycle, and $5000 fine plus a month's jail if you don't use it when approaching pedestrians from behind.
And all those health adverts telling us not to smoke, to drive responsibly and all the rest of that? Get rid of 'em. Restauranteurs - install either a separate smoking section or declare the place smoker friendly, and ditto bars and pubs. Re-allow smoking advertising. All bankers to wear scary clown masks during loan applications.
And a permanent ban on Pentecostals and Scientologists.
Enough, you ranting sod, you say, and on with the show?
Okay. If you insist. I was having fun there for a moment.
Alright. As you all know, Iggy Pop played in Australia recently. My friend Jeremy (perched next to me tonight) went over to see it - and his head is in several shots which have turned up on anti-social media. (Fame, eh?)
Anyway, given that Iggy is about three months older than Arlo, I would love to be able to report that the topless younger man lurched onstage to pounding toms and threw his leathery, white haired torso into the crowd, flattening two cripples while elderly ladies groped his crotch.
No, I know.
It didn't happen.
Iggy's crowd is from a younger, grubbier generation, while Arlo's seem pretty comfortable. Whilst waiting for Arlo to come out and smear himself with Skippy peanut butter, I mused over some of the outfits I've seen on this stage. The Beasts, and the Beasts of Bourbon; The Scientists; The Bad Shepherds; more recently Rose Tattoo (one chap behind me had seen that gig) and the Jesus and Mary Chain (I wondered briefly if their copious use of smoke was because they know how ugly they are) ... then I realised that, as Arlo and his band strode on bang on time at 8pm, that Arlo had let off a little smoke before we arrived, possibly mixed with sandalwood incense. Smelt quite lovely, really.
On the organ and backing vocals was Abe Guthrie, on lead guitar was Steve Ide while his wife Carol played assorted effects and backing vocals; on drums is Terry Hall (or Terry a la Berry as Arlo calls him).
In a nutshell, they come on, they play, and Arlo, despite having a slightly tickly throat from overuse, is somewhat magnificent. His control over his instruments is superb, his sense of timing and mic technique is perfect. And his delivery damn near indecently exquisite. Quite a masterclass, in fact.
Here's the set list (I think this is right):
First set;
The Motorcycle Song/ My Front Pages/ Ukulele Lady/ Helluva Farewell/ St James Infirmary/ Alabama Bound/ Gates of Eden/ Ride Til the Morning Comes
Second set:
Alices Restaurant Massacree/ Coming into Los Angeles/ All Over the World/ I Give You My Peace
Tonight was another of those shows at the Gov where the establishment provides chairs so's those who aren't really suited to standing up for long periods of time can take a pew, so there are about three or four rows curved around the front of the stage, while the (presumably fitter) punters crowd around behind. There's the occasional moby zipping about, the odd blind person, and (amusingly) it's the sighted who trip over the well-lit step to the slightly raised level (which is where I end up).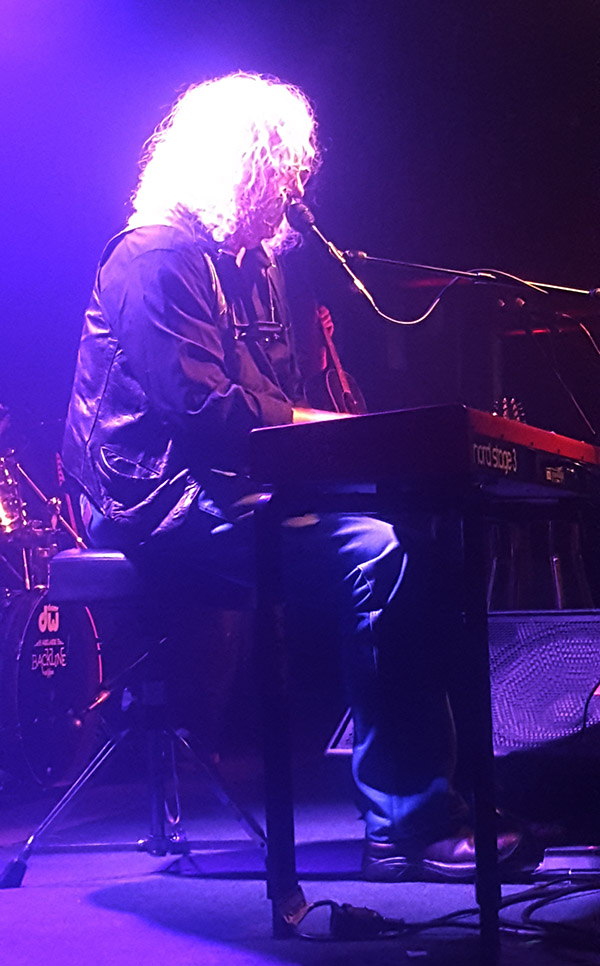 From there, I can see that we have an organ, a electric pianner, a few semi-acoustics, a Fender guitar and assorted maracca-like things and a teleprompter.
I can read not only the set list, I find, but the song lyrics themselves as they scroll down.
When that thing's scrolling, the movement got my attention, so occasionally I read ahead. At one point during 'Alice's Restaurant Massacree" the crowd started singing the chorus, and Arlo then asked them to sing along; Adelaide made a lot of racket right the way through. It was instructive to see that, on the teleprompter, Arlo had scripted his next comment: "Well, that sucked...". He didn't say that, though. What he did say was that we were great, and that this is the only town in Australia which didn't mumble a bit then come in loudly on the last line.
It was also interesting to see how he'd updated part of the denouement at the end of the song to include the overzealous security services in our own age; in the original he speaks of his fingerprints being retained in a 'collection'; tonight he expands that to emails and phone calls. And, amusingly, at the end he said, "If I'd known that I was going to be playing that song for 50 years I would've made it shorter."
Arlo never once refers to the teleprompter, but as he explains to a character at the end who bellows out for a song; 'We only do songs we can remember. You see, as you get older, you know you don't need to remember some things, so they get ditched.' Or something like that.
If you've not heard "Alice's Restaurant Massacree", it's quite the droll, laid-back masterpiece. The use of repetition emphasises the stupidity and uselessness of officialdom, for example, and relishes what can only be described as the freedom of the American bogan. Ludicrously, it describes how Arlo was denied being drafted into the US Army... those of you who know contemporaries Iggy and the Stooges' efforts to join the draft will compare these stories to much laughter.
This pinched from Rolling Stone: "To have what happened to me actually happen and not be a work of fiction still remains amazing. It's an amazing set of crazy circumstances that reminds me of an old Charlie Chaplin movie. It's slapstick. I mean, who gets arrested for littering?
"And who goes to court and finds themselves before a blind judge with pictures as evidence? I mean, that's crazy! And then to be rejected from the military because I had a littering record? I mean, those events were real and not only that, those people played themselves
"in the movie! The cop in the movie is the real Officer Obie and the judge in the movie, the blind judge is the real Judge Hannon. And these are real people! And they consented to play themselves because they think they, like me, observed the absurdity of the circumstance."
Towards the end, before "All Over the World", I think, Arlo observed that his voice wasn't as good as it could be as they'd been touring, and the tour was to end in ... November. Cue good-natured laughter. Then they finished, to huge roars and claps and general noisiness from the crowd. They were about to walk off, I think, but Arlo paused, and gave us one more.
The lyrics were written by his dad, Woody, and were the last thing he wrote. There were no notes for a tune, so Arlo wrote one. It's short, and it was beautiful.
At the end, we're all delighted. The room is filled with quiet joy.
And I'll leave you with another quote filched from Rolling Stone: "My father told me once when I was very young, "Music will be your best friend. Learn to play the guitar music will be your best friend." And he was absolutely right. It had nothing to do if it was professional or back porch picking. It had nothing to do with the genre of music. It had to do with speaking a language that anyone could understand around the world. And I believe that, and so I'm happy to see my kids and grandkids participate in that.?"
Now. Go here, and get stuff: