HiFi Bar, Sydney
Saturday, April 20, 2013
And so it came to pass, this chilly Sydney night. Blue Oyster Cult has come to Australia after 40 years, by way of inclusion on the Dig It Up! caravan and by special request of the Hoodoo Gurus. Tonight is a sideshow. Playing a full set of their own material. No support.
It's been said here before but it may as well be reprised briefly that Blue Oyster Cult were a big influence on a generation of Australian hard rock bands. They're one reason Gurus guitarist Brad Shepherd was sucked into the vortex of rock and roll as a teenager. Radio Birdman was in their thrall, taking elements of their look, their set list and an album title from the Long Island band. Dave Graney remains a devoted fan (I'm waiting a vibes and jazz-chords take on "Hot Rails To Hell" on his next album.)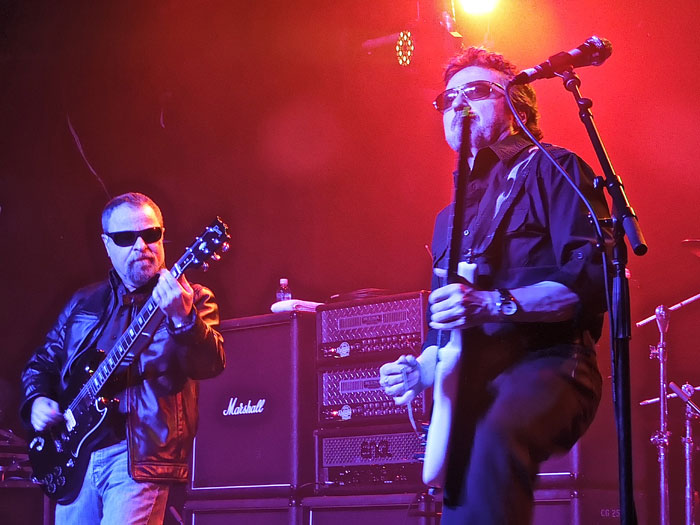 They were dark, mysterious, with non sequitur lyrics and sharp riffs. They had a rough virtuosity that was nigh impossible to pigeon-hole, wavering somewhere near pro rock and metal with flashes of (Buck's) boogie. Black leather and sunnies. They had a symbol. The Red and the Black was their colour scheme. It was alright.
I was lucky enough to catch them at a festival in Spain last year. It was daylight (the wrong time to watch any band) and outdoors, and the sonic hand grenades BOC was throwing worked to great effect, but the way the band moved through their paces also came across as a little bit too slick for their own good.
Move it along nearly a year and there's nevertheless enough excitement in the air to drag me out. The HiFi Bar is a drab, functional room for about 800 people in the grounds of what's quaintly known as the Entertainment Quarter on the fringe of the Sydney CBD. Me and probably you both used to call it part of the Sydney Showgrounds half a lifetime ago. Prefab pop star and Hillsong Church donor Guy Sebastian is playing at the nearby Hordern Pavilion and the parents of his besotted fans have taken almost all the places in the parking station. There's time for just one quick heart-starter with Jon, Emmy, Al and Andy at the faux Irish pub across the way before the HiFi Bar doors open.
At the venue, the fans form an orderly line at the door - and then form another inside when they spot the merch stand. The black T-shirt sells out before the band has struck a note.
Slow down, take a look. Most of us inside this barn are codgers, a few obvious metal-heads are here and some youngsters (not many.) BOC fans are fanatical but respectful. There's a girl at the stage lip in skull-motif T-shirt and wheelchair. Tonight, she truly has the best - and only - seat in the house as fans around her make sure so she's not crushed in any squeeze.
Symphonic music ushers BOC on stage. We've already had an audience member do his own version of the roadie's voiceover from the live vinyl and then we get it from one of the crew for real.
"The Red and The Black" is the opener, played slightly slower than some of the versions committed to tape when the Bouchards were in the ranks. Eric Bloom exhorts all of us to hold our beers on high to toast the "Golden Age of Leather". I'm a bit reticent in case I spill mine and have to re-join the bar queue. Then it's into the first of The Big Three, "Burnin' For You", with Buck Dharma taking centre mic. This one's uncannily close to the records.

BOC is obviously operating on the Bloom-Dharma axis. They're Two Oyster Cult, as in what remains of the classic line-ups. Take one away and it's all over red rover. BOC is every inch An American Touring Band. In other words, they have their chops down and to these they add all the classic moves. Bloom moves from rhythm guitar and lead vocals to keyboards, reeling off some very effective lead breaks from time to time. Dharma is the fire and brimstone, laying down sublime leads as he stares off into the middle distance.
It's Richie Castellano (a six-year "new boy" on guitar and keys) who scuttles from one side of the stage to the other, injecting colour and movement (some might term it "energy") as he mugs to the crowd and strafes the front rows machine gun-like, even when he's strumming simple barre chords. There's no doubting the pedigree of the engine room of Kasim Sulton and Jules Radino but for my money, Radino doesn't drive the beat as forcefully as required on the up tempo songs.
Twenty-five million and counting. That's how many albums BOC have sold over 40 years. These days they're label-less but you have to appreciate the extent of the back catalogue they're dipping into. Even so, it's a bugger that they don't chose to do "Astronomy" as it's one of the best things on their first three truly classic albums ("BOC", "Tyranny and Mutation" and "Secret Treaties".) The call and response of "Dominance and Submission" would have ripped the HiFi a new bum-hole as well.
What's in the set is "ME-262", being played for the first time in Australia we're told. It's a stinging version. THere's a good spread of songs. "The Vigil" is from "Mirrors" while "Black Blade" off "Cultosaurus Erectus" represents the shinier aspect of BOC's body of work. "Last Days of May" is the definitive moment and it's one the band choses to share with Brad Shepherd from the Hoodoo Gurus. He's given his chance to rip into a spotlight break, sandwiched between Castellano and Dharma, and no, Brad, you didn't disgrace yourself. Highlight of the show and Buck's vocal as smooth as the satin stage suits he used to wear.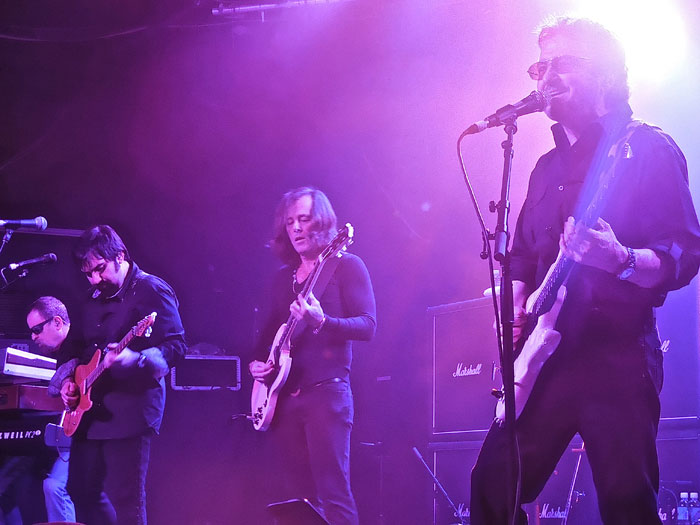 It's Blue Oyster Brad with Shepherd centre-stage for "Last Days Of May."
Most non-fans don't get "Godzilla", surely the heaviest song in the bulging BOC knapsack. They angst over Eric's "something big comes this way" build-up, disparaging it as corny and cartoonish. Well, that's the fucking point, you numbskulls. You think a song about a movie with a badly dubbed English language soundtrack in which a man in a rubber dinosaur suit cuts a swathe through his little brother's train set is meant to be serious? Please email a photo of yourself holding a sign saying "owned" at your earliest convenience.
So "Godzilla" stomps around the room in devastating fashion before lapsing into a lengthy showcase of Kasim Sulton's curriculum vitae. By that, I mean it morphs into snatches of songs by bands he's been in (notably Utopia, Meatloaf, Joan Jett & the Blackhearts - although that leaves out Todd Rungdren and Patti Smith's band, plus the Ocasek-less Cars), which is fine for the four-string virtuosos/devotees but it's time that could have been given to another BOC song. I adjourn to water the horses at the trough while the regulation drum solo spot accords the other session guy his five minutes in the sun.
There's no other choice for the closer than "Reaper". Just like in Spain, it plods and - wait for it - there's not enough cowbell (boom-fish!) In fact, it's MIA from the mix from where I stand, but I presume it's sampled as there's not one being played on the stage.
Having reaped what they have sown, it's exit stage left, only for three more songs in an encore that kicks off with "Hot Rails To Hell", invites audience participation with a sublime "Cities On Flame" and ends with "Born To Be Wild", for which they're joined by Brad Shepherd and Gurus bassist Rick Grossman. Grossman bumps Sulton to guitar and a good time is had by all, without scaling the same dizzy heights as "Last Days."
The questions at there top of the review might have been rhetorical but the answers are clear. Blue Oyster Cult work as a homage to past glories and a valid working band. Slick in many parts, professional without being coldly so. They might be able to play these songs in their sleep but there's still passion mixed with the memory muscle.
The Red & The Black
Golden Age of Leather
Burnin' For You
Career of Evil
Shooting Shark
The Vigil
Me262
Harvest Moon
Black Blade
Last Days Of May
Godzilla
(Don't Fear) The Reaper
Hot Rails To Hell
Cities On Flame
Born to be Wild