March 18, 2016
Camelot Lounge, Marrickville
Photos: Look Sharp Photography
Ed Kuepper takes the stage with a capacity audience already applauding. There's a sense of Ed pondering the moment as he sets up his Kuepper Machine Box and his rack of dials and knobs with all manner of reverbs and delays.
"Confessions of a Window Cleaner",opens the set (plucked from his 400-strong song list and 50-album back catalogue.) Ed's approach is now cohesive and workmanlike and reflects the stripped-back nature of his last three albums, most notably his latest record, "Lost Cities".
Kuepper follows with another lesser-known track from the "Blue House" album. As the opening chords are strummed, the fire alarm is set off. Damn annoying and it refuses to be shut down, like some annoying stage diver that refuses to leave. It takes some time before the gig's momentum picks up again.
"Not A Soul Around" follows and then a majestic, extended, atmospheric "Electrical Storm".
The gig is being filmed: and Kuepper explains it's an Argentinian crew that's searching the world for the best-ever KISS tribute band and somehow he got the e-mail. He decided to put his hands up; since the filming has started, they've discovered he isn't their man and he actually despises KISS. Yes, Ed Kuepper confesses he despises KISS. I always knew he was a man of taste, refinement and a cool cat
The last song of the first set is not what we expect and a light-hearted moment with all the darkness and lyrical intensity. Ed Kuepper vrs Julie Andrews with a rendition of "My Favourite Things" from"The Sound of Music". Ed has now won the audience over completely.
Ed returns to stage after the break. The first song is the opening track of Lost Cities, "Pavanne".In many ways, this is why I am here. As I stated in a review a few weeks ago Kuepper has kicked a goal with this album. The songs are strong and the harmonically layered and tonal qualities of this album are so layered , Finally, it has some of Kuepper's strongest vocal melodies and performances of his career. Now, to really access these songs live, with fresh ears.
It is the tonal qualities of guitars that are stunning, it now with Ed's bag of sonic tricks and reverb and loops that fully take shape live: They ring across the room: and have that almost tape loop echo sound of '60s recordings and soundtracks, with the ghost of Delta blues hovering over it.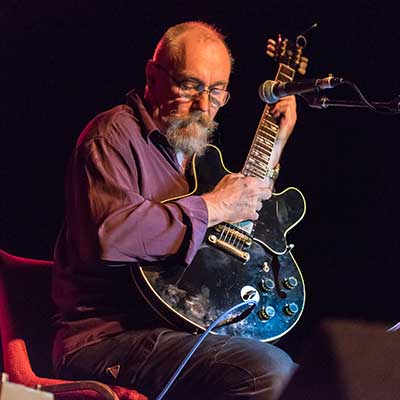 The atmospheric "The Ruins" again explores layers of tonal colourings and captures the same performance and ambiance delivered on the album
Towards the end of the end of the second set, Ed follows his wry and sometime arrogant banter with audience and asks for requests, A flurry of songs are hollered out, and even the odd Saints song, We have a sense that Kuepper already knows the songs he wants to play tonight, but the exchange really is part of the feeling we are in Ed's lounge room and adds to intimacy of the gig. He loves to play cat and mouse and really is the master showman within his "indie "coolness.
The set ends with his benchmark song, the enthralling, powerful and emotive "Eternally Yours". A song that always sweeps the audience away since it was first played live 30 years ago.. It is a masterpiece.
The audience was fully rewarded tonight. Well over two hours, they heard the songs they mostly wanted, like "Not A Soul Around", "Electrical Storm", "The Way You Made Me Feel" and "Eternally Yours" - their own local soundtrack to '80s alternative music and a time when Triple Jay was sorta cool. The odd obscure song is thrown in, and finally a show case of five from the magnificent "Lost Cities" album. All intertwined with the usual Kuepper one-liners and wry humour,
During the musical explosion of the mid to late-'70s when the teenage Ed Kuepper emerged, and over the next 40 years, he marched forward in musical leaps and bounds. He was one artist that used self-determination and vision to hit the creative heights and approach the area of musical genius that Mingus and Coltrane explored. A big call? Yes. But I really can't think of anyone else who has come close.
To define The Saints as proto-punk or punk in that wave of bands that spawned so many significant musicians on the world stage is one thing. To take his music to myriad other places is another. Most have since disappeared; some still repeat the same music as they did when they were teenagers while a few became superstars. Ed Kuepper is one of the few to have come remotely close to the musical genius of a jazz great. And he always delivers live.