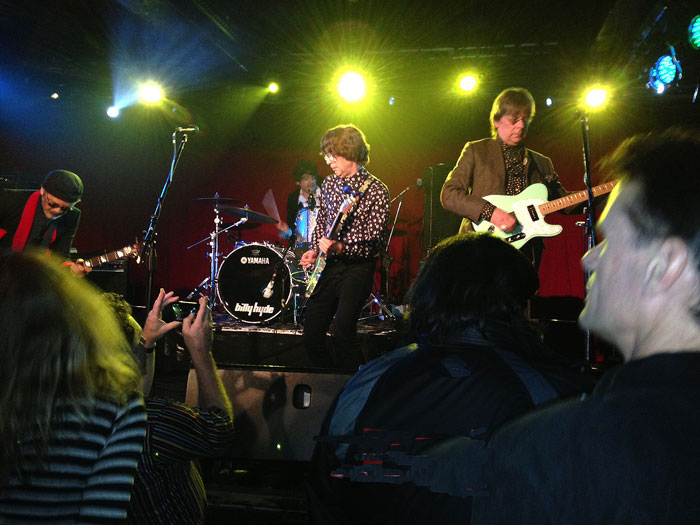 Annandale Hotel, Sydney - Tuesday, April 23, 2013
Push through the Annandale doors about half way through Peter Case - surprised 'cos I wrongly expected to be seeing him doing a solo show. He's got a band behind him and it's rockin' and more bluesy than you would expect given his history in the Nerves and Plimsouls. Move a little closer and sure enough he's looking quite the elder statesman of the blues, is Peter Case these days - dust to dust, we all come from the blues and must return there one day.
Spent the drive revisiting my favourite album of his, the mostly acoustic "Torn Again" from the 90's - none of this stuff in tonight's set and I didn't mind at all. It was great to hear that voice of his, melodic and soulful - stirring rendition of Plimsouls classic "Million Miles Away" had the crowd cheering in between some Dylan and bluesier open tune foot stompers. In between songs we got to hear Peter Case tune up by ear, usually a bit annoying but not tonight, I kind of respected him for it cos he was using some alternate tunings on his guitar - he was in good spirits and had plenty of banter and one liners to rip out - it's Tuesday night and he's on tour, I thought to myself, he's relaxed and letting it all hang out. Hard not to follow his lead, the room is definitely warmed up.
The Flamin Groovies hit the stage with "She Said Yeah", anticipation is high and then....a broken string, oh well no harm - quick guitar change and next song yeah? - err not tonight. Cyril's changing his own string off stage so it's all gone a bit quiet/awkward... for a moment... Chris Wilson nervously steps up to the mic and plays a heartfelt "Chimes of Freedom" by the Byrds on his lonesome. Now if you love the Groovies there's a good chance you love the Byrds too, so it was a welcome treat for most in the 150 odd crowd...
At this point I'm thinking Tuesday night, pffft - it ain't the night for rock'n'roll - why isn't this Saturday night so we can all go crazy!! Cyril finally gets it together with the tuning after a bit of fumbling about and picks out the intro to You Tore Me Down, all is forgiven. The focus is on the mid 70's Chris Wilson/Shake Some Action era/sound of the Groovies so the grittier earlier stuff was overlooked for the most part.
I hadn't planned on writing this piece whilst at the gig, just some spontaneous creative writing the the day after so forgive any lack of set list accuracy here - the night seemed like classic after classic from one of the greatest albums of all time - "Please Please Girl", "Don't You Lie to Me", "Sometimes" all delivered with the clean guitar sounds and vocal harmonies that characterise the Shake Some Action album. Another Byrds cover, "Feel A Whole Lot Better" with note perfect solo from Cyril Jordan is very well received (The Byrds are in the DNA of this band!)
It's Chris Wilson's turn to break a string and while he's fixing that up the band start into one of my faves, "I Can't Hide" so Chris is trying to do two things at once - singing and re-stringing a guitar. They end with "Slow Death" and a version of "Shake Some Action" that even had a group of 20-something-year old girls dancing behind the bar (few bands have something as timeless and great as this in their repertoire) followed by an encore of "Roll Over Beethoven" (a song by America's greatest poet, proclaimed Chris Wilson - or was that something Peter Case said?) and "Teenage Head".
Someone asked me this morning how it was... I told them it was sloppy as hell, broken strings, missed changes, dropped guitarsetc...but it was also totally unpretentious and fun, at times brilliant even, every song was special. The Groovies tonight reminded me of a bunch of kids doing their 3rd or 4th gig, a loose but endearing bunch - Cyril Jordan playing those classic guitar lines on that Dan Armstrong guitar, Chris Wilson on Telecaster and George Alexander - solid as, not a word did he speak, only wish he was playing his Hofner beatle bass, and a drummer who never over-played his parts - thankfully no drum solos at this gig...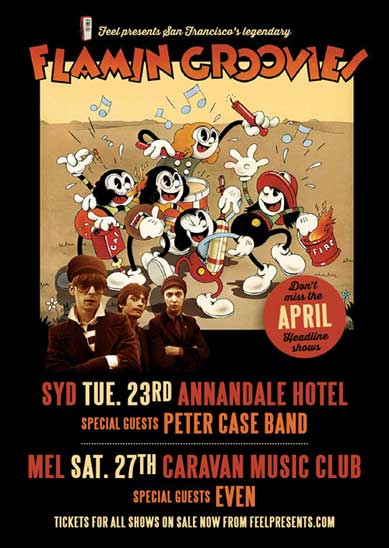 The joy was there, the fun, the zany personality and gonzo humour of those famous cartoony record covers was on stage tonight, it was almost slapstick even....besides the great songs, isn't that what the Groovies have always been about? Playing the kind of music that takes us back to where rock'n'roll started. I'm reminded of a quote on the back of a record I treasure "The Groovies ain't the neatest band around but they are one of the most spirited". Amen.
Driving up to this gig I thought back to 1986 when I saw the Groovies at the Cabbage Tree Hotel in Wollongong. There was no internet, there was no social network or eBay - simply getting hold of a Groovies record was a triumph savoured.....they were legends just like Radio Birdman or the MC5 - our heroes, seemingly unknown outside of an underground network of the faithful (that you had to go out to gigs in order to connect with!) - it REALLY meant something to get a hold of a Groovies album - there was an underdog mystique about this band, so seeing them live back then was a milestone event at a time when overseas acts rarely toured. 28 years later we are swamped by touring bands, you can flick anything up on your screen, instantly dismiss or criticise or find out information second hand, buying a record by an unknown band as easy as getting breakfast etc... but have we lost our sense of awe and appreciation in the process?
I say this 'cos I'd heard and read bad reports and negative impressions by people online about this re-formed line up of the Groovies - it's hard to ignore and not be swayed by opinions these days. Everyone has a voice in the modern forum and it's made us all too quick to judge and dismiss - everyone's bullshit detector is in overkill, we are all critics with expectations so high...I'm glad I decided to hold the faith and make up my own mind.
So, if you went tonight expecting to see a slick and professional rock show you would have been disappointed, it probably wouldn't work in a big room either but there is some intangible quality about this band that brings you back to the purest mystical essence of rock'n'roll. All I could think about was how lucky I was to see them play again - which is saying something as I am notoriously cynical about bands reforming, a lot of dead horses are being flogged these days.
What can I say - I loved it! Lester Bangs would have been cheering from the big bar upstairs, in a world of perfection the flaws in this diamond of a band only made them more genuine and special tonight. They will always be flamin groovy to me.
Epilogue:
Tuesday night begins to meld into Wednesday morning, I headed home from the gig with Peter Case on the car stereo, get pulled over for a breath test and end up going for a joyride in the back of Police van courtesy of stupidly being over the limit. Luckily my second test is under the limit and the nice Shire policemen let me go. Where had you been drinking they asked whilst I sat waiting in the drunktank, I went to see some bands at the Annandale Hotel I tell them....the older cop looks over at me and says "musta been a good band to get you out drinking on a Tuesday night mate!"