From the Cradle to the grave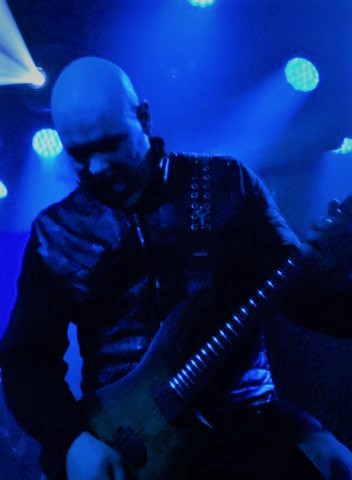 Cradle of Filth
+ Hybrid Nightmares
The Gov, Adelaide
September 4, 2019
It's fair to say that most people who rock up to these shows won't be bumpkins like me, who completely missed all the advances and shifts in the metal throughout the 1990s and onward.

Almost certainly there were few folk attending who didn't know the latest LP backward. The friend I'm going with, Azhurn, knows the bloody lyrics. Now, we ain't talking Ramones here. We're talking pieces which don't repeat phrases, no choruses except musical ones, and a narrative series closer to a somewhat demented storyteller. Dani's voice is simply astonishing, shifting several times within a single phrase, and occasionally it appears he's singing two notes at once.
Here's some of the press release (slightly amended):
"When you talk about classic albums shaping genres 'Cruelty and the Beast' by Cradle of Filth sits proudly and menacingly at the top of the tree for extreme music. In 1998 'Cruelty and the Beast' showcased the band's hybrid of brutality and macabre romanticism, crafting a concept album based on the life of Hungarian mass murderer Countess Elizabeth Bathory, who tortured and murdered hundreds of young women in the 16th and 17th centuries.
"'Cruelty and the Beast' was both bombastic and grandiose, inflected with gothic touches, yet unquestionably rooted in black metal. In addition to the feral bludgeoning and the slower, more melodic keyboard passages, 'Cruelty and the Beast', featured three haunting, elegiac instrumentals filled with chiming organs, horrified screams and synthesised orchestra parts that enhanced the drama and split the presentation into three acts. No other band would have been capable of creating such an opus. As a concept album, it is executed with perfection … creative, intelligent, shocking, written brilliantly and played expertly."

What's on offer tonight is an album which wasn't much liked by the metal community at the time - the band have always tended toward the orchestral, with Cradle of Filth's third album 'Cruelty and The Beast' resembling nothing so much as an entire Classical or Operatic piece - you can clearly see classical influences (baroque movements, for example) and opera (structure, bombast, big emotions). Of course, a lot of other bands have followed their example. But no-one does it better, you know?
I should also point out that every album by Cradle of Filth reeks of both Gothic (the literary genre, not the big hair craze) and Hammer horror, as well as the Penny Dreadfuls (again, the literary genre), Lord Byron, and the Fin de Siecle. You can definitely see echoes of Mary Shelley, Bram Stoker and Lord Byron. I'd say Sacher Masoch and de Sade are also in there (no, not that bloody wittery singer Sade, sit up straight and pay attention), as well as Lovecraft and possibly even Clark Ashton Smith.

Each Cradle of Filth album is, in some form, a concept album located in various horror genres, mythologies and so on. Consequently, 'Cruelty and the Beast' uses Countess Bathory as a starting point, and extrapolates from there. Inventive, genre-busting and a knife in the ribcage to listen to.
Bathory? Here: "Where fact ends and fiction begins in her horrible story is now impossible to determine, but in her fame as a legendary vampire she is outrivalled only by Count Dracula."
Never performed live in its entirety before, 'Cruelty and the Beast' has also been remixed and remastered by Grindstone Studio's Scott Atkins and will be reissued on 1st November 2019 through legendary UK label Music For Nations.
That said, of Cradle of Filth's fourth LP, "Midian" wikipoodia reckons that the NME called this LP "one of the most ludicrous records you'll ever hear" - which isn't actually a bad thing. No really - ever hear opera fans bang on about the most preposterous overblown stuff in a language you have to learn, about mythologies you also have to learn, in order to appreciate it..? CoF are no different (mind you, the crowd certainly are; they're less snobby for one thing). Sure the band wear costumes on stage. So do folk who do opera, or actors, and rather a lot of rock'n'roll bands. Alice Cooper, for example.
So we're not here to see just a bunch of songs, but a manifestation of the first time Cradle of Filth got (what you might think of as) their template down. Some members of the band didn't like it at the time. Doesn't matter. Here we are 25 years on. Azhurn was with me; he saw their last Australian tour - he sang along with most of the songs tonight - as did a lot of other people in the crowd. Surprising because if you aren't used to the genre, you can't always distinguish the words. Once you can though, it's hard not to sing along...
Hybrid Nightmare were the support - and they were really damn good. I'll look forward to seeing them again. Tough metal from Melbourne, I gather. Loved the lead guitarist's sound, and the drummer was bloody good. The singer really knew how to work a crowd, as well.
Both bands used radio mics, and radio mic'd guitars, which lead to a lot of fluidity, colour and movement. The Gov put on a great show - excellent sound, brilliant light show.
In a nutshell, Cradle of Filth were fucking brilliant, a huge show in a small space. Bags of energy, everyone in the band thoroughly into the music. When I heard it for the first time it seemed impossibly fast, but there's a throb behind the mesh.
Cradle of Filth is, essentially, Dani Filth's band. So we'll have none of that nonsense about 'the original members', thank you. The current line-up are, put simply, fantastic. Energy and power radiated from them. They were swimming in sweat by the end; sure, their clothes are lightweight (tho they do look heavy) but my god. They were dripping sweat from very early on.
The band currently comprises:
Lindsay Schoolcraft, keys and narrative vocals.
Daniel Firth, 5-string bass
Marek 'Ashok' Smerda, guitar
Richard Shaw, guitar
Martin Skaroupka, drums
From the moment they walked onstage, Cradle of Filth were completely in command of the crowd. No matter the expectation we might have had, the band matched it and went beyond. Every member was completely locked in-sync - they were incredibly, spectacularly tight - which the songs absolutely require. But beyond that, Smerda, Shaw and Firth were able to continually interact with the crowd - almost every second they were visible. Some of the songs required choreography and pre-ordained positions and movement. But mostly we were looking at four wild animals pacing the stage like they needed a fresh, meaty meal.
Skaroupka was a thundering powerhouse and a precision blade. Speed, accuracy and massive power. Firth, Smerda and Skaroupka were absolutely all over the stage - so much continual interactive movement from them that it was impossible to think of anything else. I won't go on about it but ... the amount of power and sheer skill and talent on display here will make your jaw drop.
Schoolcraft is the reason the band sound so diverse. Her keys, screams and soaring vocals lift and turn the band from 'just' rock'n'roll to an alternate soundtrack to a horror film - and by that I mean one that makes the hairs on the back of your neck rise and your skin to rise in tiny lumps. She's fabulous.
Dani himself was a ball of lightning, moving across the stage, cutting through the guitarmen, exhorting the crowd; by going up to a small riser at the back, the band could roam the stage to alternately strut and pose and jab assorted string instruments into our faces. Dani's control of his voice is nothing short of extraordinary, wrenching lyrics and a large array of styles. His mic technique is equally brilliant, you can see him concentrating, but it all seems so damn easy. And you know those songs can't be easy to sing. You or I would be shagged out long before the half-way mark. He just kept going, with the type of complex singing which frankly, very few people can do.
They did a six-song encore, mostly of older songs. Nothing wrong with that, this would be the first time most of the crowd would have seen them live.
It will be interesting to see if the band release an audio recording of these shows - it looked to me like the set was being recorded.
Cradle of Filth played Perth the other night, tonight, Adelaide. They are, quite simply, a band you must see - even if you dislike the genre, it just doesn't matter. The spectacle, the entire extraordinarily well-paced piece, the sheer braggadocio and self-belief will utterly captivate you. One hell of an experience.
SEPTEMBER
6 - 170 Russell, Melbourne
7 - The Valley Drive In, Brisbane
8 - Metro Theatre, Sydney
10 - The Basement, Canberra
12 - Studio The Venue, Auckland, nz
Tags: the gov, cradle of filth