It's high time for X to get into the studio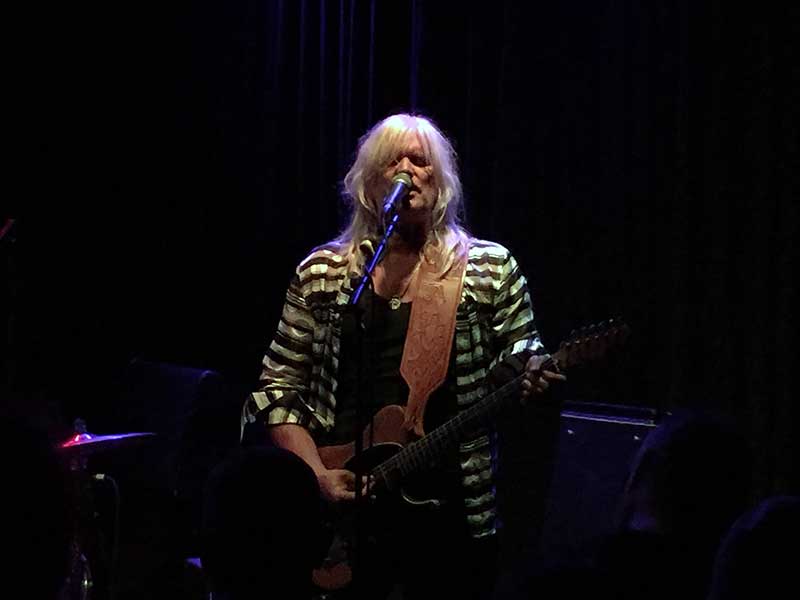 Steve Lucas at the Newtown Social Club. Murray Bennett photo
X is a Sydney band.
I can't think any other outfit that personified the street-level, brutal and at times minimalistic music of Sin City Sydney of the late '70s like X. Theirs' was a world of squats with a city awash with Terrence Clark's cheap smack, the odour of brown bags of dirty money and nightly beatings at Darlo police station.
It was a world of corrupt pollies and police in the post-Askin Sydney. X captured that harsh, nihilistic inner-city world. One that has long since been gentrified.
X
"Hair of The Dog Tour"
Sun God Replica + Yes I'm Leaving
Newtown Social Club, Sydney
February 11, 2016
Murray Bennett photos
To those who read this web magazine, the X story is pretty well documented. Radio Birdman had disappeared and were about to break-up. The music landscape had changed from hippy prog rock, boogie blues, glam and jazz bars. The inner city scene was opening up to harder edged music. Which had not happened to rock 'n' roll since the '60s.
Ian Rilen knew the time was right as he was a street bloke, an illustrated man who had done time and who was doing it hard. It was a time when only sailors and ex-prisoners had tattoos. He'd bought a bass from a hock shop in Darlinghurst a few years previously, had reinvented himself and was now a well-known rock outlaw around the scene with a variety of bands. Rilen used the bass and playing with bands to change his direction life. To save his life.
He hooked up with a bunch of blokes in early 1977 who were playing guitars that dripped with blood in a rehearsal place in Balmain, fronted by a lanky young singer from Armidale whose voice was full of gravel and intensity. His name was Steve Lucas. Rilen quit the band he founded, Rose Tattoo, and formed X. Within a year they were packing venues like The Civic and were banned from almost every other.
They were a band that worked outside the industry and were uncompromising. Tragedy struck them early. Thye were reeling from the overdose death of guitarist Ian Krahe (Lucas' great friend) but soldiered on, recording "X-Asprations" with legendary Oz rock figure Lobby Loyde behind the controls. It was (and is) a classic; X were one step ahead of the pack and stand as one of the best post-punk bands from their period on the world stage.
X were visceral and, unlike many bands around at the time, didn't come from an academic background supported byt parents from leafy addresses on Sydney's North Shore. They played music from the gut.
After a break-up, X re-emerged with a jazz trained female drummer, the brilliant and hugely talented Cathy Green. They lost some fans and gained many more. The band was in a new phase of writing and with Green they had more swing. Another bona fide classic LP was recorded: "At Home With You."
By this time, Steve Lucas's songwriting really stepped up and his vocals took on the sharpness of razor blades, yet were at the same time were so soulful. X was still brutal, yet with more variety in the writing.
With personal dramas always around and because they sensed more opportunity further afield, X moved to Melbourne. This was a thorn in the side of Sydneysiders as they were now billed as 'Melbourne's X'. That was always off the mark; sure they resided there. It was like calling the Birthday Party a Berlin band because they lived there.
Throughout the '90s, X would play reunion shows but the members had separated to pursue their own solo projects or to form new bands, all of them brilliant in their own way.
Then the seemingly indestructible Rilen passed away from cancer and all of us believed it was over.
Lucas had other ideas. X re-emerged with a series of shows, both as a Rilen tribute of sorts and to relaunch "At Home With You" on CD. This line-up of Lucas, Green and bassist Kim Volkman worked. Chaotic, tough and seeming to re-capture the X of the '80s, its success was down to Volkman channelling Ian.
They had been bandmates for years in Rilen's Love Addicts, and they were soul brothers. Volkman understood Rilen's playing. At the same time, he had worked for years with Cathy Green.
My skepticism was washed away by seeing this line-up a few times because they were damned good. There was no Rilen…but…you sensed he would have been proud of his mates.
Since then Lucas has re-emerged several times with X line-ups that have had limited success. Some sorta worked, some were not "on" at all. Some gigs were billed as the last-ever X shows. I walked out of one show at Lismore. It sounded like a club band with Lucas still in great voice but with no attitude and so pedestrian and beige. So not X.
And here we are in 2016 with another post Rilen line-up of X, Lucas has been critiicsed by the purists for continuing the band. I get that, but that fact that he's the only remaining founding member means it is his legacy. Much of it is based on his words, his songs. In fact very few bands are still in existence from the '70s with the original members these days; the touring circuit would be at a loss if the purists has their way. It is about getting the right line-up to capture the past. If it's ever possible. That's not easy.
I head up the stairs of the re-designed Sando. Yes, that is not right, shit; its name has changed as well. it's now The Newtown Wankers Club. Really, I am open-minded, wanting it to be great. I want those songs I want X,
I miss the support bands, sadly. I heard they were awesome. That came from Murray Bennett and he knows his stuff; I will check out Sun God Replica and Yes I'm Leaving another time on his say so. The venue is packed and that is a damn salute for Lucas on Thursday night, as any band who pulls more than a hundred people in Sydney these days is really kicking arse.
X now have Melbourne two institutions in the mi: Bill Wash and Wally Kempton. Between them, they've played about 4000 gigs. And these guys have "it"in their own bands. But are they right for X???
"Suck Suck Suck" opens the set. I move closer to the stage. The song rocks and is played with guts. It sounds good and the first half of the set is primarily lifted off "X Aspirations". "Simulated Lovers", "Dip Stick"."Good on Ya Baby", "Police", and "Delinquent Cars" are delivered with workman-like touches and no shortage of attitude.
Bill Walsh really seems to capture the meat-and-potatoes drumming style of the band's original sticksman Steve Cafiero. Bill's pedigree (Cosmic Pyschos) is perfect for X. A similar outlaw band, in many ways, and almost as uncompromising. He has been working with Lucas for a few years and now it seems to be really connecting. At past gigs, it plodded and seemed to be played by numbers. Walsh hits the mark for most of the songs tonight.
It is on the songs from "At Home With You" that the vibe, swing and swagger was missing. Cathy Green's influence cannot be underestimated: "Degenerate Boy" and "Half Way Round The World" seemed to suffer. Yes, it was hard-hitting but seemed to plod in parts and sped up in others.
Wally Kempton has been known for his part in Melbourne heavyweights The Meanies for 30 years. I was not a fan of them: I saw them a few times in the early '90s. They were an energetic post-Ramones act sprinkled with humour, but they were darlings of the Melbourne scene. I never got them just like so many pop-punk bands of the time. Wally also plays with Even, who are far more interesting and have some pop sensibility plus good songs. Compton is a soldier and a champion of the Melbourne underground. He can play bass, too. He is damn powerful but, having said said, who could really step into Ian Rilen's shoes anyway?
Someone asked me once: "How do you play bass like Ian Rilen?" I thought about it and replied: "With a fire in your heart, a belly full of Scotch and with 10-inch biceps." Rilen was to Australia what Lemmy of Motorhead was to the English music scene. Rilen redfined the sound of the bass and was so influential. His attack and sound certainly had a impact on John Archer of Hunters and Collectors, Ray Ahn of the Hard-Ons and the Birthday Party's Tracey Pew. Underpinning this shadow was his thunderous sound and his playing was as tight as. Kempton also delivered. A worthy replacement. His take on "I Don't Wanna Go Out" was mind blowing, with him really nailing it.
"Mother" is brilliant. Lucas's voice is blistering and emotive and its intensity can be cut with a knife. Sung as only Lennon imagined he could. "El Salvador" was played the best I have ever heard it.Lucas's nod to the Dead Kennedys' "Holiday In Cambodian', it's cynical, snarling and caustic. Always one of their most underrated songs, It was worth turning up to hear it tonight.

The set ended with "Dream Baby" of the late '80s and an Orbison cover; it's always been a low point is the X catalog and comes from their weaker third album. The merch girl for the night jumps on stage and becomes the resident go-go dancer, taking the attention as Kempton and Lucas are pushed to the edge of the stage. It was humorous and a light touch, but what was an awesome gig was now being consigned to Clubland. I am left disappointed. Still, I will be holding on to the set as a whole as one that had some glorious and hard rocking moments.
Does X of 2016 capture the X of old? Does it sound like that brutal, anarchic and nihilistic band of almost 40 years ago, evoking Sydney powerful images of strung-out degenerates, paint-peeling methadone clinics? Does it recall the feeling of being on a 40-hour bender and emerging out of The Courthouse Hotel, at Taylor Square at 6 am on a Monday with the early morning sun penetrating your eyes. No. It's not possible. You might as well ask if the Stones can capture the band of 1966 with Brian Jones or if Alice Cooper can evoke the original line-up of his band from 1971.
So it is what is. Tonight's gig had powerful and intense moments and was well delivered.
Lucas is always taking risks. He's taking X on the road and he's nailing it, at times, with this lineup. It is time for X to go into the studio. I think of the New Christs, how that line-up has changed so many times, yet Younger keeps the band alive and relevant by writing and recording.
Time for Lucas to move forward with X, record a new album instead being accused of being a heritage act. He has the talent, commitment and now the line-up.
Tags: ian rilen, steve lucas, cathy green