Just a bunch of Heroes getting the Lead out on a Friday night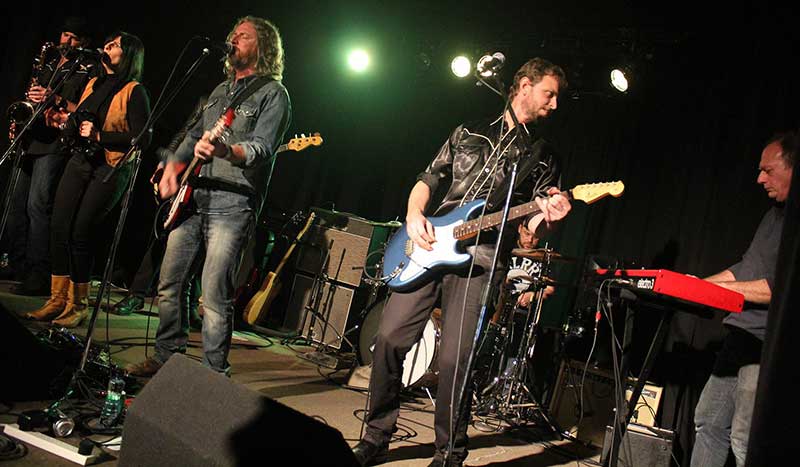 Leadfinger and guests. Shona Ross photo
It's just not fair. They couldn't just be content with releasing "Friday Night Heroes" - a record that's on the (very) short-list for Aussie Album of The Year. Those unassuming Leadfinger blokes went and put on a live show to launch their record that was as good as Real Rock and Roll gets.
You can dismiss the above statement as hyperbole and never hunt down their music but it would be your loss. If Sydney's live music scene replaced half its acts with bands as good as Leadfinger, we'd be Melbourne. Venues would magically re-open. People would go out again. It's that simple.
The dilemma in Sydney is that gig-goers who used to consume live music regularly now conserve their funds and energy for something special or familiar. That indirectly pushes down the quality of bands – except, maybe, on a subterranean level , where the kids go – and that makes punters less likely to take a chance. Ergo, The Law of Diminishing Returns collides with Cultural Fragmentation. Hello: Cover Bands and Heritage Acts. Not that there's anything wrong with that at the right time and place, but if it wasn't for originality, we'd have no history to chase down.
And you worry about minor shit like Trump getting his hands on the thermonuclear launch codes…
Leadfinger
+ Powerline Sneakers + Rangers of The Universe
The Factory Floor, Marrickville, NSW
Friday, July 15, 2016
Shona Ross photos
Tonight's venue for a dose of escapism is the modestly-appointed Factory Floor in the inner-western suburb of Marrickville. It's Sydney's Rock Central tonight - good P.A., great sightlines. A bar where you can buy a beer with a wave of a plastic card. (OK, now that's dangerous.) Upstairs, in the Factory Theatre, you can see New Zealand's flexibly-named 'vanilla metal' band Shihad (aka Pacifier.) Or you can show your superior taste and head downstairs.
It feels like Downtown down here tonight. Openers Rangers of the Universe - a new-ish Newcastle band with Scott Nash (ex Asteroid B-612) on bass and Jason Maljers (ex-Jim Cobain) on guitar – have an old-time Lower East Side sound, the sort of raw and ragged rock and roll that used to be everywhere…at least in my world.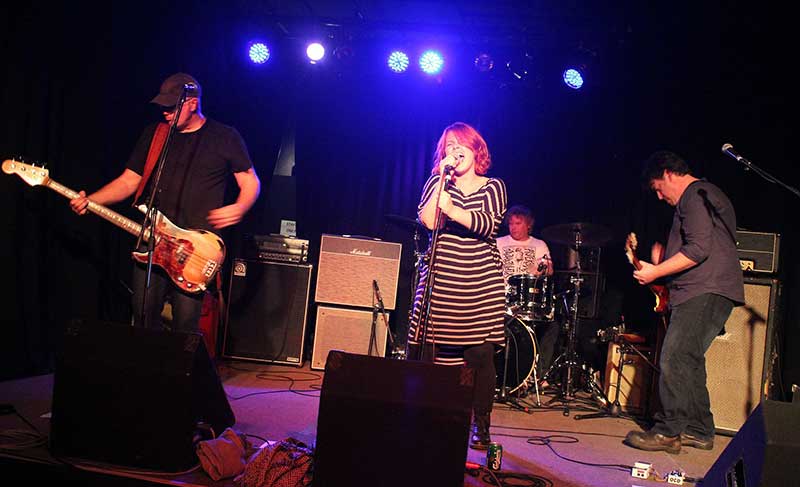 Rangers of The Universe.
Fronted by a lady with one formidable voice and a clutch of Dollsy/Thunderseque songs that rock hard, they kick up a storm for the second half of the set (which is what I saw.) Racuous and spirited. That's how we like it. Note them down as one to see again.
Next up are Melbourne's Powerline Sneakers who have a big reputation but failed to click tonight. Guitarist John Nolan (ex-Powder Monkeys) reckoned their singer-guitarist Sly Faulkner (ex-Splatterheads) had trashed his voice, and their set was predicated by lengthy tuning and peppered with problems on stage. That's life using unfamiliar gear.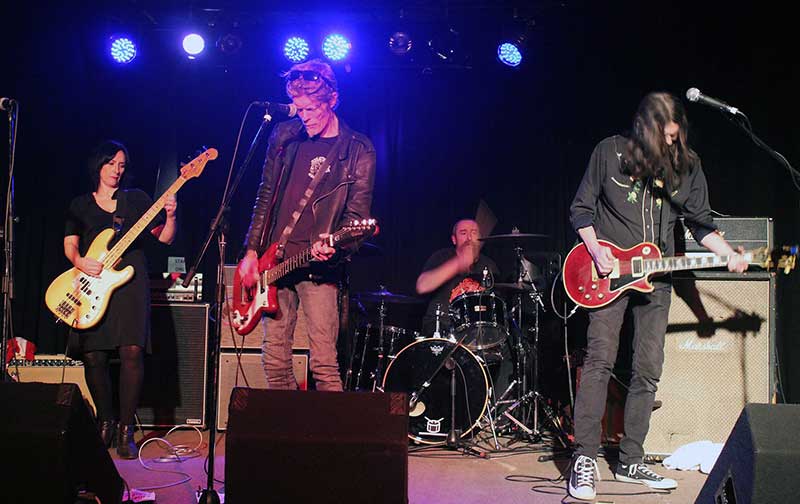 Powerline Sneakers.
The membership has done the yards, for sure. As well as Faulkner and Nolan, Mark Hurst used to drum in the Yes-Men while bassist Katie Dixon was in Ripe. There were flashes of real brilliance in a few of the songs and an album is proceeding, under the guiding hand of producer Paul Maybury (Rocket Science). I really want to hear it when it's mastered and catch these guys on a good night.
Leadfinger consistently has good nights but this was a great one. As befitting a launch, they're supplemented by Doug Hazell on sax, Carrie Phillis on backing vocals and Any Newman on piano. The album's opening cut, "Champagne and Diamonds", kicks things off and the band oozes focus and intent.
There's not much looking back with only an occasional song from the past (notably "We Make The Music" early in the set and Brother Brick's "See You Tonight" in the encore.) Of the new stuff, you could walk into the room at any stage of the set and be blown away, even if you hadn't heard the material before. For mine, "Man I Used To Be", "Heart On My Sleeve", "Bite My Tongue" (especially) and "Mean Streak" all stand up with anything else you'd hear from an Aussie band.
There's always a great cover in a Leadfinger set and tonight The Plimsouls' "A Million Miles Away" jumps up and demands attention, as well as a Warren Zevon song that the aficionados pick up on. The mix is punchy and transparent and that certainly helps.
Why are they so great? Glad you asked. We all know that at the heart of every capable blues-based, rock and roll band is a rhythm section that locks in tight and works together. Dillon and Reggie are as solid as a rock. No flash, no trash and it swings. Stewart Cunningham's soulful voice is top shelf and his guitar partnership with Michael Boyle continues to prosper and grow. But it's more than all that.
The songs are half of it. Real ear wigs with confessional lyrics that work on multiple levels. Some of Stew's best to date. The other half is that indefinable "something" called Rock and Roll Soul. You can't fake it and you can't really define it, either. If you can, be my guest. There's a space for comments below.
There was a moment, midway through the set (and I can't recall in which song), where the band locked in on a groove and then brought things to a halt. Bang! Resoundingly and in the same micro-second. Audience and band wore the same look. It was a look that didn't need words (although a lesser band might have asked itself: "Fuck, did we just do that?")
If you were there, you must have noticed it. If you weren't, well, it was your loss again. Catch Leadfinger live on their launch tour and if you can't, buy the music. Again, it's that simple.
Leadfinger - Friday Night Heroes - Album Launch Tour 2016
JULY
22 - The Stag & Hunter, Newcastle, NSW
23 - The Heritage Hotel, Bulli, NSW
AUGUST
12 - The Enigma Bar, Adelaide, SA
13 - The Metro Hotel, Adelaide, SA
19 - Sweaty Betty's, Miranda, Sydney, NSW
20 - Phoenix Bar, Canberra, ACT
26 - Lyrebird Lounge, Ripponlea, Melbourne VIC
27 - The Retreat Hotel, Brunswick, VIC
SEPTEMBER
10 - The Bunker, Coogee, Sydney, NSW
Tags: leadfinger, live, stewart cunningham, friday night heroes