A two-night Date With Some Mesmerisers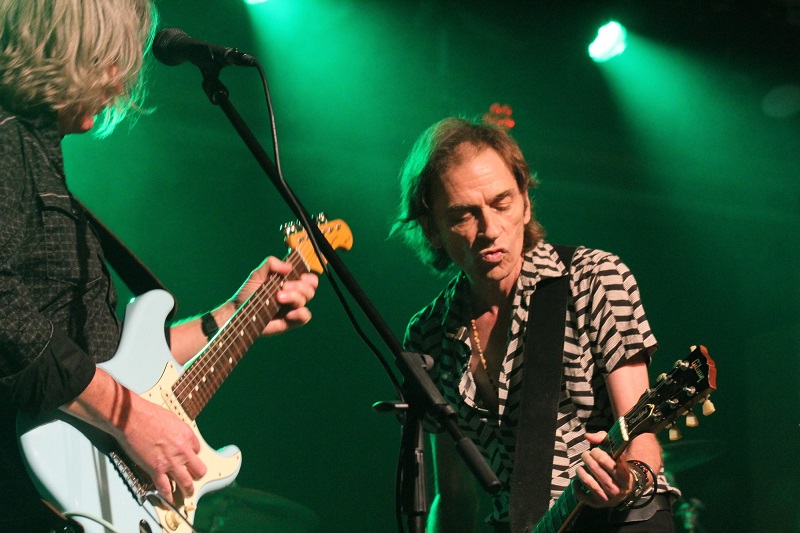 Brian Mann and Mick Medew trading licks in Thirroul. Shona Ross photo.
Gonna break that rule about not reviewing I-94 Bar gigs, as the second of this two-night engagement was badged thus. If you can't write about things you like, what's the point? It's the ethos of why we do this e-zine thing.



So let's be up front and say that Mick Medew is a good mate and his band, The Mesmerisers, are lovely people. In customary evangelical spirit, I'm unashamedly going to tell you that if you love rock and roll then you have to see them - in their native Brisbane or on one of their few forays outside of Queensland.

The first leg of this two-night weekend stand was a support to the mighty Sunnyboys, opening a bill shared with the mercurial Ups & Downs. The venue was the magic Anita's Theatre in Thirroul, an hour-and-a-bit south of Sydney. The second was a Sydney show at the increasingly familiar stamping ground of Marrickville Bowling Club. The Mesmerisers are making the road trip a family affair with partners and two offspring in tow.
Sunnyboys
Ups & Downs, Mick Medew & The Mesmerisers
Anita's Threatre, Thirroul, NSW
Friday, February 23, 2018
Shona Ross photos

Mick Medew & The Mesmerisers
Loose Pills, The Dark Clouds
Marrickville Bowling Club, NSW
Saturday, February 24, 2018
Shona Ross photos

Anita's is an ornate heritage ballroom, capacity 1200 people and on Wollongong's northern fringe. It's stunning. Sprung wooden dance floor, ornate fittings. Too few of these places left. Shows in the Gong are feast or famine – they're either well-supported or they die with dismal attendances. But who doesn't want to see the Sunnyboys? It's sold-out.

Mick Medew & The Mesmerisers start their brief set just as the doors are flung open. It's evident that a lot of people are here to see all three bands. With just 30 minutes to play, the Mesmerisers get stuck in fast.

With respect to previous members, this line-up is a different band. Lois Andrews fills a lot more space with her expansive and fluid bass-lines, and Vampyre-era Tribesman, Shy Impostor and Lipstick Killer, Michael Charles, is a force of nature on the tubs. The Les Paul/Stratocaster combo of Mick Medew and Brian Mann - he's another Tribesman, from the band's latter days, and a former Ed Kuepper sideman - is perfectly matched. Brian looks like Lenny Kaye but has better chops. There's a lot of guitar weaving between him and Mick and they each democratically take turns to reel off muscular lead breaks.

Reaction-wise, the fact that much of their material is unknown to this crowd doesn't seem to matter. They dig it. The closing cover of "Shake Some Action" brings the house down.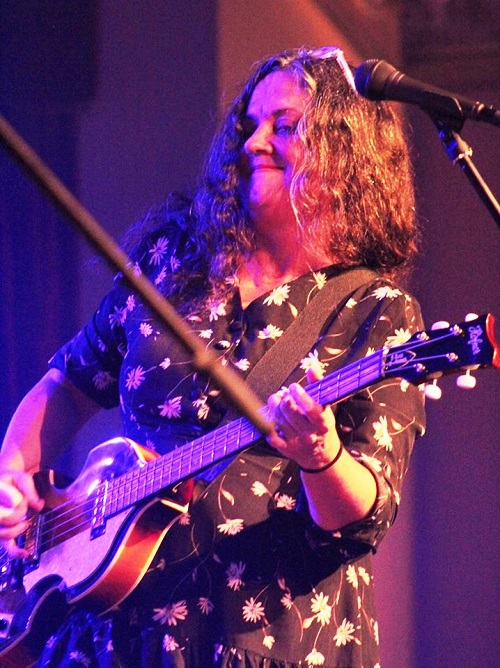 Lois Andrews on the bass.
Apologies if you're following the order of proceedings for this show and want a detailed account, but tonight I heard more of main support Ups & Downs than I saw. If there was a way of getting to the main floor of the venue from the upstairs dressing room without walking on-stage, it was lost on me in finest Spinal Tap form. What I did catch was great and replete with trademark harmonies and soul. Check out their new album.

There's not much that can be said about the Sunnyboys that hasn't been said here, and elsewhere, many times before. They are THE Australian music success story of the 20-teens, a picture of triumph over adversity through love and tight personal bonds, and they've been recapturing their original spirit ever since they came back..

Friday night's performance (what I saw of it) was as confident, relaxed and upbeat as I've seen them. Peter is the rock on Jeremy's left, Richard the ebullient, positive force on his right. Bil Bilson's unshakeable feels glue the whole thing at the seams.

Sometimes you do wonder where they can take this, but in the end it simply doesn't matter. If there's going to be new material - and that's still a big "if" - let it come about at its own pace. They're Alone With You and together with us all (and each other.) Long may it be so.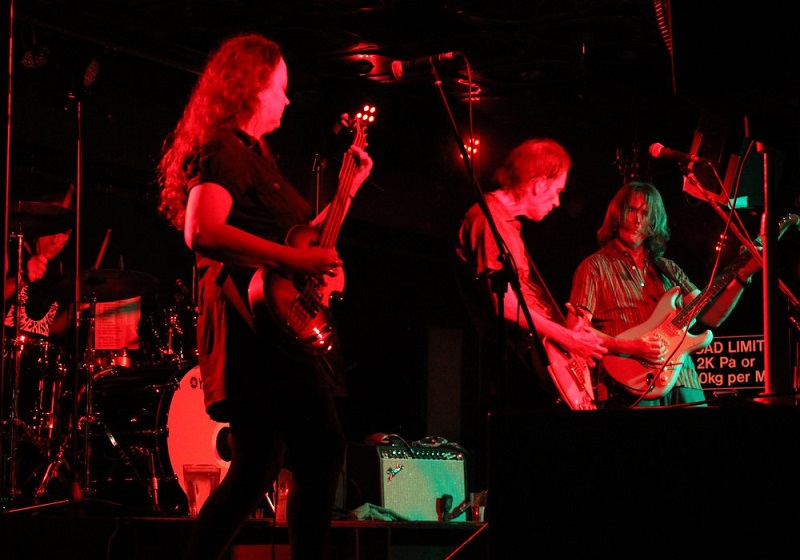 Mesmerisers on the Bowlo stage.
Saturday night's show at Marrickville Bowling Club has a cruisy feel to it. That's the beauty of The Bowlo: Great production and the bands are largely left to their own devices. The only drawbacks tonight are the air conditioning that's struggling to cope with the high temperatures and large crowd, and the bistro being closed for renovations.

It's commonplace in the USA for the main band to be on in an earlier slot but not so much in Australia. Mick Medew & The Mesmerisers opt to play the middle bracket so they can kick back and catch up with old friends, this being their first trip to Sydney in five years and the first with a new line-up.

Loose Pills play the opening spot and play like they're on home turf (which they are), if a little loud. There's so much to like about the songs and the way the Pills put them over. A lithe rhythm section, Ryan Elsmore's killer pop vocal and the muscular guitar-work of Matt Galvin make for an irresistible force when coupled with great pop songs.

And there are quite a few new tunes coming into the bracket these days – the by-products of a long-gestating second album that's slowly winding its way to release. I can't claim the rights to the name "Marrickville Democracy" but at least one band member likes it so I hope it ends up on the record cover. Along with The On and Ons, Loose Pills are Sydney's best pop-rock band.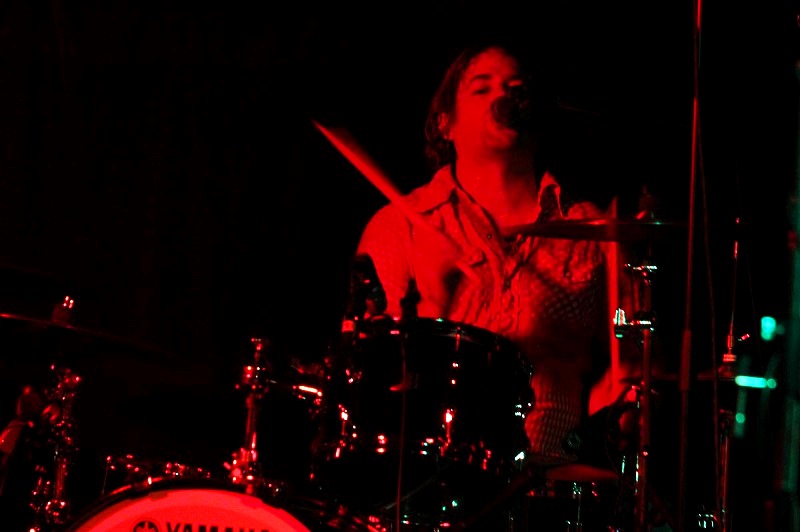 Stuart Wilson of Loose Pills.
Remember a Sydney where a headliner band started at 1am? The once unfeasibly early time of 9.15pm is now attractive for baby boomers and there's enough grey on the dance floor to make a few people smile when Mick and Co get up and do their thing.

Opening their bracket with a classic like "Another Girl Another Planet" (The Only Ones) sets up things from the get-go. The Mesmerisers proceed to, well, mesmerise us with a mix of heady originals sprinkled with familiar tunes from Mick Medew's past.
Michael Charles mesmerises on drums.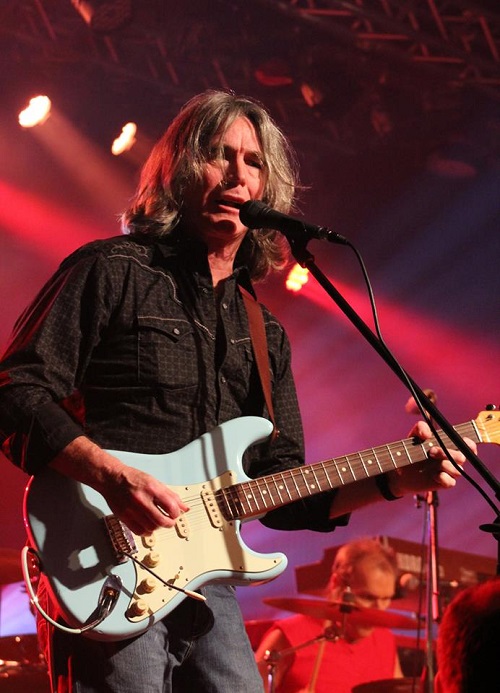 Brian Mann on guitar.
"Igloo" is a given in tjheir set and it's a terrific version. "Date With a Vampyre" shakes the Bowlo from its Copperart ceiling to its semi-sticky carpet. "Top Of The Town" and "Teenage Kicks" are delights. The Yardbirds' "Heartful of Soul" is a major surprise and a personal stand-out for me but the ones that really count are the originals.

Mick has always written great songs that are brimful with melody and hooks. There's a fair share of boy-loves-girl/girl-hates-boy ones but a lot of lyrical depth, too, if you listen for it. "Riverside", "Thin line", "Deep River"…you get the idea. The songs you've heard on the album on Citadel come across grittier in the live context. There's a fair spread of new ones. There's also an impressive Mike Charles original ("No More Monkeys") that's a cousin of the Lipstick Killers' "Liquor Fit" crossed with "Sockman".

Everyone knows that rock and roll bands live or die by their engine rooms. Mick always has great ones in place. Lois and Mike up the ante on the earlier version of the band but don't brutalise the songs. It all comes down to that kick pedal thwack and swing and Lois's bass sound is warm with melodic touches. Mick and Brian are free to embellish the songs with their guitar interplay, and the three-part harmonies are sublime. You don't hear a lot of that live these days.

There's a second album in the works and the signs are there that it'll eclipse the first and Mick's older work with The Rumours – no mean feat as they're great records. Here's to hearing it sooner rather than later and hosting the Mesmerisers again in Sydney ASAP, too.

An explosive "Sonic Reducer" announces The Dark Clouds' arrival and they storm their way into the collective consciousness of an appreciative crowd. A few people have by now sought the relief of a seat by the bowling green where it's five degrees cooler, and they take in the set through the windows.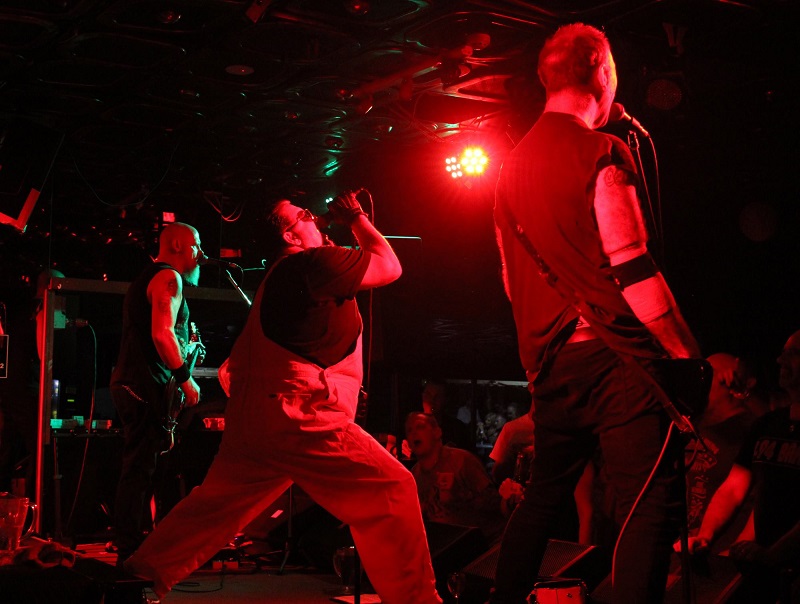 The Dark Clouds descend on the Bowlo.
"Miley" is the finest anthem the Dictators never wrote and "Lilac Dress" the pop song that should have been all over radio, both from the 2016 debut album, "After The Sun". They remain lynchpins in the live set, which is kicked out with attitude and humour.
It's guitarist Monster's birthday week and the banter between him and singer Dean is fun. Sadly, Ronny on bass is stepping down after this show due to a chronic arm injury. These are the realities of rocking in your 50s.
Let's be blunt. It's tough getting people to notice you when you're a band from Wollongong. There's a bias against you. Bookers don't think your crowd will travel. You have to work harder. The Dark Clouds redress all of the above. They have energy, great songs and are memorable. Another band you need to go out of your way to see if you haven't already.
Tags: Medew, mesmerisers, Mick, brisbane, loose pills, sunnyboys, dark clouds, screaming tribesmen, marrickville bowling club, ups and downs, ive, lois andrews, micael charles, brian mann, thirroul