Never mind the nostalgia because it's never too loud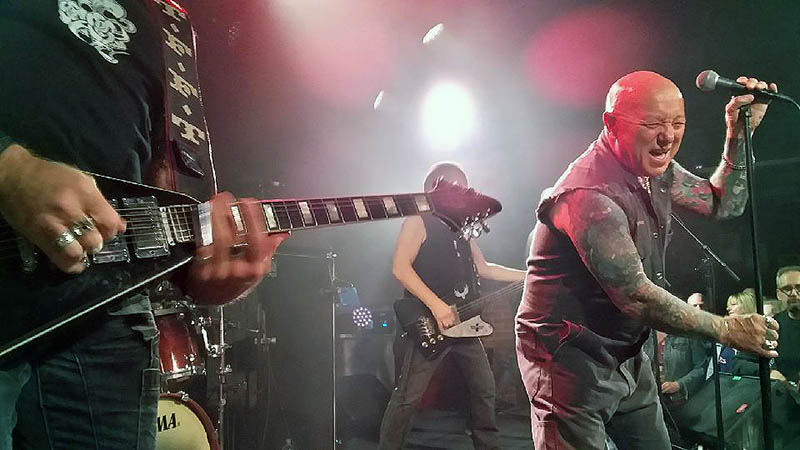 Rose Tattoo
Hard-Ons
The Meatbeaters
The Gov, Adelaide. Friday, April 12 2019
Photos by Somnambulist Dillinger
The morning after the night before I'm trying to make sense of it. My ears are still hissing like a grumpy king brown, so I guess it's time I used earplugs at gigs.
Here's a question for you. What does Angry Anderson, rough'n'tough rock'n'roller, taste like?
I'll come back to this.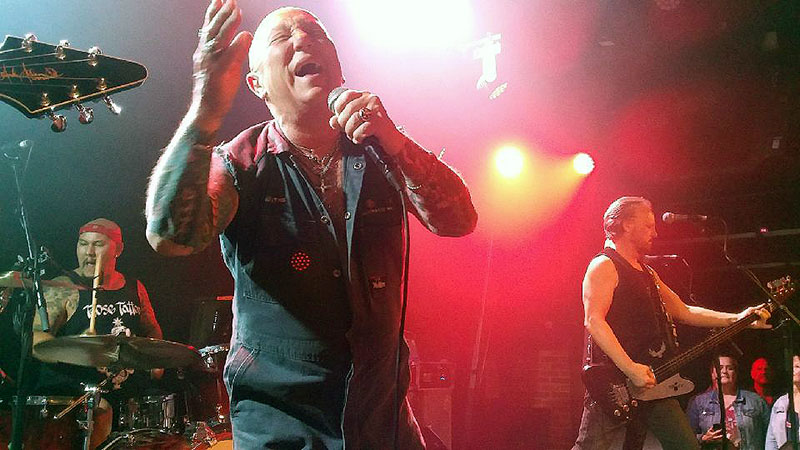 Angrry in "the zone".
Anyway, off we go once more to The Gov, hurrah! this time my photographer has a bad case of the snotgoblins so I am escorted by the very excellent Bob L. (best known in these parts for bass guitar and exposure on stage). I've known Bob since erm, fuck has it been that long already, and I suspect I have (most unhappily I do assure you) seen the man's pee-pee more times than I've seen my own. No wonder I have nightmares. Little bald-headed men with holes in their heads scampering after me with...
Oh, sorry. Er, the crowd was interesting, many of the usual gig suspects, as well as much older men with things like rat's tails attached to ... well, not much really. And people wearing Screaming Jets shirts. As well as AC/DC shirts and their new Rose Tattoo and Meatbeaters shirts. You get the idea. Curiously, didn't see that many lumberjack shirts. We're probably too far from the northern suburbs, I guess.
Disregarding Angry's other public persona, then, which has little place here, not really. Angry is one of those few, those very very few, extraordinarily gifted performers. A showman, in fact, and we don't have that many of them here in Australia.
From the moment Rose Tattoo walked onstage without fanfare or flapdoodle, without bouncers, crowd barriers, big lighting rigs and smoke machines, Angry wielded his considerable charisma like a chef a skillet and had the crowd in his pan. He possesses that ability of doing very, very little, yet commanding attention with every expression, and his mic technique is flawless. His every action is made with the audience in mind, you can see him ... not concentrating, but floating.
He's not on automatic, but responding to the (very vocal) crowd. Mauled by a few over-excited females down the front, he bumps fists and low-ride handshakes proffered hands by burly men.
Okay, so now I wonder if he was always this damn good. No way I have of knowing that - this is the first time I've seen them; one of my contemporaries (a tad) tipsily explained the first time he saw them, in 1979 at the Pier Hotel at Glenelg. He was wearing his public school blazer and, at 15, bought himself a beer. Pete and Angry came up and bought a jug each.
Part of the appeal of Rose Tattoo is that they come from an era steeped with nostalgia - the good old days - for many people. Today, it's obvious that Angry's vocals resemble Barnes', and Bon Scott's. What was it back then that made men want to sing like their balls had been caught in a chain hill? something in the water? Did they try a bunch of different vocal styles, before settling on the one that Axl Rose seems to have been born to fuck up?
You probably know what's in the set thanks to The Barman's previous review. It's all about how they do it, not what's in the set. I confess there are songs I don't like that much. But it's not possible not to be carried away, not with that frontman, not with that fucking aggro bass (AC/DC's loss, I reckon), and those two fucking hot guitarists. Right? Tight? Fucking effortless. And spleen-melting volume, with ear-piercing squeals. Cool, tough, collected; there's a quiet, fierce joy in what they do. RIP the original members ... this is still a fitting tribute to them.
Toward the end, Angry makes a plea for unity, pointing out that without it, we'll be ground down, beaten down... he's right, of course. But we're so confused, we modern folks...
The opening act, The Meatbeaters, were simply perfect. I want to see this deadpan rough band a lot more. They're very suited to the line-up; there's a rippling tension inside the band; Peter, the singer and lead guitarist, takes a few cues from Lemmy; he doesn't need to chuck himself about the place, just lets the music and the songs strut. Darren, the other guitarist, moves around a lot - mostly, I think, because the songs get him all excited.
But the band themselves hold a little bit back in reserve, taking their own cue from Peter. So there's this ... burning tension in the songs as well as the notes and playing and what have you. The set is a judicious mix of old and new, with variations within. They're tight. Boy, are they tight. Get their records, CDs, T-shirts...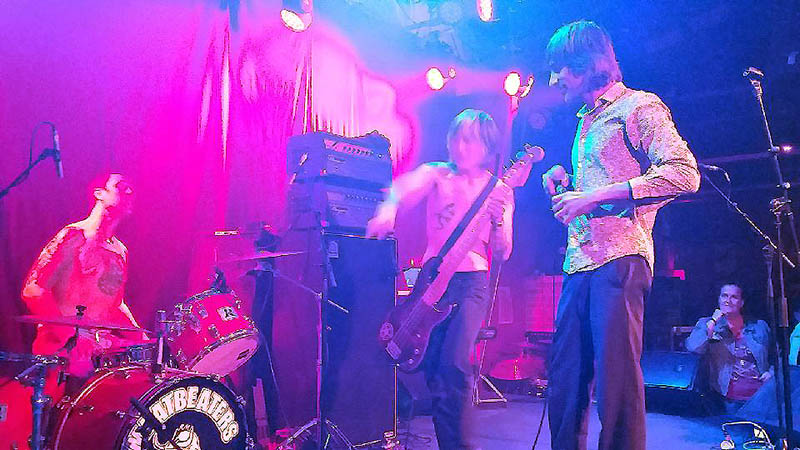 Murray, Ray and Keish from Hard-Ons.
A big thank-you to Hard-Ons for making my life a bit easier. See, I had been somewhat dreading seeing their set, partly because I'd caught them at least three times in the past (late 1980s and early 1990s, can't remember exactly) and on each occasion I got bored really fast. Although many folks I know love them, others I know share my feeling - they don't connect. So tonight ... yeah, well.
I really hate writing bad reviews ... but tonight I didn't need to. The Hard-Ons were bloody good. Bags of energy, connection with the crowd ... seemed to take a while for Keish to get into the big mood, but hey, lead singers have their own drum to beat... also, unusually for The Gov, their sound was a bit lopsided for too long at the front, so I moved backwards, where it improved. They don't sound much like the 1-2-3-4 band I used to see; tonight they were hungry and mean, like drunken outback butchers in the Cross for the first time in eight years. Dpwn to kill, in fact. They powered on regardless; while some will disagree, tonight The Hard-Ons played a damn fine set.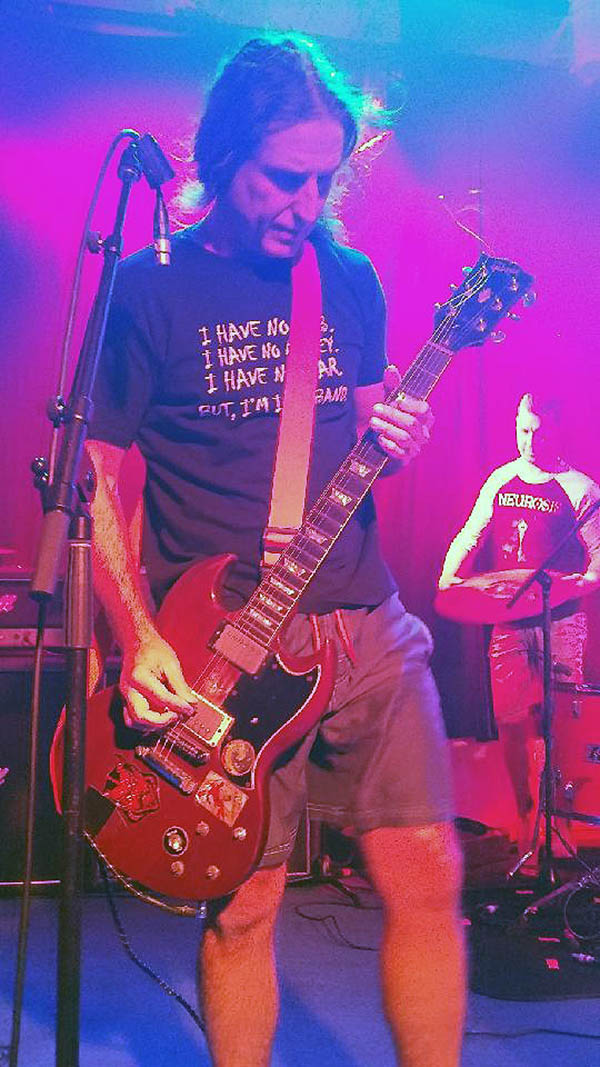 Blackie from Hard-Ons.
And so, no, I don't have an answer to the question I posed above. However, I do know that someone from last night's crowd does know.
A bit before the end of the second-last song, a lady weaved past the non-existent security, avoided the non-existent crowd barrier, hopped up on stage and made a determined grab for Angry; he pulled away as she kissed his cheek; well, he tried to get away, but she was persistent, and, wrapping one arm around his head like a wrestler, planted a smacker on his lips.
Angry, angry? Such a wonderful moment, he looked completely gobsmacked, utterly surprised as she was gently escorted away to the other side of the stage.
I really must ask her what he tasted like. "Salty", I expect.
Rose Tattoo and The Hard-Ons have four more dates in this current tour, you'd have to be a numpty to miss 'em:
April 26 The Triffid, Brisbane; April 27, Coolangatta Hotel; May 3 Diggers, Ettalong and May 4, Newcastle, Cambridge Hotel.
Tags: hard-ons, meatbeaters, rose tattoo, the gov