Garry Gray and The Sixth Circle
+ Marilyn Rose and The Thorns
+ Los Dominados
The Tote, Collingwood, Australia
July 3, 2016
Next morning my head hurt. I dragged my arse out bed at midday and bought a vintage guitar (true story) then again headed off back down Smith Street. I wander down to Collingwood. Yes, I'm at The Tote again…
I order another pint and excuse myself by mumbling something about it being the with hair of the rabbit (is that the expression?) and catch up with some more Melbourne friends. The venue is an institution. Sadly, in Sydney, places like these (e.g. the Annandale) are long gone. For 40 years this inner city pub has been serving rock 'n' roll. Unlike in Sydney, when Annandale was under threat. 10,000 punters stormed Parliament House. The local scene not would let it go.
Being at The Tote was well planned. Garry Gray was playing with his new band. Flashing back to the '80s, I recalled his previous great outfit, The Sacred Cowboys. This is going to be interesting. It's another three-band bill and a chance to check out more Melbourne bands that never get up to Sydney.
I walk into the back room and Los Dominados is on a stage which is still sunlit. I miss the first two songs, but position myself to one side of the stage, watching on, This band has been floating around for at least seven years. Their song of a few years back, "Venus", is a sleazy gem, somewhere between The Cramps and
T-Rex. Great and greasy, wild guitars with awesome Fender twang. I am astounded what this song was not an underground hit…the vocals overflow with attitude, sneer and pure sex.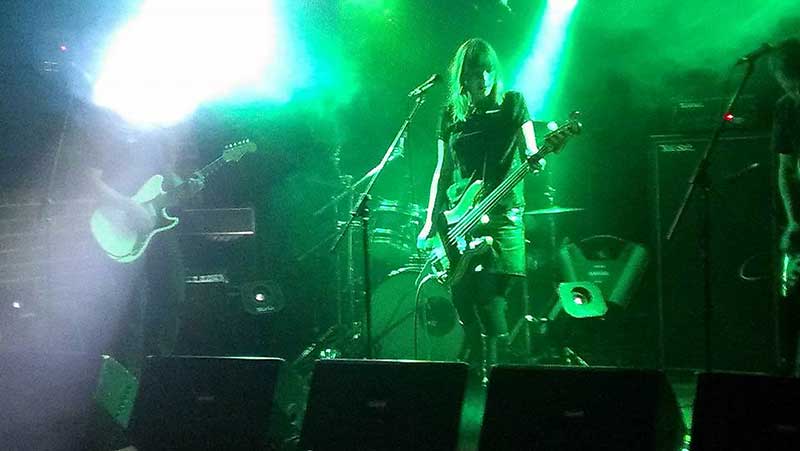 Miss Hellcat leads Los Dominados through their set. Ripley Hood photo
Vocalist and bass player Miss Helcat is like lost child of Kim Gordon and Suzie Quatro - only with more attitude. That also sums up the influences. There is a traditional English '70s rock beat here (as stated: T- Rex and classic Quarto) and the guitars have a solid, swampy twang. Yet there is an indie/underground coolness with influences as varied as The Gun Club and the Pixies. Unfortunately, I only caught half a dozen songs. I will ensure I see them again. I like them a lot. And I want to hunt down their album.
Marilyn Rose and the Thorns take the stage. The band starts with Gothic overtones, mixed in with swamp. There is a solid bit of early Joy Division-style bass lines and they recall Siouxsie and The Banshees but more of a straight rock edge. Post-punk, Gothic and swampy and with dark, theatrical vocals.
Their Scientists cover "Set This World On Fire" is solid with great guitar playing and a swing to the rhythm section. It lifts the set which starts to find its feet. This is an awesome rendition and an original slant on the swamp classic.

Originals like "Antarctica" really draw a direct line back to post-punk England with a sense of drama. "Blood" is another strong song that's atmospheric; it begins with shadows of Bauhaus and is emotive and well delivered. Vocally strong but with sensitivity. There are melodic arpeggios and ringing guitars. Another highlight of the set.
To be honest they are really not my thing and that is just personal taste. That said, they are a good band with nice guitar interplay and a solid rhythm section. And well worth checking out.
This is the official launch of the killer Garry Gray and The Sixth Circle album "Diamond In The Forehead". It's a record of swampy blues that and at times strays into the territory of the Beasts of Bourbon mixed in with classic proto-pumk influences. At its heart is Garry Gray's unique delivery. That band featured Spencer P Jones; as we are all aware ,Spence cannot play live at the moment so the new recruit is Chris Taranto of Bitter Sweet Kicks fame.
Just like the previous night's gig with HITS, the sound is clear and loud. "Our God hangs #6" is a wild rock beat song with bluesy guitars underlining Gray's menacing vocal. He howls: "I got hung without a trial" and you believe it.
"Cadillacs" has that proto-punk rawness and a memorable blues progression. There are elements of deep soul inn its raw and gritty urban blues, anchored by a solid 4/4 backbeat. Live, this song is a no-nonsense rock monster.
There are enormous amounts of dark and shade in this set; it's all theatrics and high drama. The tempo pulls back with "Club Siren" which starts with an arpeggio and haunting guitar by Tex Napalm. The Byrds cover "Eight Miles High" is a classic '60s pop song that evolves into a bellowing guitar workout. Its classic psychedelic guitar lines are almost like a Miles Davis opening hook-line. The interplay between Tex and Chris is stunning. I was aware Taranto was a solid player from his work in Bitter Sweet Kicks. Tonight, he excelled.
There is an intelligence in Taranto's playing, and it's a joy to be watching his intense concentration as he works in with Tex's explosive and expressive lead lines. He's equally a damn fine axeman. Taranto improvises counter melodies and there's some brilliant dual guitar between Napalm's Gibson Firebird and Chris's Telecaster. "Eight Miles High" is ultimately turned into a nine-minute, swamp-psychedelic workout. Swirling and mesmerising.
Garry Gray is a a showman who takes control of every corner of the stage amid smoke machines and dramatic lighting. He delivers over the solid back beat of Angela Howard on bass and Graeme Ward on drum duties. They are are rock hard, and never miss a beat, But relentlessly at the centre is Garry Gray. He's been gracing stages across Australian and Europe since the late '70s. He's now in his element - back in his home town with a killer album and an amazing live band.
As a vocalist, you develop immense confidence when you have a band of this standard. That aside, Gray is already the real deal. In a sea of mediocrity there are a handful of really great frontmen still gracing the stage in this country. Gray is one of them, a strangely odd mixture of Jeffery Lee Piece and Johnny Cash with an urgent delivery. Even in front of a small crowd, it was like he was playing to thousands. He convinced those who were here tonight that these lyrics were to be listened to.
The set finishes with his signature tune from the early '80s, "Nothing Grows in Texas". Gone, is the Johnny Cash twang, replaced with bombastic swamp work-outs that are more suited to the character of his new band. It ends an awesome set by a top-shelf outfit that plays with a sense of drama with light and shade. Hopefully they will make it up to Sydney soon.

Helen Cattanach video