Beresford Hotel, Sydney, July 23, 2014
Sure, there were some rough edges but they were all part of the charm.
You want note perfect? Go listen to some auto-tuned Britney.
The Hoodoo Gurus are, of course, a baby boomer institution. Their, ahem, demographic (distasteful word) is 45-55-year-olds but the band is something of a rarity among peers because its existence is sustainable.
Have a look around tonight. If bare scalp was the same price as Sydney property, the inside of the inner-Sydney Beresford Hotel would be the most expensive acreage in town. Even head Guru Dave Faulkner can't resist a bald joke. There's a sprinkling of young 'ins but it's mostly supernatants in this house.
The good humour is so thick on the ground that you can swim in it. It's also much easier to navigate than the sea of people in the upstairs Beresford band room where the curious dog's leg layout and limited space between the bar and raised viewing platform creates bottlenecks on a par with Sydney's notorious Parramatta Road.
But it's not a night for bitching. It's an evening for swapping stories about long-gone Aussie beer barns and sticky carpet dives…the sorts of places most of us - crowd and the band - cut our teeth on.
It's Sydney and it takes a special act to pull crowds like this. It's a school night - and it's also like a school reunion in here. The flock of familiar faces adds to the fun.
The set kicks off at the ungodly early hour of 9pm and is divided into three brackets. Original drummer James Baker and bassist Clyde Bramley join Dave and Brad Shepherd for the opening stanza of six songs, succeeded by the configurations that followed.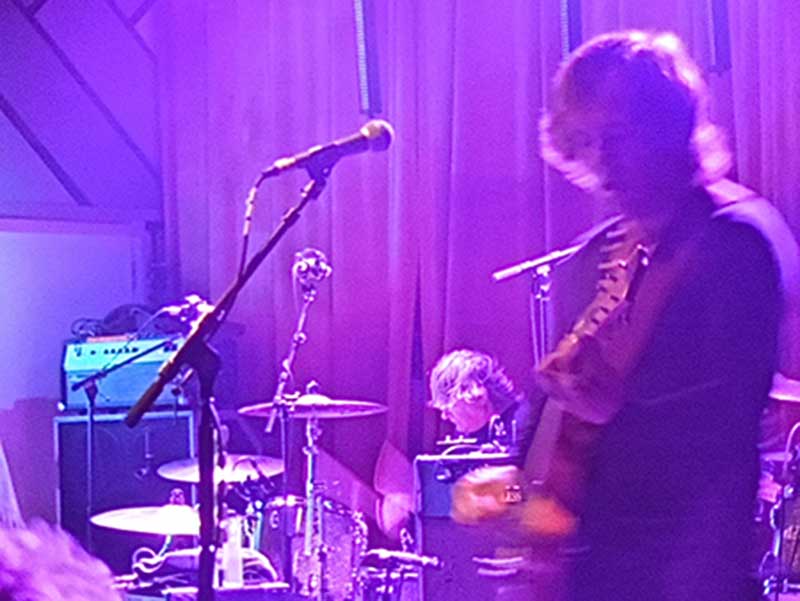 James Baker and Brad Shepherd
(And of course the term "original" excludes the three-guitar-no-bass combo of Faulkner-Baker-Roddy Radalj and Kimble Rendall which went out as "Le Hoodoo Gurus". More on that later.)
"Dig It Up" kicks things off and the reception is ecstatic. It rattles along on James' rattle-smash snare and Brad and Dave's Crampsian guitars and sounds just right. "Echo Chamber" is off the pace ("the slow and sexy version," Faulkner quips) but "Tojo" is raucously exuberant despite some wear and tear towards the end.
Jeff Silver video
"Arthur" (which of course is the mythical backstory as to why Le Hoodoo Gurus were bass-less) and a muscly "My Girl" lead into a killer "Kamikaze Pilot." James takes a break while Mark Kingsmill takes his place behind a second kit.
You can fill in what songs the "Mars Need Guitars" line-up played with your eyes closed (although I'd almost forgotten "On My Street" so it might qualify as a surprise moment) or you can cheat by scrolling down to the set list photo at the end of the story. Either way, you should have been there. If you were, you'll know how agreeably this bracket rocked in a loose-tight way. Top melodic marks to Clyde his his flowing bass-lines.
Dave throws out a playful "thank you, goodnight" after "Like Wow Wipeout" because it's the contemporary line-up's usual set-closer. No-one's going anywhere. however. "New boy" Rick Grossman is subbing for Clyde for a bracket almost entirely made of chartbusters.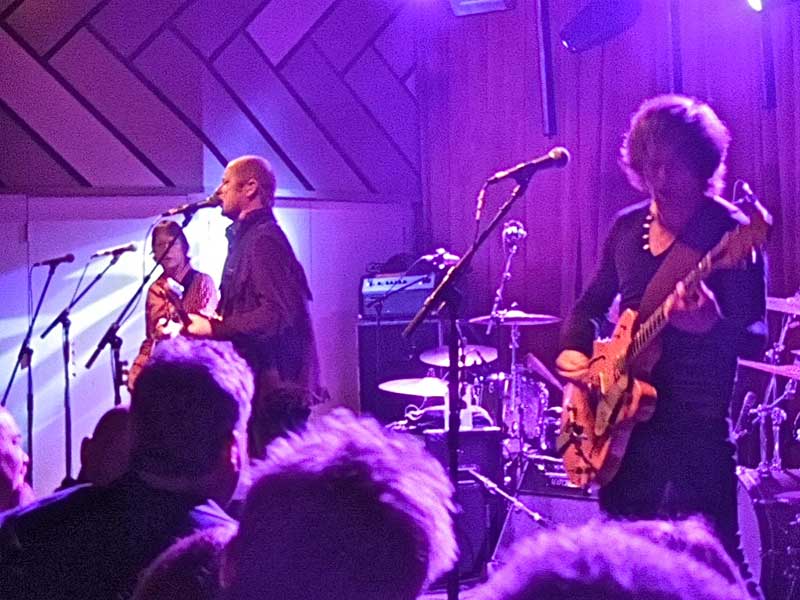 The original Gurus Digging It Up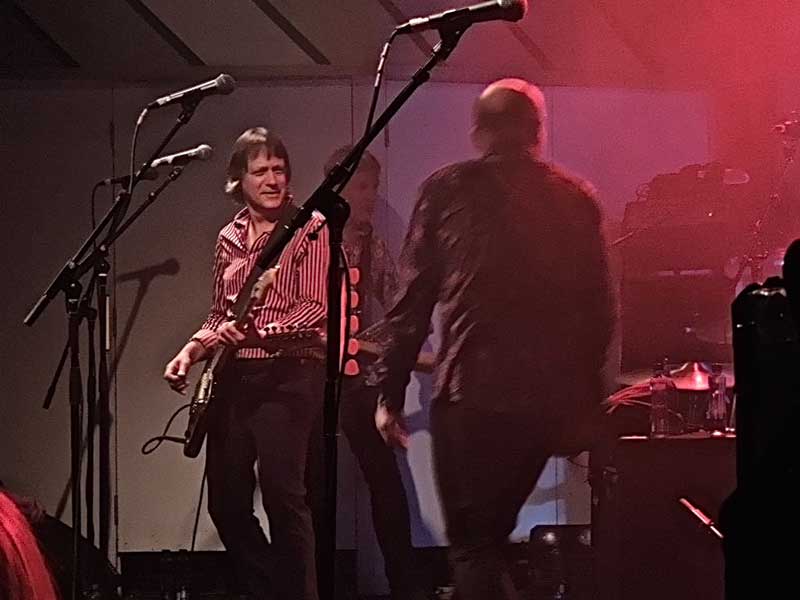 Clyde, Rick and Dave
Now, I've been heard lamenting that the modern-day Gurus have become almost too tight a unit, a machine.That's an evolutionary thing with many, if not most, rock and roll bands where the members have spent countless hours in each other's pockets. It's all in the ear of the beholder, of course, and tonight it melts away through a combination of the mixed entrée and the current line-up being in a playful mood.
The extended set is also a reminder that most people would give a couple of limbs to have written half the songs Dave Faulkner has penned.
The word around town is that the "old" Gurus spent time in the studio this week, laying down some tuneage. Also in the pipeline are fresh Le Hoodoo Gurus recordings. Kimble Rendall was in the house tonight but Roddy stayed in Perth. It's rumoured that his overdubs and a full-scale reunion, maybe later this year or early next, are pending.
All good things must end and the inevitable "all-in" (as in two drummers, two bass players) ensues. It can only be "Leilani". It's pure gold with tribal toms and ungawi chants hanging heavy in the air.
Of course, nobody wants to let the Gurus go. There's not much more to give after two hours. Old live staple, "Rock and Roll Pt 2" is reclaimed from "that old paedophile" (that'd be G. Glitter.) My money is on "That's Cool, That's Trash" as a third encore but it isn't to be.