Voodoo Lust turns back the clock as Sydney sizzles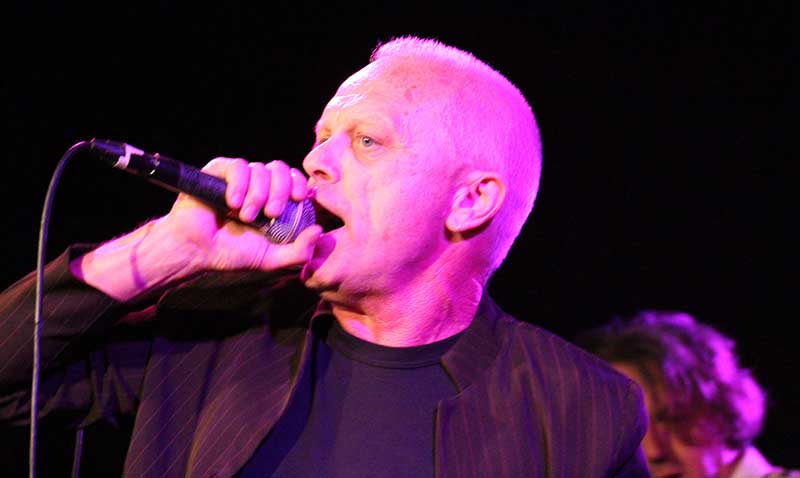 Gary Slater of Voodoo Lust. Shona Ross photo
One of the hottest Sydney days of the year translated to one of the coolest gigs in almost as long when Voodoo Lust made their first appearance for five years in the Harbour City last Friday night.
With the mercury clocking 42 degrees Celsius (nearly 103 on the old scale) on this fine Friday it was no time for sitting out in the sun (setting or otherwise) and the appointed venue, Marrickville's Factory Floor, was accommodatingly air-conditioned.
Remember Voodoo Lust? You would if you set foot in an Australian East Coast rock and roll venue in the late '80s. The Voodoos toured the shit out of this place and were a powerpop-punk outfit extraordinaire.
Voodoo Lust+ Leadfinger + The Escapes
The Factory Floor, Marrickville, Sydney
Friday, November 20, 2015
Presented by I-94 Bar

Photos by Shona Ross
They never quite translated all that live work into a seat at the top table or tours overseas but had a loyal following nonetheless, thanks in no small part to their high-energy shows and a songbook of primo tunes that should have been all over the airwaves.
Originally from Brisbane, relocated to Sydney and now with ex-members now spread all over the place, Voodoo Lust's last local outing was a reunion gig upstairs at the old Sando that was plagued by technical problems. So you wouldn't need to be Sherlock Holmes to deduce that the Voodoos had lots to prove.
The Escapes opened the night with their ramshackle charm stiffened by a dose of near professionalism. They had a fair crowd in the house early (and not just seeking respite from the baking heart.) The Escapes surprised anyone who hadn't seen them for a while with everyone consistently finishing each song at the same time.
Wise-cracking Rodney on bass kept the comedy coming as he, Rissole (guitar) and Al Hislop (drums) had a fun old time cranking out their basic and unique brand of garage punk. Al's signature song (the one about waking up dead-drunk for work after a big night) left the punters demanding more.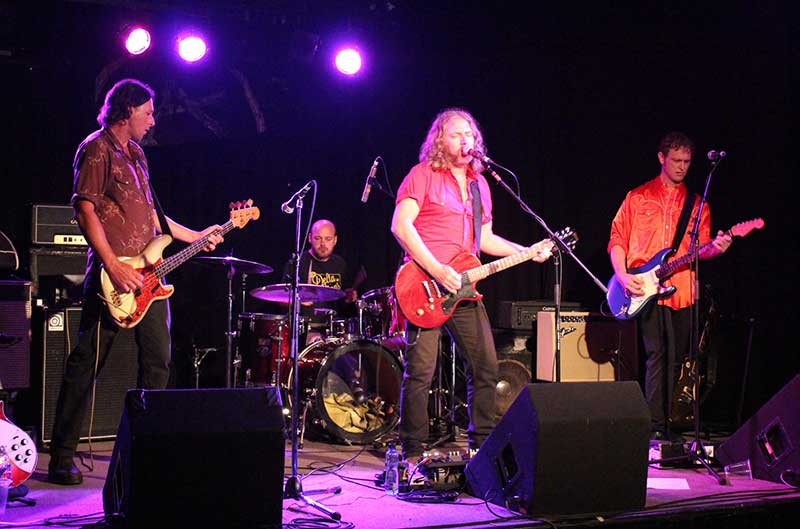 Leadfinger warms up the house. Shona Ross photo
Maybe they brought the sudden and marked southerly change with them from Wollongong but Leadfinger got down to business in breezy style, surprising many with a set of mostly new songs. The cover from left-field was "Back On The Chain Gang" delivered without a trace of irony and in fine rocking style.
It's singer- guitarist Stewart Cunningham's band but he makes sure there's ample room for the rest with Michael Boyle notably shining on second guitar. The pair has an acute understanding of how to work in synch and there's the rub for all those bands that aren't as good as them.
Fresh from the studio and with a sax player in tow late in the bracket, they left anyone with a modicum of sense wondering why they weren't headlining in a 3000-seater. When the new record is out is anybody's guess but make no mistake that it's going to be a ripper.
Voodoo Lust arrived to a near full house and had the fans feasting out of their hand. Songs like "Stop Breakin' My Heart", "Gossip" and "Shake Shake Hey Yeh!" don't get old - and you could be excused to feeling the same way about the band members on tonight's showing.
Vocalist Gary Slater was a perpetual motion machine, his open arms imploring the crowd to lap up the songs as he bounded around the stage. Stevan King (bass) and Phil Jacquet (drums) were right in the pocket in a way that belied their limited rehearsal time.
And then there was Tony "Hound Dog" Harper; he kept the guitar changes ringing with a small arsenal of six-string weaponry on hand and even gave a twin-neck SG a run. The man has impeccable tone and it literally filled every space in the room without ever being overbearing.
The Barracudas had a song "I Wish It Was 1965 Again" with lyrics including these:
Jan and Dean
Y'know what I mean
Surf City, Drag City, Folk City, Motor City, Hit City number one
Fun City: Fun Fun Fun
Chewy, Chewy. Yummy, Yummy and Louie, Louie.
Shindig, Hullabaloo. Bandstand and Where The Action is too.
Eight Miles High, Take a Trip.
Hope you flip.
Raw and Alive in '65
You know what? If you update 1965 to 1985, it sums up the collective sentiment of the room last Friday night.
Tags: leadfinger, live, sydney, voodoo lust, the escapes