FLASHBACK - OCTOBER 2007: And so it continues. The reissue cycle turns through another revolution, and brings another gem blinking into the harsh light of the present day. Aztec Music has recently made "Lethal Weapons" available on CD, and it's about time, too.
Originally issued by Suicide in May 1978, and reissued by White Records (which was Mushroom's boutique label) in 1983, it's a fairly random snapshot of a scene that barely existed as a coherent entity at the time. Considering the original only sold 7000 copies, it's odd how I remember this album being such a constant presence in my youth - it seemed like no St. Kilda flat or Prahran share house was complete without a copy.
It can't claim to be Australia's first new wave album, by a long shot, but it was certainly the first compilation that tried in any way to take an overview- Missing Link Records' "Inner Sanctum" (which featured Dave Warner, the Ears, the Victims, Young Modern, the Go-Betweens and Norman Gunston amongst others) didn't appear until 1979.
The decision to sign or not to sign split the small community who were presented with the chance. Most notably, News and the Young Charlatans refused to play ball. Even with the luxury of 20 years distance, it's impossible to say whether they made the right or wrong choice, but certainly being asked questions about it seemed to reopen old wounds for some people. The tracklist:
Teenage Radio Stars - Wanna Be Ya Baby
Teenage Radio Stars - Learned One
Wasted Daze - Roadrunner
Wasted Daze - Mona
Jab - Let's Go
Jab - Blonde And Bombed
The Survivors- Baby Come Back
The Survivors - Mr. Record Man
The Boys Next Door - These Boots Are Made For Walking
The Boys Next Door - Masturbation Generation
The Boys Next Door - Boy Hero
The Negatives - Planet On The Prowl
X-Ray-Z - Three Glorious Years
X-Ray-Z -Valium
Teenage Radio Stars -Sweet Boredom
The Aztec Records reissue comes with excellent liner notes by Ian McFarlane and Glenn Terry. Drawing on original source materia, as well as their own long memories, they lay out the history of the album in exhaustive detail.
I wanted to follow a different but complementary tack - to go back to some of the key players themselves, to get stories from those who were there. It's not exhaustive by any means - some people have already told their tale, some people I wasn't interested in, and some backed off.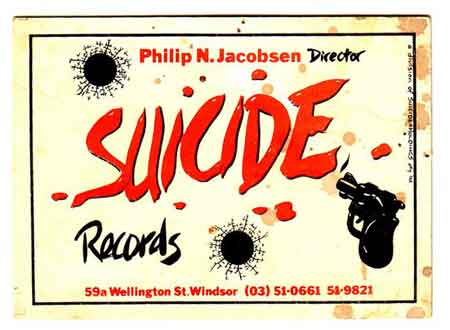 Business card found on the floor of the Crytsal Ballroom, circa 1978.
TEENAGE RADIO STARS
With the benefit of hindsight, it seems pretty clear these guys were the band Mushroom expected to make the big break. Sadly, that confidence was misplaced- as James Freud details in his autobiography; they were trying to parlay the punk thing into pop stardom, and failed when both audiences smelt a rat. Freud and fellow TRS Sean Kelly got there in the end, of course, via the Models.
Anyway, "Wanna Be Your Baby", the album opener, is a perfect example of fence-sitting. The only thing vaguely new about it is the clothes they wear in the video that's included here. "Sweet Boredom" should've been the A-side.
Freud has since admitted that a lot of his book is untrue, but by all means read it if you want to learn more.
WASTED DAZE
I can only surmise that these guys got scooped up in an attempt to emulate the early Stiff Records pub rock/ R & B that inspired Barry Earl to put this together in the first place. Limp, basic versions of Bo Diddley's "Roadrunner" and "Mona". Obscure historical trivia - New Christs/Hitmen bassist Tony "The Kid" Robertson played with these guys for a while.
JAB
A quartet from Adelaide who made the move to Melbourne where they achieved a fairly high profile before the inevitable split. Ash Wednesday and Johnny Crash went onto bigger and better things via the Models, and indeed Wednesday is still an interesting performer on his rare live outings these days. "Let's Go" is pacey, sparky pop, the flip, "Blonde And Bombed" is a kind of semi-comedy thing which doesn't work so well.
Frontman Bohdan X became a kind of mascot/figurehead to a generation of young 3RRR listeners via his long running show - in fact he's still on air at the time of writing:
"They were very exciting times, we were changing the face of the music scene and we all knew it.
"JAB were just young punks from Adelaide when we stormed into Melbourne- and our timing was perfect. All the bands on the scene just kind of found each other. Usually it was through playing together at places like the Tiger Lounge in Richmond, Bombay Rock in Brunswick and of course Bananas down in St. Kilda. 

"After "Lethal Weapons" came out we used to play at the Bombay rock as part of a package deal - five bands for $5.00 or so, and often about a hundred people would show up.
"I remember Laurie Richards well, he was running Bananas and the Tiger Lounge, and a bit later on got involved in the Ballroom, too.
"I had heard on the grapevine that it was coming out again, I'm glad people still want to hear it. It was all so long ago, I hope there is plenty of interest in it . Are they going to give away chocolate bullets free with each CD like they did with the record?"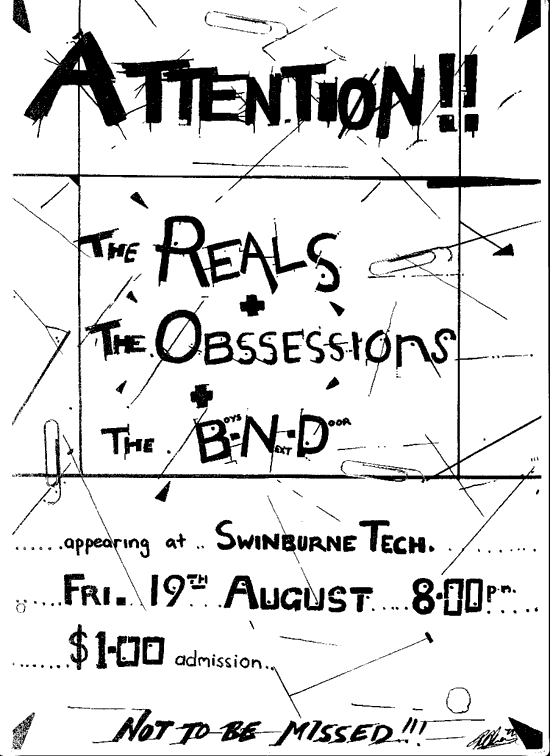 A pre-Suicide night at Swinburne Tech, featuring Gray & Walsh's pre-Negatives outfit the Reals and the Boys Next Door - the source of a widely bootlegged BND tape. 


THE SURVIVORS
An odd one, this. The Survivors had already independently recorded and released their tracks, "Baby Come Back" and "Mr. Record Man" on their own label when they were asked to come on board. The difference in production is clear, and both songs- mid paced with classic Who/Kinks influences stand up very well. As bassplayer Jim Dickson recalls:
"Our brief experience of getting on the Lethal Weapons LP........mmm.
"We had recorded the 'Baby Come Back' single and had it out as a private pressing on our own Real Records label. Suicide, apparently sniffing the air and detecting a new mood in the musical scheme of things were out and about on a major label's behest scouting for scalps and and an A & R guy, whose previous experience in life had been as a hairdresser, came to Brisbane to sweet talk us in to handing over the master tapes for the compilation.
"We were dubious, and a mite gullible , when he assured us that the recording cost that we had shelled out for would be refunded and that from that point on our lives would be lived in perpetual sunshine as the 'new wave' would make millionaires of us all.......well maybe not that gushy. So off he trots with the tapes and that's the last we've seen of them and definitely no money was forthcoming.
"Whether we harvested any benefit from this deal in other ways was dubious and we are glad that by way of compensation the unsold Real Record singles now attract a few bucks on eBay. Ironically, the Survivors songs were pitched as a single on the Suicide label, bombed, and now fetch more from collectors than the one we put out!!
"The band split at the end of 1978.
"I think we each got a record and some licorice bullets as part of the merchandising, maybe there was something else but it has drifted from memory rather as the whole sorry experience has.
"The guy who took our tapes died last year so (drummer) Bruce Anthon tells me. His name was Barry Earl and he just did what he had to do. I never was aware of the major players in the debacle. The record was pressed on white vinyl but the whole affair lends itself to a more browny colour."
BOYS NEXT DOOR
The band who turned out to be the big ticket item of the bunch run through three tracks, and while it's nothing you can quite put your finger on, there is a feel of a different agenda and intellect at work.
In August 1977 the Boys Next Door were opening with "Blitzkreig Bop" and closing with "Louie Louie", with "Boots For Walking" already firmly in their set. "Masturbation Generation" is entertaining, if a bit punk-by-numbers, but it's the idiosyncratic "Boy Hero" that seems to mark the start of the thread they followed through to their debut album, "Door, Door" a year or so later. Even before Rowland Howard joined, those distinctive ascending guitar runs are firmly in place.
How they got from here to "Hee Haw" and onwards is anyone's guess.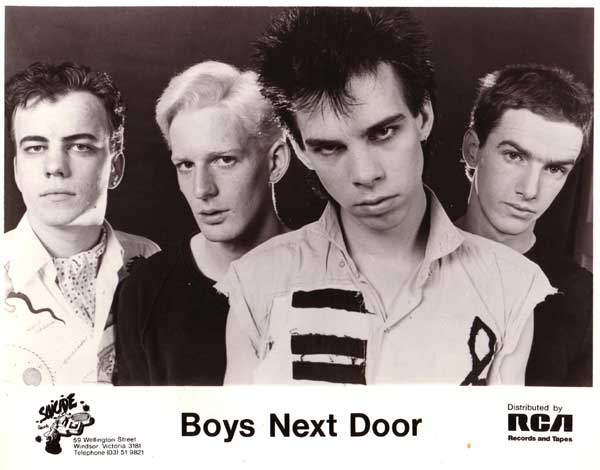 Mean, moody, Melbournian- an early Boys Next Door promo shot.
As guitarist and founder member Mick Harvey tells it:
"In the UK the new wave/punk explosion was revolutionary both socially and artistically. In the US, Australia and more gradually in continental Europe it served as more of a unifying force, which helped artists focus their ideas and find other like-minded people. The Melbourne "scene" quickly found it's footing in late '77/early'78. 


"What unified the various bands and individuals more than anything else was the tacit acceptance that one was working outside the mainstream – that one was not a real candidate for commercial success. This naturally people freed up to experiment into all manner of areas that up until that time would have had no potential audience or platform. 


"Into this healthy and disparate milieu marched Mushroom Records in the guise of Suicide Records. In early 1978 Barry Earl had convinced Mushroom that there was either big potential for a UK style 'explosion' or that they shouldn't let the competition in, in case there was one. As it happens Australia was far from ready to throw out the old guard. 

"
The bands in Melbourne were of differing political stances. Some were vehemently anti music business, many were into the DIY ethic, others were simply eager to get recorded any way possible – there was in fact every shade of grey on the issue. Those who refused to sign with Suicide were furious at those who did. 


"Those who did sign wondered at what those who didn't were hoping to achieve. It created a schism in the loosely connected scene. What had tenuously unified the scene was seemingly being undermined.

"In the end it was a storm in a teacup. Suicide quickly dissolved, Mushroom retaining only the Teenage Radio Stars (who would later morph into The Models) and The Boys Next Door, who finished one album in which Mushroom were totally disinterested and were let loose to develop into The Birthday Party. All the bands moved on to the next stage of development and the scene flourished, particularly in Melbourne where it reached a kind of artistic peak from 1979 through to 1983.


"Ironically the experience firmed our resolve about such issues and we proceeded to be staunchly independent for over 20 years, never again working with the Australian Music Industry. 


"'Lethal Weapons' is not at all representative of the new wave scene(s) as it was in Australia then. It is neither a thorough cross-section of the type of bands nor does the production or song choice show clearly what most of those bands were up to at that time. It's an anomalous product which is a curiosity at best, and was an opportunity for some of the bands to get started with their recording careers and to start learning about the process."
GREG MACAINISH
The Boys Next Door tracks were produced by Skyhooks bassplayer and songwriter Greg Macainsh, who knew a bit about attitude well before punk- six songs from Skyhooks' debut album, "Living in The 70s" were barred from the airwaves on release in 1974. Despite this, the album stayed at number-one in the national charts for 16 weeks. His story:
"As I remember, the whole deal with the album came about when Barrie Earl came back from England and badgered Michael (Gudinski, Mushroom Records head) into getting on board the whole punk bandwagon. So they got together a whole lot of new bands, and farmed them out to various people to produce- obviously, they didn't just want these young guys going into the studio on their own.
"I don't quite know why I got asked to do the Boys Next Door, but regardless I said yes and we went down to a place in South Yarra and got to work. They had never been in the studio before, so there was quite a lot of fiddling around. I remember Tracy had a strange kind of semi-acoustic bass, and Mick had some kind of Maton. Phill was quite proficient, and he and Mick were pretty personable, too. Nick was already developing that standoffish mood and attitude, even then.
"We persevered, though, and I think we got a pretty good sound, different to their live sound, obviously, and maybe not exactly what they wanted. But I think we captured something, a true snapshot of how the band was at the time.

"I did hear about the reissue, from my brother, who is a bit of a record collector. My original white vinyl copy of this got stolen many years ago.


"I remember being very sad when I heard about Tracy's death in late '86. I still see Phill and Mick around now and then, though I haven't seen Nick since about 10 years ago when he was working in the studio next door to me and stuck his head in to say hello."
NEGATIVES
The band are on the record as saying they don't like what producer Eric Gradman (of the synth/electronic combo Man & Machine) did to "Planet On The Prowl", the only song from their session to make it onto vinyl. Whatever.
It's a moody stalker of a tune, with Garry Gray's punchy spitting vocals right up the front of the mix. Fans take note - as Garry hints below, there is more Negatives stuff due for release soon, Garry Gray:
"The revolution in Australian rock in the late '70s was way ahead of the game. We were supposed to curb our natural penchant for kicking down the doors of perception under a tatty Cuban heel.
"We were supposed to go into the studio and come out with top 40 punk rock hits as long as they didn't say anything .This was the Lethal Weapons compilation of australian punk artists. On the Suicide label, a subsidiary of Mushroom Records. Molly Meldrum flashed the album cover on the Countdown national rock show.


"Well, my collaborator of the day, Chris Walsh and I, thought long and hard about whether our totally uncompromising music would be best be served by this process.


"After being driven around St Kilda in a red sports car by a record company guy who was more interested in my ass than my music it all became clear. That is to say, it was clear that the music was not the reason for the label's existence. I didn't carry a revolver back then. So I let the record company guy live and he went on to seek out the type of artists who would actually agree to his 'star formula.'


"Chris and I decided they would take 'Planet on the Prowl' or nothing. They were scared of missing out on a possible big thing, so they agreed, but the version released was tainted by a producer living out an orchestral fantasy of violins and pop sounds. Still, the structural integrity of the song remained, and I am pleased to report, remained un-destroyable."
X-RAY-Z
The album goes out on a high note with X-Ray-Z's two contributions. "Three Glorious Years" is the only overtly political track here, a rollicking satirical swipe at the-then Prime Minister, Malcolm Fraser.
"Valium" is a gritty suburban tale of depression and medication. Both combine muscle and attitude with ball-breaking punch and some astonishing guitar breaks.
They scored the coveted support slot for Lou Reed's 1977 Australian tour, and this is what the tour program had to say: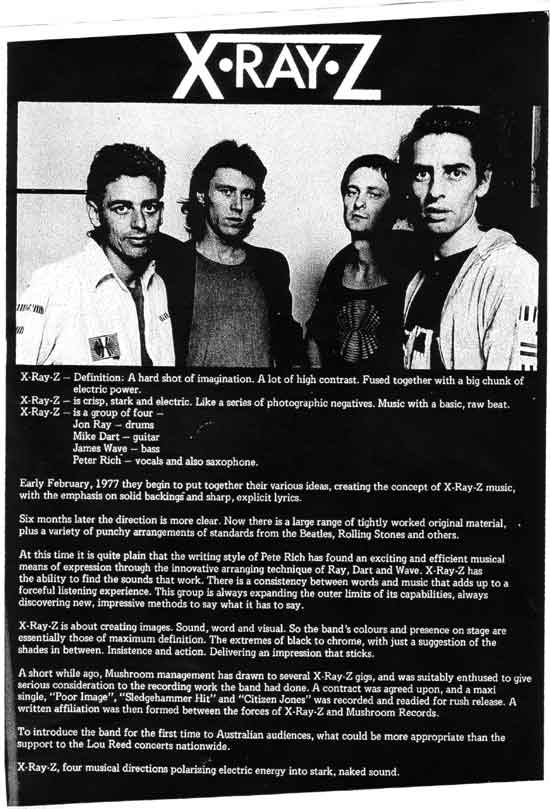 Perhaps the last word on this should go to DOLORES SAN MIGUEL, who ran the Crystal Ballroom during its heyday, knew all the players, and is probably uniquely placed to give an overview:

"I saw him watching me, intense blue eyes, chiselled jawline and high cheekbones, a dead ringer for James Dean – and he knew it! He came over and sat next to me, he didn't say anything for a while, then admired my leopard skin pants and asked if he could have some of my scotch. I obliged. His name was Johnny Crash, he was 23 years old and a drummer with an Adelaide punk band called JAB.
"Sunday was blue skied and sunny, a perfect summer's day. I arrived at the house on the corner of Powlett and Albert St. in East Melbourne, where Johnny and Bobby Stopar, JAB's guitarist, were living. Johnny was packing drums into his car and acknowledged my arrival.
"Two guys came out the front gate. Bohdan X, the singer and frontman, very tall with spiky hair, the colour of cheap claret. He was dressed head to toe in black leather, studs and chains. He oozed charisma and presence and he took my breath away. The other, Ash Wednesday, was actually better looking, the Paul McCartney to Bohdan's John Lennon. Jet black hair, sensuous lips, black leather jeans and a correctly torn black T-shirt.
"Johnny spoke to a very young guy with messy blonde hair, whose band had already played. His name was Sean Kelly and he struck me as moody and rude. Teenage Radio Stars was his band, Johnny informed me.
"While JAB were setting their gear up, I began chatting to Cathy, who had come down from Sydney, curly black hair, big green eyes and extremely pretty. She said she'd come down specifically to see Boys Next Door and more importantly to sleep with Nick Cave, with whom she already had a liaison, when the band toured Sydney. We entered the hall together and she pointed to a gangly young guy with scruffy, black hair and bad skin. It was Nick.
"Everyone dressed up, so there was an amazing eclectic array of costumes. The punks with their spiky coiffures, safety pins and chains. The male Boys Next Door entourage – flamboyant in op shop suits and ties – a mixture of an English dandy, these decadent, princely, magical young men and Pierre Voltaire always looked the classiest!
"The girls were a mixed bunch, classic punk, '60s retro and often magnificent '50s ballgowns or swirling cocktail skirts. Platinum blondes, fire engine redsheads. Later on the Goths appeared, all in black, panda bear eyes, long cascading black hair with lashings of black lace.
"The Ballroom provided the backdrop for a magical movie or decadent novel. I was the producer, the characters and performers needed no director! But I held The Ballroom keys!
"'Lethal Weapons' was the first compilation album presenting an array of "Ballroom Bands". I distinctly remember their excitement when they all first signed...and then their anger after the release."
(Extracts from "The Ballroom Years & Beyond", by Dolores San Migue.l)
With thanks to Andrew, Brett, Heather, Lou, Patrick & Tracey, as well as everyone who spoke/contributed.