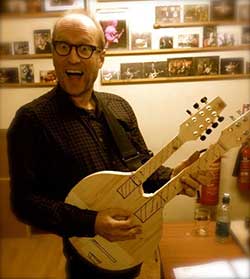 Ade sings in a fine, measured, clear vocal with a depth and quiet power which stops you dead in your tracks. I spoke to author, screenwriter, director, musician, vocalist, hit-single writer and real ale fancier Ade Edmondson (quietly thanking god I couldn't see if he was wearing a tweed jacket with leather elbow pads and a scrubby beard like the oiks in Viz's Real Ale Twats strip).
But he was very patient with me, specially as we didn't have much time...
Me: How did you start playing music?
Ade: When I was 12 bought a guitar but I couldn't get a tune out of it so I sold it. The next year I got it to stretch to a G chord [significant, deadpan pause] and I haven't looked back... I mean, it's a huge stumbling block, isn't it, not being able to play. And that's what punk was all about, [quotes famous line from Sniffin' Glue fanzine] 'here's three chords, go form a band'.
I come from Manchester so we'd go round the corner from the squat and see all these bands, none of who, apart from the Buzzcocks, ever amounted to much. They all had this uniform desire to express something, but not being sure quite what it was or how to express it. Even the Sex Pistols, who started the whole thing in the UK, had layers of guitar on their album, it was hardly three chords, was it?
I was going to ask Ade how the hell he 'accidentally' bought a mandolin, but give up. I can imagine him and his mates having too many beers and, unable to find a a fish-and-chippery or curry house, going in to a pawn shop instead ... There's a rather wonderful moment in the out-takes of the Bottom tv series which features Ade doing an off-the-cuff organ solo, to genuine applause from the crew.
The Bad Shepherds are touring Australia for the third time (wanting to see more of Australia, they're going to places like Thornbury and Cronulla), and ... you need to see this. Because it ain't what you expect. 'Mud, Blood and Beer' is tender and moving, there's a real concentration on letting the lyrics direct the music... Ade's sense of timing as a singer is nothing short of extraordinary. More importantly, and you won't believe me but see if I care, the Bad Shepherds make these songs written by other people so much their own that frankly you come away with the disconcerting feeling that the original you heard so long ago was only a clumsy cover version. And no, I'm not kidding.
Me: So how do you choose songs like Our House or Going Underground, or What a Waste?
Ade: Well, first we go to the club and we get ... not pissed, but relaxed. And we talk about snippets of songs which meant something to us. Why did What a Waste mean so much to me? Why did it resonate? And we return home and, without listening to it, we get hold of the lyrics and just strum about, trying it out, trying to channel the original feeling.
Me: These songs aren't really covers, they're effectively reinterpretations.
Ade: Well, yes; when we do the set we do songs which people don't recognise ...
Me: ... even though they probably should!
Ade: Yes. I mean, songs from the punk and new wave era are much more adult than people remember, it was an intense period of brilliant songwriting. I can't stand this modern era with all this 'me, me, me' and self-regard. I mean we've had all this economic depression with massive global changes, which historically generates creativity, and where is it?
Me: ... there hasn't been a decent youth movement in 25 years. [Thinks: must delete my facebook account]
Yes, The Bad Shepherds are a damn fine live band; Ade has friends in underground/ folk bands throughout the UK, and their new lp, 'Mud, Blood and Beer' seems so perfectly Australian I can't believe it's not the title of an lp by some bemulletted 7ts rugby star. For all three performers, this isn't a hobby, but it is kind of what they'd rather be doing. Yet we have bags of talent and joy of reeling an audience in with the unexpected. You wander in, thinking it will be something ordinary, and, because they delight in starting Anarchy in the UK with uilleann pipes, and suddenly you're there, suckered in and loving it; the Bad Shepherds have thwacked you with their crooks and herded you firmly into the dip. And you stay to the end, howl for more, buy the CDs, T-shirts and howl for more.

So apart from Ade and his mandolin (possibly even a double-neck mandolin, like any disrespectful rock cod), the other Bad Shepherds are:
Troy Donockley, perhaps best known for being a member of Finnish metal band Nightwish (no, really, he plays uilleann pipes and the tin whistle ... no, really)
Terl Bryant, drummer for Iona and Psalm Drummers...
Alright, so they're not what you expected. But since when was that a bad thing?
Now, many of you out there only know Ade from an ancient TV series with a crap Cliff Richard tune for a title, and a few of you know of his work with Rik Mayall in Bottom, the Dangerous Brothers, Filthy, Rich and Catflap etc etc. That era is over ...
I wanted to ask all sorts of questions about the series we never see over here, like Teenage Kicks, The Dales (three seasons), Ade in Britain, Ade at Sea ... and of course the things are mostly unavailable except in a dvd region designed to confuse the Middle East. What the devil Egyptians or Abu-Dabians or the Saudis would make of Five Go Mad in Dorset I can only imagine.
But you lot out there are inventive. You know the internet better than I do. Go burn!
There were only a few questions I could slip in before the pips started, so ...
Me: I rather enjoyed your first book, The Gobbler, which was sort of your 30ish-life- crisis... is there another heading our way?
Ade: Well, I've decided that this is the year I'll finish the next one, about my 50ish-life-crisis... it's taken me years, I keep going back to it. You have to have something to write about, don't you? I think some people write novels as a kind of therapy. Write out their own shit.
Me: You were caned and slippered as a boy, did that make you what you are today?
Ade: ...bitter and twisted, you mean? I think, yes, it did have an impact, it had to have. I have a knee-jerk reaction against authority. I mean, how dare they impose? We're all equal.
Me: How do you deal with fame..?
Ade: Well, I was lucky, really, because the first character I did was so gobby, people would yell, 'Hey, Ade, do Vyvyan', and I'd just yell 'Fuck off!'...
Me: ... must be like bad weather...
Ade: ... I suppose you just learn to be brusque with the right people...
I decided I'd leave it there.

See them if you possibly can. This means you, Mr Barman and Mr Short.
April
Fri 11 Gumball Festival, Belford, NSW
Tickets from thegumball.com.au

Sat 12 The Factory Floor, Marrickville, NSW
Tickets from factorytheatre.com.au

Sun 13 Clarendon Guesthouse, Katoomba, NSW
Tickets from (02) 4782 1322 clarendonguesthouse.com.au

Mon 14 Brass Monkey, Cronulla, NSW
Tickets from brassmonkey.com.au

Wed 16 Black Bear Lodge, Brisbane, QLD
Tickets from blackbearlodge.com.au and oztix.comau

Thu 17 The Soundlounge, Currumbin, QLD
Tickets from soundlounge.com.au

Fri 18 Thornbury Theatre, Thornbury, Vic
Tickets from thethornburytheatre.com

Sat 19 The Bridge Hotel, Castlemaine, Vic
Tickets from oztix.com.au

Sun 20 Caravan Music Club, Oakleigh, Vic
Tickets from caravanmusicclub.com.au

Tue 22 The Governor Hindmarsh, Adelaide, SA
Tickets from thegov.com.au

Thu 24 The Odd Fellow, Fremantle, WA
Tickets from oztix.com.au

Fri 25 Fairbridge Folk Festival, Fairbridge, WA
Tickets from folkworldfestival.com.au

Sat 26 The Rosemount Hotel, Perth, WA
Tickets from rosemounthotel.com.au and oztix.com.au