The gift of Goose Lake and why you need to unwrap it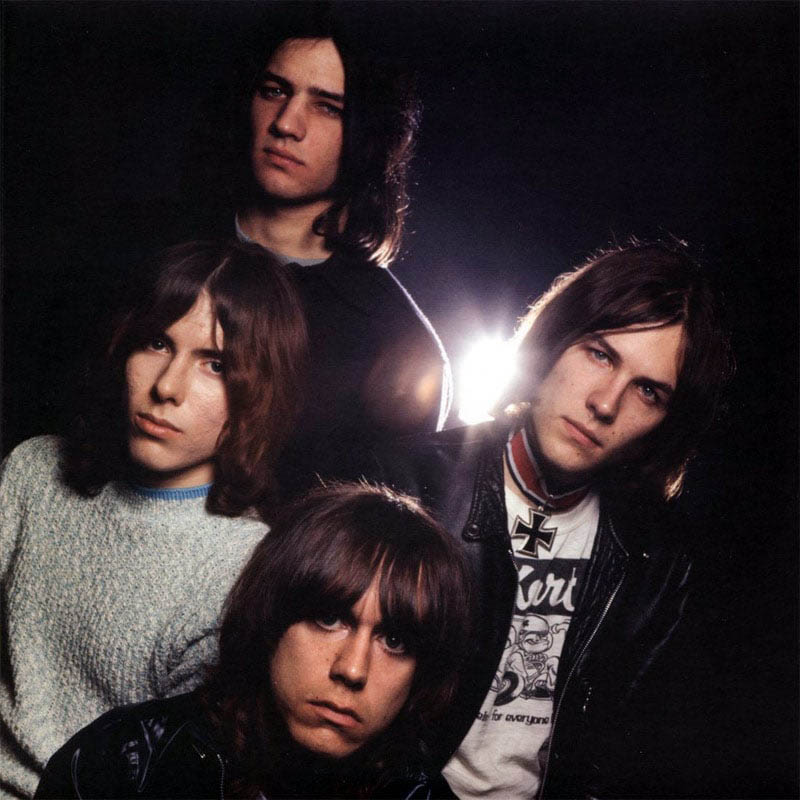 The original Stooges.
Ben Blackwell is one of the most important figures to come out of the Detroit music scene in the past 30 years. Whether it be his drumming with the Dirtbombs, his work crewing for and archiving The White Stripes or his running of Third Man Records, Ben is yet another in a long line of significant musical names to have come from the Motor City.
Third Man Records has just dropped the Stooges album "Live at Goose Lake". Recorded back in August 1970, the show it documents is a seminal and infamous moment in the band's history. It was the last gig the band played with bassist Dave Alexander.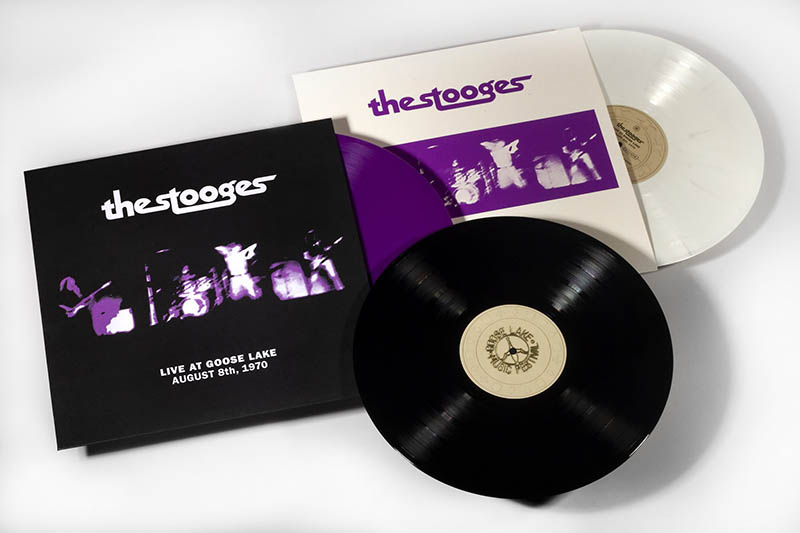 While none of the members may have been stone cold sober, Alexander was said to be so out of it that he didn't play a single note. The newly-unearthed recording proves otherwise, but Alexander was given his marching orders and was out of the band. He dropped off the radar. Five years later he left us.
While the Stooges reformed in the mid 2000s and finally got the respect and success they deserved, for me this recording, as well as its wonderful liner notes from Jaan Uhelzski (ex-"Cream" magazine), is a beautiful tribute to Alexander, the world's real forgotten boy. The recording, as well as the infamy of the gig, makes this possibly the perfect live Stooges release. For those that think it's all been done before and what more new stuff could you possibly find, no Stooges collection would be complete without this.
I-94 Bar: How are you coping in these crazy times?
Ben: Well you're currently in my two-day-a-week office which is whatever bed is not being claimed by a child in the house, I don't have the luxury of a home office. Five months in and I'm thinking is this going to be another five weeks, or another five months? All things considered, business, family and health, I've been very, very lucky, it could be a million times worse. There are plenty of idiots in this country, so don't be an idiot is the best advice I can give.
I-94 Bar: Unfortunately there are plenty of idiots here in Australia as well.
Ben: Bunch of bogans, right? (laughs)
I-94 Bar: Now your involvement with Third Man Records, how did that come about?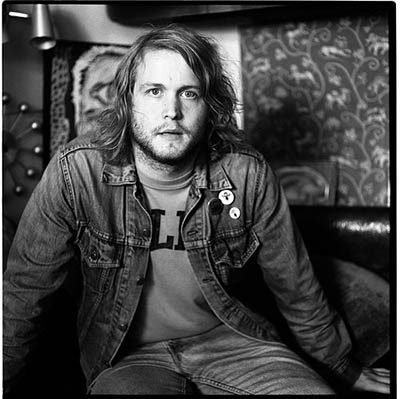 Ben: Totally unexpected (laughs). Myself (pictured right) and Ben Swank together both moved to Nashville on a whim, and when Jack White said: 'Let's start a record label,; and that was 11 years ago. After 10 years of doing it with a bit of success Jack said: 'I want you guys to be invested and I want to give this to you'. Completely unexpected.
It happened at out 10th anniversary party. Jack's tour manager of the Raconteurs was there and said Jack wanted to talk to us. I thought maybe the sound wasn't working. I figured either something is going wrong, or he's gonna give me ownership of the company, those were my two thoughts and I never thought of that prior, but because it was the 10th anniversary, it made sense. But you kind of lose your breath at that kind of thing.
I-94 Bar: When you start a label you want to have your say and input, so when you started the label what ideas did you want to bring to the table?
Ben: Well we started from scratch, I had run my own label when I was 20–years-old in my mum's house - which I was still living in. I come from the DIY mentality: Just figure it out. That goes with putting the record in the sleeves and mail-order deliverers, even sweeping the parking lot. It was hard for me to let go of things. If I did it I know what I'm expecting, what attention to detail, and if there's a fuck up I know I'm gonna get angry at myself, I'd much rather be mad at myself then someone else.
At the start we were running the store, answering the phones and taking the garbage out. When you get bigger you can hire more people, and you ask (yourself) what is your focus, or expertise. So for me, its archival end, so any reissues, particularly The White Stripes; that's my bread and butter. And some things, like the Stooges, fall into my lap, because I'm the resident employee that's spent 25 years obsessing with the Stooges.
I-94 Bar: Let's talk about the Stooges live record that Third Man is releasing, is that true it landed right on your doorstep out of nowhere?
Ben: Yeah, Joshua Rogers, whose dad James Cassilly had recorded the show, came to us, based on name recognition and reputation. He didn't ask anyone else. I'm actually interested to know if we said no, would he have had a Plan B? Was it all eggs in this basket? He came to us and said, 'I have this tape, no idea if there's any music on it, reel to reel machine; it seems like something up Third Man's alley'. I was excited to start the adventure.
There was no thought of like there's no way that could be happening. We worked with Iggy's team before, so there was a preexisting relationship. So I was up for it, and it felt like this is good, we're the right place for it, let's go.
I-94 Bar: as you mentioned you deal with the archive end of things at Third Man, we are living in a reissue age, the three Stooges studio LPs have been reissued many times, and there have been several live recordings of the band released recently, so how did you feel about releasing this, did you ever feel everything has been released and the world doesn't need another Stooges recording?
Ben: No fucking pause from my end. This is what you hope for when you buy those reissues over and over with one new songs or a new remix over and over again, you hope for something you've never heard. With the exception of the 40 seconds that exist in the bootleg Goose Lake film, no-one had heard any of this.
I cannot overstate how mind blowing that this exists, that it wasn't thrown away. It's recorded well. Every step of the way there was, like, five things that could have happened like, ah, 'Iggy's vocals are off.; But this is the kind of release Stooges nuts will want and that's why you wait for it. In the last 10 years, there has been a handful of Stooges shows that have been released. There was "Georgia Peaches" which was the "Raw Power" set, and there's five or six shows from the 1971 Stooges lineup that are pretty rough quality, but it's a set - and era - that was undocumented.
Every time one of these releases comes out you think to yourself, 'Well, this could be the last time I hear anything new, that I haven't heard from the Stooges, and this could be it'. I pray it's not, and I pray whatever is discovered next also comes out on Third Man, but this could be it. It's not the bottom of the barrel by any means - this is good shit - but who knows? This could be it.
I-94 Bar: Well on top of everything going to plan, in terms of quality, also it's from the legendary Goose Lake gig, so it seems like you couldn't have thought of a more perfect release.
Ben: It's as legendary a show in terms of folklore and tall tales that that band ever played. I said in another interview if you could give me one Stooges show to release I would say Goose Lake, and I mean any gig they ever played. That's how much heft it carries in the band mythology, and that's the one that turns up?
I would have taken the band's first ever show, I would have taken their first show where there playing 80-gallon oil drums and dropping a microphone in it for feedback effects. Might not be commercially successful, so for this show to turn up…I don't want to get all hippy dippy but it feels like there some higher power, like we have no control of what we're just tapping into.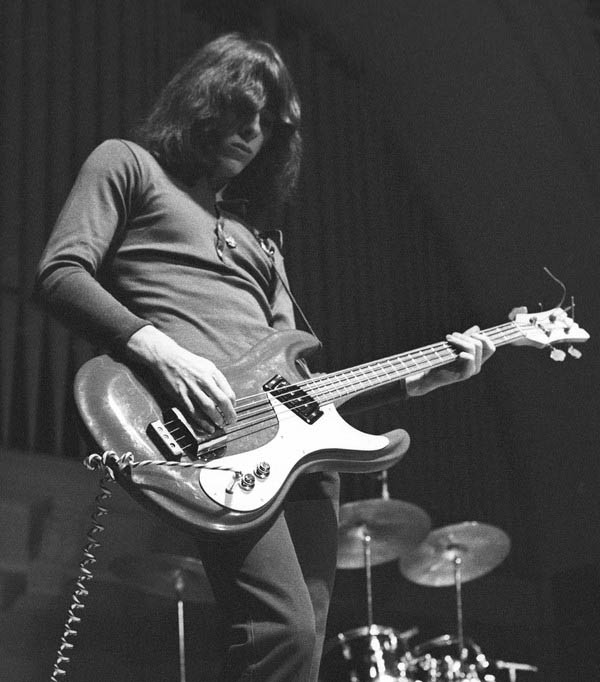 Dave Alexander.
I-94 Bar: I was reading the liner notes, and I almost shed a tear reading about Dave Alexander. He's such an interesting figure to me, and he is out of the band after this gig, never played with the band again and sadly died five years late. There's so little info about him out there, so I thought this release was a wonderful tribute to him.
Ben: Just hearing any more of his bass playing is a tribute to him, there are a few other recordings from 1970 that are wide variety in recording. There's Cincinnati Pop festival, which is the one where Iggy smears Peanut Butter over himself; there's a live recoding from Solider Field in Chicago that leaves a lot to be desired but it's a live recording.
There's a few here and there from 1970, some with and without Dave, there's a live recording of a show two weeks after Dave was out, so it's a different bag. So to be able to hear him play, and present this opposing theory of his state, his altered state at that festival, the story is that he didn't play a note on stage. So to listen to it, there's bass on it.
You know there's bass on "Dirt", and it's the lead instrument on "Dirt", and he plays it well. So it's a nice tribute Dave, but a tribute to all of them, you know there all gone except for Iggy, and I got to meet all of them except for Dave. Having had interaction, having met them and talked to them, I want to make sure, no matter what small part I can do that they're not forgotten, because we're all gonna be dead at some point. And it's up to people to put together the pieces and establish a story in why you're important, and I'd give anything to give hugs to those guys
I-94 Bar: You were born in the early '80s in Detroit, and as mentioned everything has been reissued over and over, and you can find the Stooges music today so easily, what with YouTube and their albums can be found in any record store, but what did the Stooges mean when you first discovered them? Were they local heroes or where they still underground darlings?
Ben: It was still pretty underground, I'm taking '96. My intro to a lot of things was what was there connection to Nirvana? Nirvana hit me to find Sonic Youth. Sonic Youth covered "I Wanna be your Dog". So I got into that first LP. In Detroit, it was locally significant enough. My parents vaguely knew who the Stooges were. They knew the MC5, let's put it that way.
My parents weren't hanging round the Grande Ballroom they weren't into the psychedelic scene or anything, they just knew of a band that played around town called the MC5. They knew all the Bob Seeger pre "Silver Bullet" stuff because it was played on the radio. It doesn't get played any more. So it was like, yeah, there's this band from Michigan.
So when I got into it, it was clear there as more to it. More fanaticism I guess for lack of a better word, people are really into this band. I met Ron Asheton backstage at a show in 2001. I was only 19, it wasn't like, 'Oh my God, it's Ron'. It didn't seem out of the ordinary. It seemed like the kind of world, being a younger guy in a band you would meet the older guys that play in bands in your town. There was no celebrity or superiority. A friend of mine was like, 'Have you meet Ron? Let me introduce you'. It was super chill.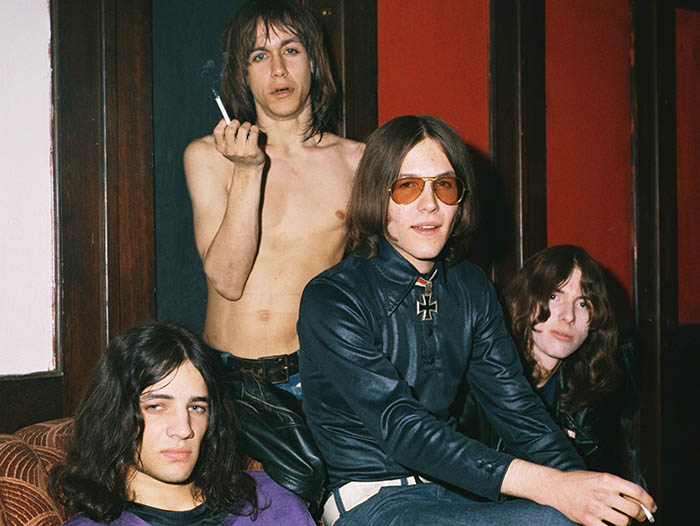 Scott, Iggy, Ron and Dave: The Stooges.
I-94 Bar: That's beautiful.
Ben: One-hundred percent how I would describe it is 'beautiful'. I'm so thankful for me being younger I got to meet him and have some time with him. So they reform and it was a big deal, and they play this show in Detroit, and there first show back in Detroit was the best rock 'n' roll gig I've ever seen. I didn't know what to expect and it was great. Not OK. Great. And you felt happy guys like Ron and Scott got to experience that, they got to see success with that band they didn't have at when they started.
I-94 Bar: Yeah, I saw them at that 2006 Big Day Out, best gig ever for me.
Ben: I was there, White Stripes played after. Where did you see them, Gold Coast? Melbourne?
I-94 Bar: Melbourne.
Ben: Of course, no one's from Gold Coast What am I talking about? The only thing I remember from Gold Coast was the hotel had an artificial beach. Never seen it before and since
I-94 Bar: You mentioned Iggy's involvement. What was his involvement? Was he hands or did he give you guys a lot of room to work?
Ben: He signed off on it. He approved it but primarily (he was) hands off and largely it's how he is on archival releases. I think, that's the first thing everyone says, 'What's Iggy got to say?' And I think after a while there only so much you can say for something that happened 50 years ago. I don't have too many thoughts to share on stuff that happened 20 years ago.
He gave some insights for the liner notes, just little bits. He didn't pour his heart out. And he wasn't going to do any press or publicity which is fine - he doesn't owe us that. But he did a little recollecting for a local newspaper in Michigan of the festival, and I read it and thought it would have been nice to have had that in the notes.
But Iggy does what he does, you work with it or work around it. If I'm putting on my wizard hat reading minds, I'm not sure he thought people would care much about this album, but now he seems to think people do care, which is a positive for him.
I-94 Bar: Deniz Tek of Radio Birdman is also a native of Michigan. I was at the Birdman documentary premiere, and he did a Q and A at the end. My mate Marty asked Deniz: 'You came from the city that gave us The Stooges, MC5 and Motown, why would you leave?' He kind of shrugged and said, 'I thought everywhere was the same'.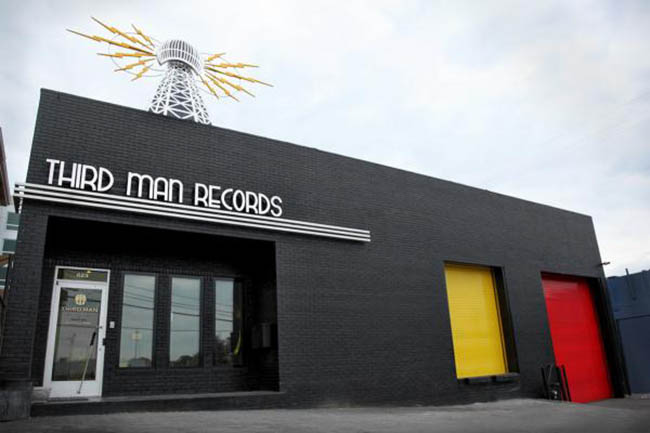 Third Man Nashiville.
Ben: It's kind of the same when I grew up, coming round bands like The White Stripes and playing with the Dirtbombs and seeing Detroit Cobras, Demolition Doll Rods, all these great bands. When you grow up in it,…15…16…that's right in front of you. That's a coming of age moment, that first tour, and you realize Minneapolis is not like Detroit… there's something special about it.
It's hard to place it in more modern times. It's largely abandoned. You could kind of do whatever you wanted. Jack White had a great quote: 'You could park a bulldozer on your front lawn and no one cares'. If you had the drive and desire to be creative you could do so, without little inference, and for most it means making music.
And you have your own circle of folks doing it, and you might be playing to 100 people and 70 play in bands. But when it hits that tipping point of going on tour seeing how others react, you realize it's not like this everywhere, and it gets pretty fun. It's not like Seattle in the '90s or San Francisco in the '60s or whatever, scenes in that "quote unquote" way. I don't know if they'll ever exist because Internet culture has taken away that flavor.
But working with the White Stripes and playing with the Dirtbombs has given me the tools and experience to do what I'm doing today: working with bands and dong archival things. We put out records of things that I recorded on tape and took the photos and took the set list. To see that reproduced and sending it out overseas is awesome and humbling and you just hope someone else cares and you can engage in there caring
I-94 Bar: What's coming up next?
Ben: We got Screaming Jay Hawkins records, a Hives live record. We always have 10-12 things lined up. The pandemic has made us switch things around, but it's just keep on truckin',. Keep feeding the mail-order beast. Mail order has stayed really strong for us - and I gotta find a way to get back to Wollongong one day.
I-94 Bar: Thanks for your time Ben and thank you for this wonderful gift you have given the world,
Ben: To hear you call it a gift is really heartwarming I've not thought of it in that regard, I only put the wrapping paper on it, but sometimes that can be pretty damn fun.
*Matt Ryan is th Melbourne-based editor of Munster Times zine.
Tags: stooges, third man records, matt ryan, dave alexander, ben blackwell, live at goose lake