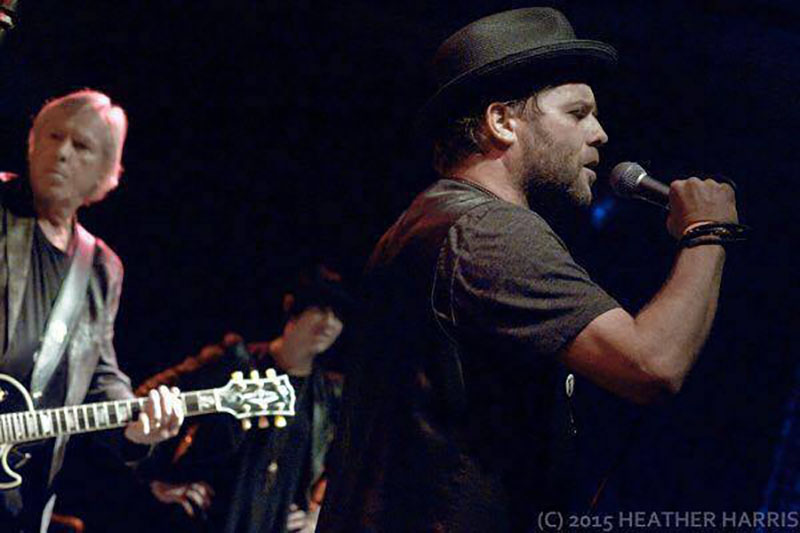 Vocalising with The Pink Hearts with band leader James Williamson. Heather Harris photo.
I dunno how he does it, or I'd be doin' somethin' a whole lot like it, myself, but sadly, I just never had the social skills, money, or loyal guns to lift a punk 'n' roll band outta the basement for very long. All my own ill-fated glam bands crashed and burned before our 15 minutes of indie record deal. This might be why I had to tune so many bands that were happening out for so many years. I was crestfallen when the last of my old groups foolishly fizzled out for no good reason.
When I first started to hear about his group, Streetwalkin' Cheetahs, I was kinda goin' into punk rock band retirement, myself. I do remember hearing reports from my former bandmates about his crew and their pals, Nashville Pussy tearing it up. This was right around the time when I kinda dropped out of society and quit going to shows or purchasing new music as I had shacked up with a woman I'd worked at a pizza place with, and had a second kid, and was becoming incrementally more reclusive, domesticated, embittered, depressed, and anti-social.
So, yeah, like, here we are, 23 some years later, and I'm just really getting around the exploring the significant oeuvres of both John 5 and Frank Meyer, through the modern miracle of YouTube.
I was moved by Frank's heartfelt and congenial tribute to Van Halen when he covered one of my favorite songs, "In A Simple Rhyme' with feeling, and then I noted he'd been working with James Williamson from Iggy and the Stooges in The Pink Hearts, Cherie Currie from the Runaways, Cheetah Chrome, as well as Bruce Duff who I had brushed with in L.A. when I was about 21, out there scouting Sunset somewhat unsuccessfully for some black-haired bandmates. I'd arrived too late. It was all over and flannelette had arrived. I was not that enthusiastic about the grunge scene at all, other than, you know, Mother Love Bone, who were more like a weird cross between Aerosmith, Van Halen, Elton John, and T. Rex.
Then, not too long ago, my ears perked up when I noted that Frank had my favorite lyricist, John Easdale from Dramarama, guest starring in the vid for Streetwalkin' Cheetahs for a fabulously catchy, poppy, singalong, hit tune called "One More Drink" from an album of the same name.
That song was so pleasing to my jaded old ears, kinda power poppy, it really woke me up to this artists' high level talent and gift for hooks and instantly appealing sense of humor, he's a one man rock 'n' roll underground juggernaut and he's a man after my own glittery heart!
Geez, it's like, a week later and he's got yet another exciting album coming out he did in death-plague clampdown with Eddie Spaghetti from the Supersuckers. Under the moniker Spaghetti and Frank, "Motherfuckin' Rock 'n' Roll" stars the marvellous Brian Damage Forsythe on lead guitar!!!
Holy Smokes, this dude Frank is everywhere! So then, one day over coffee last week, I put on some headphones and listened to the "Party Like A Rockstar" podcast where Frank and his original Hollywood homeboys took a sentimental journey down the Sunset Strip, discussing all the same exact '80s adolescent, greasy kid Kerrang! Rock 'n' roll stuff my sleazy fanzine writer and metalhead friends and I were all extremely immersed in during our purple scarved and frequently inebriated teens and early 20s.
It was pretty funny listening to them waxing sincere about stuff like what a nice guy Brett Michaels was(!!) and turning one of their dads on to Loudness solo records, and I was surprised by how much of the same identical stuff we both liked. I keep finding myself exploring bits of his really high quality catalog that's available on the internet, and enjoying more of his work. I had such a good time listening to both his music and true tales from the show-biz underbelly, this past week, that I asked him if he felt like talkin' some more about rock 'n' roll. He said Yeah.
If you dig his music, and very charming and entertaining yarn spinnin' as much as I do, leave a comment here. Maybe I'll get him to indulge us with a Part 2 someday. Thanks, Frank.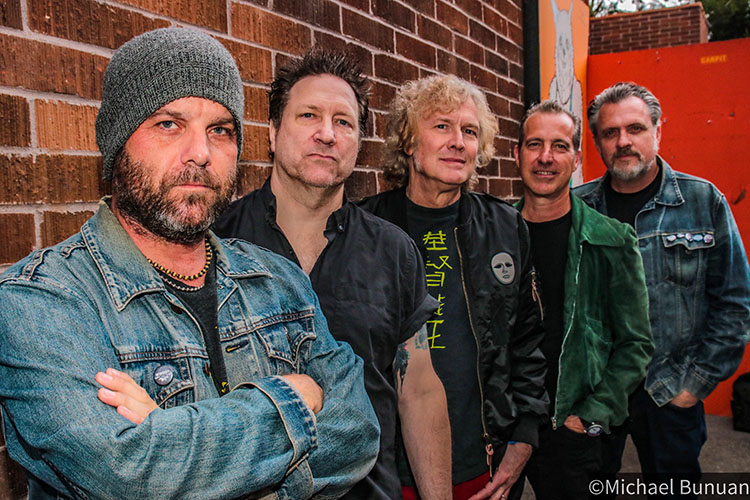 The Streetwalkin; Cheetahs 2021. Michael Bunuan photo.
DIAMOND DIM: Did you ever see the Coma Tones? Do you know Jimmy James? Any Hangmen or Junkyard stories?
FRANK: I saw the Coma Tones a bunch. My bands before the Cheetahs played some gigs with them. I've known Jimmy James since the early '90s Coma Tones days , yeah. We have played in a few side-bands and jams together over the years and travel in the same circle of friends. Good man.
FRANK: I saw The Hangmen and Junkyard back when I was in high school in the late-'80s many, many times at Raji's , the Anti-Club and a bunch of other spots. There was also a great band that used to play with those guys a lot called the Little Kings. And Motorcycle Boy was awesome too. The scene was amazing back then. So many great bands in L.A. Yeah, I saw the original lines up of both those bands many times and was a huge fan.
DIAMOND DIM: Did you ever hear the stuff Jo Dog did with Paul Black or David Roach?
FRANK: Yeah, The Cheetahs played with David Roach's band Borracho at Bar Deluxe in our early days, and I'm pretty sure Bam was in the band. Our bassist Dino went on to play in Bubble with Bam.
DIAMOND DIM: How did you first find out about Hanoi Rocks? Were you into "Too Fast For Love"? Were you a Lords Of The New Church fan?
FRANK: I was waaaay into all of those bands as a kid. "Too Fast For Love" was HUGE for me, really the first metal album that I became obsessed with. Still love it. I read about Hanoi Rocks in Kerrang! and thought they looked cool, so I ran out to Tower Records and bought "Back To Mystery City" (also scored W.A.S.P.'s "I Fuck Like A Beast" EP and Frank Zappa's "Joe's Garage" on this very memorable day!).
I fell in love with Hanoi Rocks and soon bought all the albums and memorized every note. That band was very influential for me. Hanoi and Kerrang! soon led me to the Lords of the New Church, who I saw in concert as a teen at the Roxy on the Methods To Our Madness tour. I went with Moon Zappa and we hung out with Martha Quinn, who was dating Stiv Bator at the time.
DIAMOND DIM: Can you tell me about your earliest bands, how you got into glam, Frank's wild teenage years? How did you discover KIX?
FRANK: KIX is another band I stumbled onto when I was a kid. I saw a picture of them in the back of Hit Parader magazine and the guitarist looked like Johnny Thunders and had a New York Dolls shirt on, so I bought their "Midnight Dynamite" album based on that and loved it. Scored the earlier ones and became a lifelong fan.
I loved hard, fast, dirty, catchy music ever since I was a kid. It didn't matter to me if it was metal, punk, glam or classic rock, I just loved it all. Not every band from every genre necessarily, I just wasn't someone that could only be into one thing. To me, Fear and Iron Maiden were in the same universe of rad music. I loved the first Poison record, and loved Fishbone, and those scenes could not have been more diametrically opposed when I was a teen, but I didn't care. And I always loved finding obscure bands that none knew about.
So I would find bands like Rogue Male, Pet Hate, Adam Bomb, Armored Saint, Black 'n' Blue, Four Horsemen, Girl, The Angels, Rose Tattoo, Starz, and so on. Not all of those are that obscure to some folks, but most mainstream rock fans have no idea about a lot of that stuff.
DIAMOND DIM: Origins of Street Walkin Cheetahs, highlights of that band experience-didn't you guys tour with Nashville Pussy? Do you remember meeting a guy by the name of Kentucky Mike? Did you tour through Ohio?
FRANK: We toured with everybody back then, but the bands we toured the most with were Nashville Pussy, Supersuckers, Fishbone, Reverend Horton Heat, Zeke, The Bellrays, Black Halos, Betty Blowtorch and more I'm sure I'm forgetting. Blaine and Ruyter from Nashville Pussy, and Eddie Spaghetti of The Supersuckers, have all become really close friends over the decades. In fact, Eddie and I just made an album together out this week called "Motherfuckin' Rock 'n' Roll", available on Kitten Robot Records.
We toured through Ohio many times, but I can't remember Kentucky Mike off the top of my head. But that means nothing. Alcohol….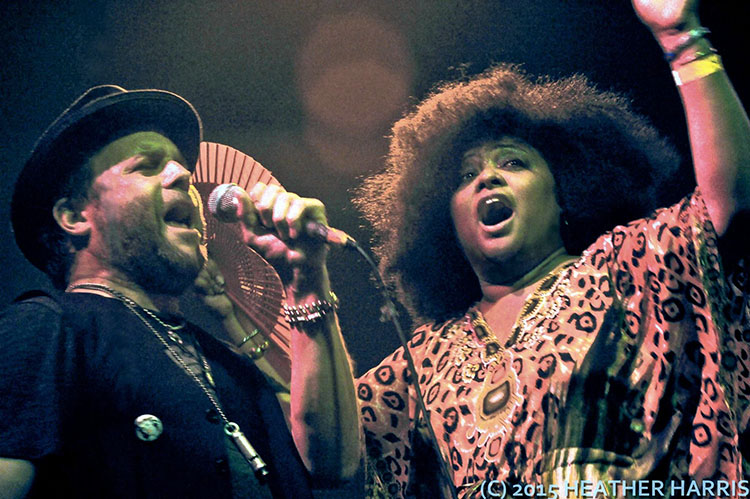 Matching tonsils with Lisa Kekaula of The BellRays. Heather Harris photo.
DIAMOND DIM: How did you meet Bruce Duff, talk about Angus Khan. I take it you were a Love Reaction fan. Did you ever see Zodiac Mindwarp? Did you know Amy Wichmann from Sister Goddam and Mini Skirt Mob? Did you ever see the Ultras who Bruce produced? Hello Disaster? Motorcycle Boy?
FRANK: Yeah, I was bigtime Zodiac Mindwarp fan. I saw them twice on the "Tattooed Beat Messiah" tour and they blew my mind. Angus Khan was obviously very influenced by them and AC/DC…and Godz! Around 2001 Zodiac did a brief west coast reunion tour and the Cheetahs were support on it! Cobalt Stargazer and I became good buddies and he even called me up to play guitar with them on "Rocker" by Thin Lizzy at a gig in San Francisco.
Black Halos and Supagroup were also on that tour. There's a video on YouTube on the San Francisco show from Reality Check that's pretty wild and I think even has a clip of me onstage with them.
Bruce Duff actually signed the Cheetahs to Triple XXX Records back in 1999 or so. We were on BOMP! Before that for a few albums and singles, and then went to Triple XXX and released "Live on KXLU," and bunch of albums after that.
After the Cheetahs first broke up, and Bruce had left the label, we formed a band called Sweet Justice that made an album and toured. In fact, we just reunited that band and there's a new Sweet Justice album out in November called the "Redline EP" on Eternal Music Group. After Sweet Justice, we formed Angus Khan, which was more of a biker metal sound, and released two albums with that band, before the Cheetahs reunited.
All original Cheetahs came back except for our guitarist Art Jackson, so Bruce was the logical replacement for him. We just released a new Streetwalkin' Cheetahs album called "One More Drink" on Dead Beat Records.
DIAMOND DIM: Did you like Manic Street Preachers?
FRANK: Not really.
DIAMOND DIM: Mother Love Bone?
FRANK: I'm a HUGE Mother Love Bone fan. Loved them when I first heard the "Shine" EP as a senior in high school.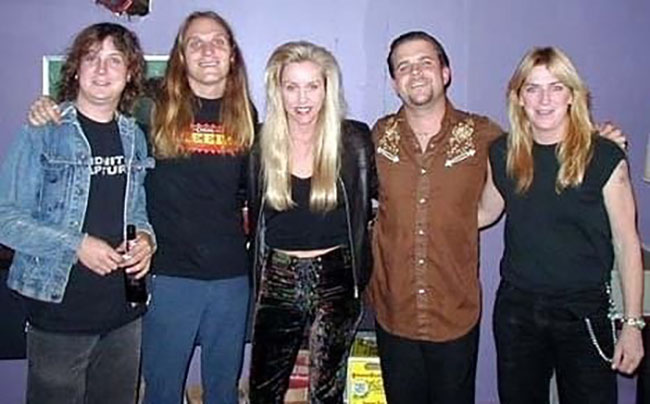 Three Streetwalkin' Cheetahs with Cherie Currie and Sandy West of The Runaways.
DIAMOND DIM: Do you know who the Sleazegrinder is? I ask because you mentioned Rogue Male in your friend's podcast and he was the only other guy I ever knew who was really into that band, though I've always been really into Danny Fury, in Lords Of The New Church/Tango Pirates. Do you remember a fanzine online called Sugarbuzz? Texas Terri? Thee Hypnotics?
FRANK: Yeah, Sleazegrinder is an old friend of mine He was a big Angus Khan champion and helped us spread the word in the press on that first Khan album.
Ya, I think I've been in Sugarbuzz before? Alcohol…
The Cheetahs played with Texas Terri a ton when we first started out. Probably did 30 gigs together. She and I also played together in a tribute band at Bianca from Betty Blowtorch's wake after her funeral. I haven't seen her since she moved ti Berlin, but we used to be pretty close friends. Her original guitarist Demon Boy used to sell me guitar strings and pedals at Guitar Center.
DIAMOND DIM: Did you read RIP magazine? What do you remember about Rock City Angels?
FRANK: Lonn Friend from RIP Magazine was my writing mentor and got me my first book deal to write my first book "On The Road with The Ramones". I was a big RIP fan as a kid and we met in the late-'90s. He was a fan of my writing and music, and was a big champion of my work for a long time, helping me bust through a few doors early on. I will always love the great Lonn Friend.
I saw Rock City Angels at the Coconut Teaszer around the time that "Young Man's Blues" came out. They were really fun. I also saw them a few years later when they were called Durango at a weird benefit gig with George Carlin! Never saw them with Jimmy James though.
DIAMOND DIM: Did you ever see the Humpers? Electric Frankenstein? Zeke?
FRANK: One of my early bands played with the Humpers when they were called Suicide Kings, and then yeah I saw them many times after that. We toured with Electric Frankenstein a few times and I was a big fan, especially of the Steve Miller albums. We also used to tour with Zeke a lot and I was also a big fan. Supersuckers introduced us to Zeke. We did a wild tour with Zeke and Supersuckers, and another one with Zeke and New Bomb Turks!
DIAMOND DIM: Lazy Cowgirls?
FRANK: I used to see the Lazy Cowgirls a ton in the early-'90s a lot. I was a HUGE fan. I even roadied for them on some dates in Europe around 1995. Their album "Ragged Soul" was definitely an early influence on the Streetwalkin' Cheetahs sound. Pat Todd is an old pal and we did some shows with him right before COVID.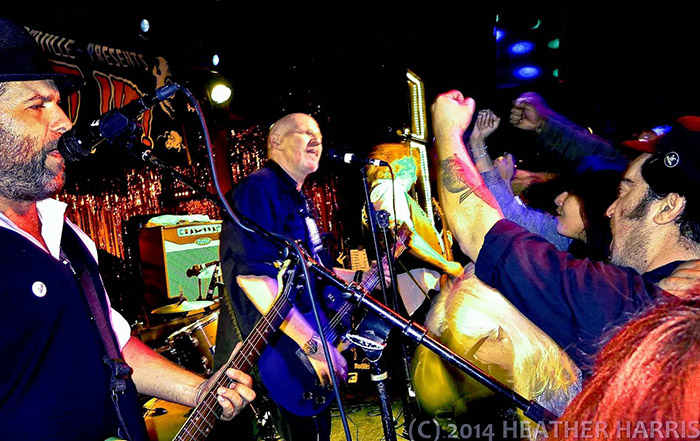 Playing with ex-Dead Boy Cheetah Chrome., Heather Harris photo
DIAMOND DIM: When did you first cross paths with Eddie Spaghetti?
FRANK: The Supersuckers took the Streetwalkin' Cheetahs out on the Evil Powers of Rock 'n' Roll album in 1999 and we've been good friends ever since. Actually before that I met him on stage at an after party when I fronted a jam band with him, a few Supersuckers, and a few guys from the Hellacopters! Nicke invited me and I met Eddie right before we started playing. It was six months or so later when I met him at SXSW and he asked us to go on tour with them. I'm not even sure he remembers that!
DIAMOND DIM: Did you know Brian Smith from Beat Angels when you wrote for Popsmear?
FRANK: Yeah, Brian was good friend back in the Popsmear days. Great writer and great musician. We played with the Beat Angels in Arizona once in the '90s. He and I once had an insane night with Insane Clown Posse and '90s Vivid porn star Raylene!
DIAMOND DIM: Loved, loved, loved "In A Simple Rhyme"! Was so jealous you covered before I did, ha ha! Didn't you get to meet Eddie at some point?
FRANK: I met Eddie Van Halen at a party at his house for this porn movie he wrote some songs for. It was an open bar party, he was hanging around playing piano and introducing himself, and he even had a backyard stage and jammed Van Halen songs and covers with a house band. It was mindboggling!
I also spent a lot of time with David Lee Roth in the mid-90s and early 2000s. I interviewed him a bunch and he took a shine to me, so I got to hang at his house, check some sessions and rehearsals and got all access to tons of shows. Really cool guy and hilarious. We even started a book project together but then he rejoined Van Halen and it got shelved.
DIAMOND DIM: Have you heard all the songs he recorded with John 5?
FRANK: I have only heard the tunes with John 5 that he's released and I dig them. I actually got to hear the 5150 live demos for "A Different Kind of Truth" at Dave's manager's house one times. This was years before they officially reunited in 2007, but they had been working on and off quietly for years on the songs and I heard the board tapes! I also got to go to the Van Halen friends and family rehearsal at the Forum in 2007. That too was quite insane. Dave had Zack Wylde removed because he was being such a loud drunk!
DIAMOND DIM: Were you a Dogs Damour fan? Did you prefer them or Quireboys?
FRANK: I liked both quite a bit when they first came out, but only the first albums, After that, not so much.
DIAMOND DIM: If there's some kid out there in Internet Land just discovering your music what are 5 or 6 things he should look into first?
FRANK:
The Streetwalkin' Cheetahs: "Live On KXLU"
The Streetwalkin' Cheetahs: "One More Drink"
Eddie Spaghetti & Frank Meyer: "Motherfuckin' Rock 'n' Roll"
Angus Khan: "Black Leather Soul"
Sweet justice: 2004 self-titled
DIAMOND DIM: Discuss your current projects and where people can go to delve deeper into your work. Links, anything else you wanna bring up?!
FRANK: Besides The Streetwalkin' Cheetahs just-released new album "One More Drink on Dead Beat Records and the "Motherfuckin' Rock 'n' Roll" record with Edddie Spaghetti, there's the new Sweet Justice EP called "Redline" out in Novemeber. Plus I'm on the new single "Under the Coast," by The Dogs, have anew band with the guys in GayC/DC called The Dobermen with songs out on Bandcamp, a UK-based side-projected band with guys from The City Kids called Anti-Fashion, and solo singles on my Bandcamp page.
Plus you can find me on new albums by Warrior Soul, Shameless, Thor, Anti-Virals, Nashville Pussy, and Tony Fate of The Bellrays. Whew! I need to sleep at some point, huh?
Streetwalkin' Cheetahs on Facebook
The Streetwalkin' Cheetahs Instagram
Spaghetti and Frank's Instagram