An act of Sedition to celebrate Sydney music's glory days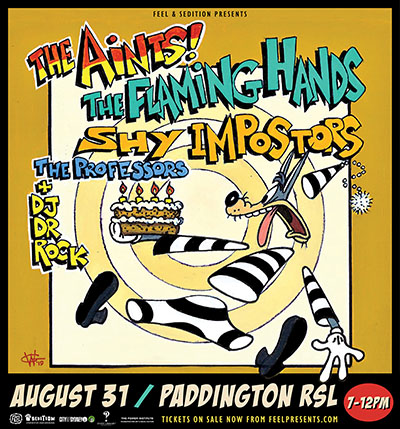 Sedition 2019 is a Celebration of Public Art and Protest in Sydney during the 1970s, running across various venues and spaces this August-September. To celebrate, Feel Presents have put together a live music component featuring some musical giants from Sydney's fertile post-punk scene of the late 1970s.
Mark down Saturday, August 31 at Paddington RSL for a show by The Aints!, Flaming Hands, Shy Impostors and The Professors. DJ Dr Rock with be providing the soundtrack between sets. Tickets go on-sale at 12 midday today here.
Ed Kuepper needs little introduction; as a founding member of Brisbane world beating proto-punks The Saints - residents of Sydney for a short four months in Jan-April 1977 - and Sydney's post-punk giants the Laughing Clowns (1979-1984) Kuepper is almost single handedly responsible for igniting two musical movements.
The Aints! is a continuation of those both projects having lain dormant for some 35+ years but reignited with a passion in 2017 that has thus far seen the release of two full lengths albums, a mini-album and a series of scorching live shows.
Flaming Hands and Shy Impostors both sprung from the ashes of Sydney's exclusive Detroit scene headed by the pioneering Radio Birdman during their reign of 1974-1977.
In Julie Mostyn and Penny Ward both bands would feature a strong female presence; Mostyn as the perfect foil for Flaming Hands songwriter Jeff Sullivan and (initially) his sweet tales of unrequited love set to a '60s backbeat, before turning it up a notch and adding a dance element and scoring some minor chart success into the early'80s.
Shy Impostors songwriter Penny Ward would present her noir like prose atop a menacing rock 'n 'roll beat via a band that oozed serious talent and featured future members of both the Sunnyboys and Lipstick Killers. Existing for just 12 months during 1979-1980 the legend of the band lies largely in the release of one posthumous single but an impossibly good one-off reformation show in 2017 showed just what could have been.
"Where's the professor? We need him now." Legend has it that 'The Professor' referred to in The Saints classic "Know Your Product" was Stephen Vineburg, a friend to the band during their Sydney sojourn of early 1977. Taking the moniker that singer Chris Bailey had entrusted upon him Vineburg would then form a band of the same name, The Professors, playing a hybrid of '77 punk and Sydney style Detroit existing - like many - for the briefest of moments in the late 70s.
Well before the moniker was high-jacked by wannabe socialites and talentless bums mild-manned record store clerk Frank Cotterell was a major taste maker for serious young music buffs. As Dr. Rock though, any Clark Kent-like tendencies are pushed to the side as Frank's alter-ego takes control of the decks with a garage-psych-soul meltdown for the ages.
And if you're loving the artwork for the show it was designed by former Disney animator and Radio Birdman bass player Warwick Gilbert, one of the supreme artistic talents of the day and the man responsible for the great Radio Birdman tour posters of the mid-late 1970s. See Warwick's art and plenty of others from Reg Mombassa to Martin Sharp to Paul Worstead at the Sedition Festival 2019. Details here.
Tags: flaming hands, shy impostors, julie mostyn, penny ward, warwick gilbert , dr rock, the professors, stephen vineberg, sedition , jed kuepper