Birdman doco screening dates unveiled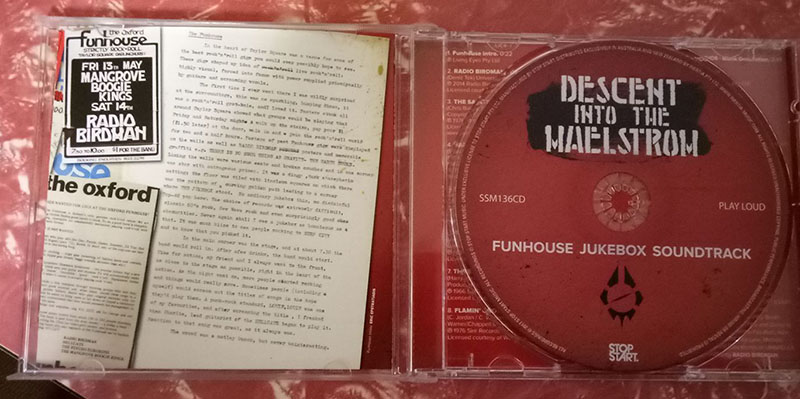 Yeah Hup! The Radio Birdman documentary public screening dates have been announced. You can indulge in post-screening Q&As at a handful of them. Book your own "Descent Into the Maelstrom" at these cinemas via the links after the MORE link.
The soundtrack (pictured above) is now available for pre-order on LP and CD. Go here to grab a copy.
DESCENT INTO THE MAELSTROM
NATIONAL SCREENINGS 2017
Monday, June 19 – EVENT CINEMAS, GEORGE ST, NSW
World Premiere with Deniz Tek, Pip Hoyle, Jonathan Sequeira
and post-film Q&A moderated by Murray Engleheart
TICKETS
Sunday, July 2nd – CINEMA NOVA, CARLTON, VIC
Post-film Q&A with Deniz Tek
Ticket details coming soon
SYDNEY – Event Cinemas, George St
7pm, Thursday July 20
9pm, Friday July 21
Matinees on Saturday and Sunday July 22, 23
TICKETS
BRISBANE- Event Cinemas, Myer Centre
7pm, Thursday July 20
9pm, Friday July 21
Matinees on Saturday and Sunday July 22, 23
TICKETS
PERTH – REVELATION FILM FESTIVAL
July 6 – 19
TICKETS
PERTH – Event Cinemas, Innaloo
7pm, Thursday July 20
9pm, Friday July 21
Matinees on Saturday and Sunday July 22, 23
TICKETS
ADELAIDE – GU Film House
Monster Fest Travelling Sideshow 7pm, Friday July 21 – Jonathan in attendance for post-film Q&A
Matinees on Saturday and Sunday July 22, 23
TICKETS
MELBOURNE – Cinema Nova
From July 20th
TICKETS
Tags: radio birdman, documentary, descent into the maelstrom, screening, dates