Details

By

The Barman

The Barman
Datura4 announces European tour in October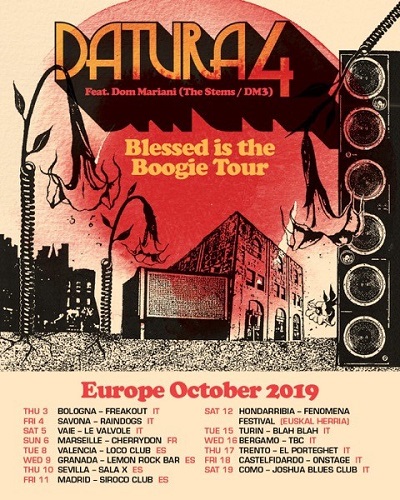 Hot on the Cuban heels of their third international album release, "Blessed is the Boogie", Fremantle-based rock psych-blues outfit Datura4 are heading to Europe in October. Datura4 will take on Italy, France and Spain in a three-week boogie-blitz of festivals, seedy bars and cool clubs on their "Blessed is the Boogie" tour.
"Blessed is the Boogie "was released worldwide on Alive Naturalsound in April, marking an exciting new evolution for the critically acclaimed band. The record builds on Datura4's 'guitars to infinity' approach of "Hairy Mountain" (2016) and the hard-rocking, progressive debut "Demon Blues" (2015) – and takes the band a few swaggering steps further into psych-blues territory.
Frontman and creative force of the band, Dom Mariani continues his successful collaboration with bass player Stu Loasby (The Majestic Kelp) and drummer Warren "Wazza" Hall, the original drummer for The Drones.
Upping the legend quotient on "Blessed is the Boogie" is long-time friend and Australian music stalwart Bob Patient (of Fatty Lumpkin) on keys. Multi-instrumentalist, singer and freakishly brilliant guitarist Joe Grech joined a few months ago and it's like he and Mariani were born to play together.
Datura4 are at the top of their game and audiences can't get enough. The band cannot wait to plug in the guitars and the vintage amps and say merci, gracias and grazie to their European fans for fantastic support of their music!
Perth fans can wish Datura4 well before they go at four huge shows:
21 Sept – Mojos
22 Sept – Indian Ocean Hotel
24 Sept – Perth Blues Club
27 Sept – Four5Nine, Rosemount Hotel
European fans can plug into Datura4's tour via the dates on Facebook.