Fifty years on, you'll love this madly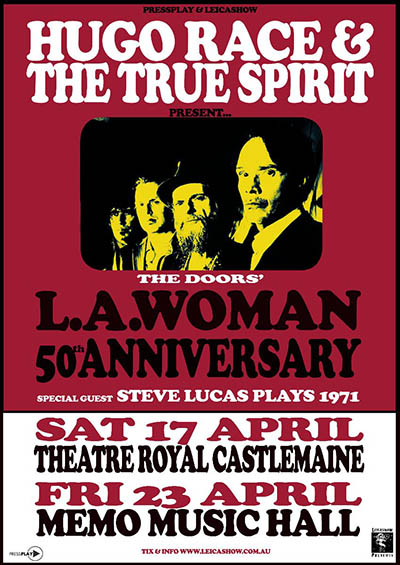 The ghosts of '80s St Kilda will meet the spirit of '71 when Hugo Race - mainman of St. Kilda icons The Wreckery and foundation Nick Cave & the Bad Seeds guitarist - together with his band The True Spirit performs two special shows in April with special guest Steve Lucas of X.
Lucas, whose legendary X called St Kilda home in the late '80s and early '90s, has joined the bill for Race's upcoming L.A Woman 50th Anniversary shows at Theatre Royal in Castlemaine on Saturday 17 April and the Memo Music Hall in St Kilda on Friday April 23.
Hugo and band will be performing The Doors' apocalyptic "L.A. Woman" in its entirety to mark 50 years since its original release in 1971. Steve will open each night, performing a solo set of his favourite tunes from the same year, including selections from the Rolling Stones' "Sticky Fingers" and Rod Stewart's "Every Picture Tells A Story".
The Doors' final studio album (with Jim Morrison) was a bluesy, self-produced, garage-style recording that contains two of their biggest singles, "Love Her Madly" and the atmospheric "Riders on the Storm". Now considered Classic Rock, it was a conscious return to the garage-rock/bar-band blues roots that had galvanised The Doors' self-titled debut some five years previous and also hinted at new directions.
Performing "L.A. Woman" in its entirety is a labour of love for Hugo Race and his psychedelic quintet The True Spirit, and these shows follow the recent release of their critically acclaimed "Star Birth, Star Death" double album.
Race was a key player in Melbourne's early '80s post-punk scene, leader of seminal Seaview Ballroom outfit The Wreckery, and a founding Bad Seed. He has been a prolific independent producer and recording artist in Europe and Australia for over 30 years.
The morose spirit of "Riders on the Storm" was later infused in artists ranging from Radio Birdman to Joy Division to Nick Cave; it and the incredible title track, with its unrelenting cruise-control beat, anticipated the motorik rhythms of Stunde Null-inspired groups like Can and Neu! The dry, spare sound of the record would also prefigure a lot of post-punk sounds.
Hugo Race & True Spirit present L.A. Woman 50th Anniversary
with special guest Steve Lucas playing 1971
Sat 17th April Theatre Royal, Castlemaine 8pm
Tix $36 + b/f via www.theatreroyalcastlemaine.oztix.com.au
Fri 23rd April Memo Music Hall, St Kilda 7:30pm
Tix $43/$33/$27 + b/f via www.memomusichall.com.au
Tags: st kilda, hugo race, steve lucas, memo music hall, la woman, the doors, theatre royal