Four shows celebrate legendary Max's Kansas City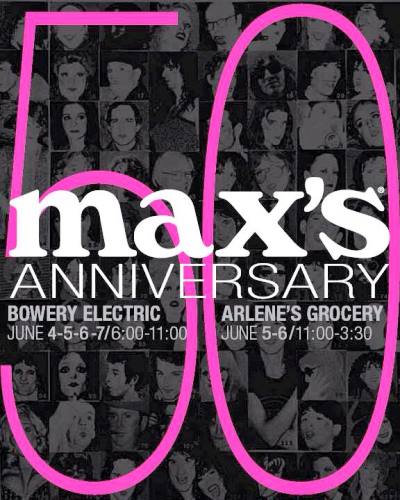 Max's Kansas City was one of the legendary New York City scenes of the 1970s, home to Andy Warhol's crew and a musical stamping ground for the Velvet Underground, Heartbreakers, Iggy & the Stooges and countless others.
It's the club where Iggy met David Bowie and had his career fortunes revived, Debbie Harry waited on tables, Patti Smith went star-spotting and the Lou Reed era Velvets played their final shows.
Former Max's promoter Peter Crowley is hosting a 50th anniversary round of shows from June 4-8 and the line-ups feature some of the best that what's left of the old-school NYC underground scene.
The original Max's (213 Park Avenue South) is long gone so The Bowery Electric is the venue for a four-night stand with the final two evenings' after-parties being hosted at Arlene's Grocery.
A Jayne County tribute act that includes players who have backed her headlines the June 4 show with a bill that includes remnants of Eric Emerson's Magic Tramps and the Sic Fucks.
Walter Lure's post-Heartbreakers outfit, The Waldos, close out June 5, supported by a bill that includes specially reformed Testors, the swaggering New York Junk and Luigi and the Wiseguys, featuring Thunders sideman Luigi Scorcia.
Pure Hell heads the June 6 line-up and the final night's bill is topped by Nelson Slater and includes Mickey Leigh's band The Rattlers.
Facebook events, ticketing links are here.
Tags: harry, waldos, johnny, thunders, iggy, andy, max's kansas city, david, bowie, blondie, smith, debbie, warhol, patti