Japanese protopunks The Deadvikings set sail for Sydney's shores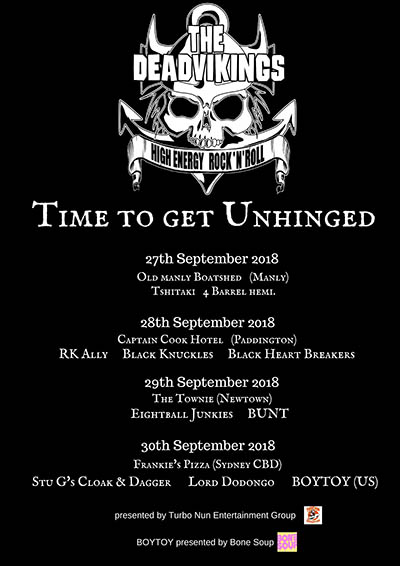 Japan's The Deadvikings return to claim their stake and expand their domination over Sydney this week with their ultimate heavy protopunk.
Their four-day Japanese invasion - their second in a year - starts at The Old Manly Boatshed on September 27 with locals Tshatki and 4 Barrel Hemi. Entry is free.
Day 2 (September 28) sees a foray in to new territory via Paddington's Captain Cook Hotel sharing the helm with goth rockers RK Ally, Black Knuckles and Black Heart Breakers. Entry is $10 at th door.
The third gig is a return to iconic inner west venue The Townie at Newtown on September 29, with Eightball Junkies and BUNT. Free entry.
Day 4 peaks at the empyrean of Sunday venues, Frankie's Pizza, in the CBD on September 30 with Stu G's Cloak & Dagger kicking off followed by cosmic sludge monarchs Lord Dodongo and US trio BOYTOY, making their Aussie debut. No cover charge.
When asked about their returning the band told us:
"We are stoked to be returning to Sydney. You made us all feel incredibly welcomed last year and we were totally blown away by how big a turn out there was at each of our gigs. Super keen to catching up with old friends and playing alongside some of the bands we played with last time and share the stage with the new line-ups! Some awesome bands have joined us for next month. We will get down and dirty at each venue, with all of you. We love Australia!"
A limited selection of merch including their CD "Electric Demon" (released on Zodiac Killer Records) an infused slab with influences from Hellacopters to MC5) will be available.
The DeadVikings (JP)
SEPTEMBER
27 - Old Manly Boatshed
+ Tshitaki + 4 Barrel Hemi.
8-11pm
28 - Captain Cook Hotel, Paddington
+ RK Ally + Black Knuckles + Black Heart Breakers
8-12pm
29 - The Townie, Newtown
+ Eightball Junkies + BUNT
10pm-1am
30 - Frankie's Pizza by the Slice
+ Stu G's Cloak & Dagger + Lord Dodongo + BOYTOY (US)
8-11pm
Tags: sydney, australian tour, dead vikings