Mazstock 2015 line-up announced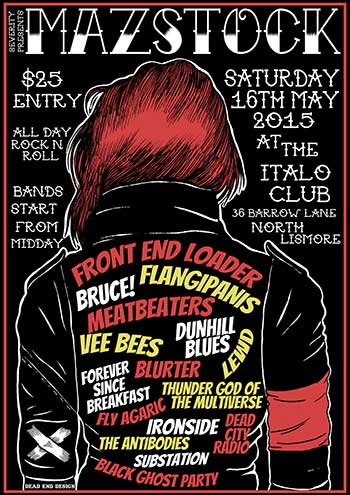 Northern New South Wales's favorite little all-day rock-fest MAZSTOCK will be returning.
This year's show goes back to the Lismore Italo Club on Saturday, May 16, and will showcase some of the best local and interstate rock and punk bands.
The day will be headlined by Sydney rockers Front End Loader, whose rare Lismore appearance will surely make this a Mazstock to remember.
Also making the trip north will be Australia's favourite pair of pisshead-yob rockers, Adelaide's The Meatbeaters and Canberra's The Vee Bees. Joining the the shenanigans will be Wollongong's BRUCE! and Sydney's The Dunhill Blues.
The line-up will also feature some of Brisbane's most loved and notorious gutter rock acts including punk favourites The Frangipanis, Ironside and recently reformed LEWD.

The acclaimed Forever Since Breakfast will be coming to town for the show, which will also include a plethora of local talent including Blurter, Thundergod Of The Multiverse, Black Ghost Party, The Antibodies plus more.
Mazstock 2015 will feature 16 bands over 12 hours from noon for the low cost of $25. Tickets will be on sale at the door. Full line-up:
FRONT END LOADER
BRUCE!
THE FLANGIPANIS
THE MEATBEATERS
THE VEE BEES
LEWD
THE DUNHILL BLUES
BLURTER
IRONSIDE
FOREVER SINCE BREAKFAST
THUNDERGOD OF THE MULTIVERSE
SUBSTATION
FLY AGARIC
THE ANTIBODIES
BLACK GHOST PARTY
DEAD CITY RADIO
Tags: meatbeaters, veebees, mazstock, lismore, front end loader