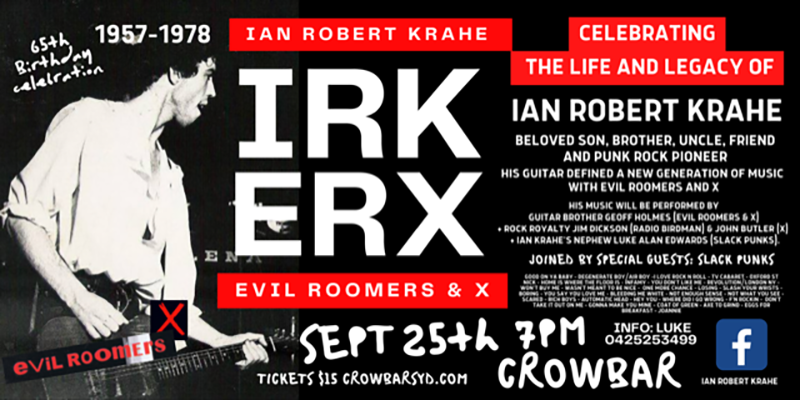 Ian Krahe, original guitarist for seminal Australian underground legends X, left the planet in 1978 but his influence is still being felt. A celebration of his 65th birthday is being organised at Sydney's Crowbar on Sunday, September 25, from 7pm. Tickets are selling here.
Current member of X, Geof Holmes, and friends will play songs by Evil Roomers, which was the original band for himself, Krahe, drummer Ed Fisher and bassist Ian Rilen. Holmes will be on guitar, joined by Jim Dickson (The Survivors, New Christs, Radio Birdman) on bass, John Butler (X) on drums and Ian Krahe's nephew Luke Edwards, also on guitar. Slack Punks are supporting.
"We'll be playing music Ian left behind when he died tragically in May 1978," Geof explains. "You'll hear some songs he wrote while in X. Unfortunately, Steve Lucas can't be there so they will be our versions, with material from Ian's earlier musical adventures with me in Evil Roomers.