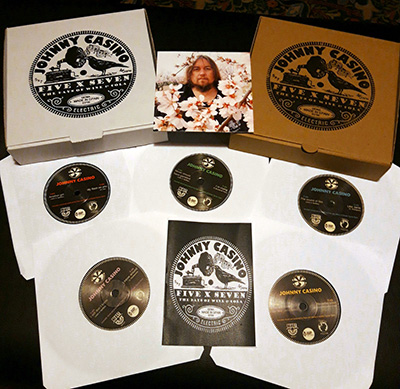 Perennial I-94 Bar favourite Johnny Casino has a limited edition of seven-inch singles out under the apt name "5x7 - The Days of Wine and Cola".
The physical boxset is in a run of 200 copies only and is available on Bandcamp here or through European labels Folc (Spain) and Beast (France). The digital edition is out on all platforms through Golden Robot Records.
Now living in Spain, the man once known as John A Spittles is the founding member and songwriter of the great Australian rock 'n' roll band Asteroid B612, Philadelphia PA's Johnny Casino's Easy Action, the rotating line-up that is Johnny Casino and the Secrets (featuring the who's who of Australian rock 'n' roll), The Egos, The Lord Street Sound, and Carrie Phillis and the Downtown 3.
Casino is a musicila journeyman always looking for new challenges whether it's a riff to plunder, a melody to celebrate or a moment to capture, so let's allow Johnny describe the concept of the release: